On Monday nights in NYC when Broadway shows are dark, the place to see and be seen is Jim Caruso's Cast Party at Birdland. In the eight years since Caruso created it, Cast Party has become legendary for its open mic night which has hosted everyone from Tony Bennett to an Arizona housewife singing a song about pollution.
Caruso, who recently came off a three year tour with his close friend Liza Minnelli, hatched the seed for Cast Party in Minnelli's living room. "Her friends would gather around the piano until the wee hours of the morning," Caruso said. "I realized there's something here. People love to entertain each other."
Caruso says one of the unique things about Cast Party is its openness to new talent.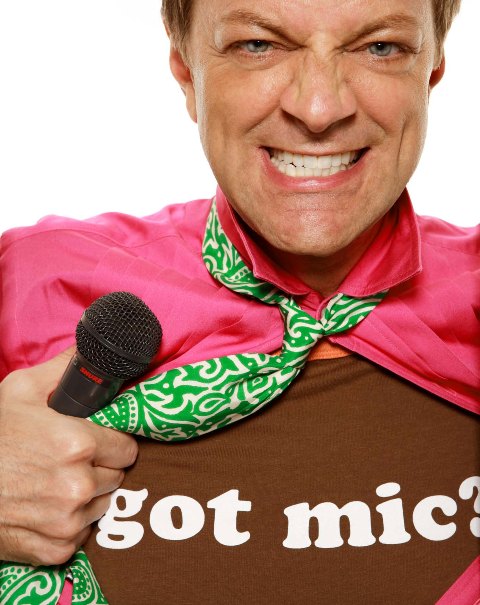 "We're not snobby about New York talent," he says. "It's not like American Idol where we're snarky. It's truly an open mic in a supportive environment where anyone can get their feet wet."
Cast Party is expanding to cities across the US because as Caruso says, "There's talent everywhere."
The West Coast can see what the buzz is about (Wall Street Journal, New York Times) when Cast Party returns to the Magic Castle in Los Angeles for an exclusive engagement this week. A couple of the up-and-coming performers expected at the event are Darci Monet ("a big bluesy voice," says Caruso) and David Johnson, a classic Hollywood crooner. On the eve of the LA show, Caruso spoke to Huffington Post's Lesleyann Coker:
Lesleyann Coker: Tell us how Liza Minnelli helped inspire the launch of Cast Party.
Jim Caruso: Liza throws lots of parties at her apartment, and after dinner, everyone gathers around the piano in the music room. By 'everyone,' I mean folks like Tony Bennett, Madonna, Janet Jackson, Barbra Streisand, Kathy Griffin, Whoopi Goldberg, all the MGM folks, lots of cabaret singers, Brazilian guitarists, etc! She always jokes that she's the 'Godmother of Cast Party' because I started doing the same thing, except with a cover charge!
LC: Who are some of the big names that performed at Cast Party over the years?
JC: You never know who will show up at Cast Party - but we've been thrilled to see Martin Short, Tony Bennett, Jon Bon Jovi, Shirley Bassey, Carol Channing, Melissa Manchester, Cybill Shepherd, Sally Kellerman, Fiona Apple, Dave Koz, Stephen Schwartz, Joel Grey, Mary Louise Parker, Chita Rivera, Linda Lavin, Josh Groban, Ricki Lake, Cheyenne Jackson, Janis Ian, Phoebe Snow, Elaine Paige, Tommy Tune, and soooo many more!
LC: How does the Cast Party scene differ between New York and LA?
JC: Cast Party in LA is a little more intense, since we're only there every two months. The theater folks really come out for us, which is great. We're a little taste of Broadway in glamorous Hollywood!
LC: Cast Party is expanding to other cities beyond New York and LA. What is it about Cast Party that resonates with different audiences?
JC: I think everyone loves to see their talented locals getting up to perform. We've done Cast Party so many places - Orlando, Provincetown, Austin - and it's always thrilling to meet and hear the 'locals.' Good singers are good singers, no matter where they choose to make their home!
LC: You recently had a memorable encounter with the legendary Carol Channing at the Cast Party in LA. What was that experience like when she took the stage?
JC: Having Carol Channing on the Cast Party stage was a bit surreal! We'd met several times, and had performed [together] at President Clinton's first State Dinner at the White House. But there's nothing like saying to a packed house, "Ladies and Gentlemen, please welcome Carol Channing!" She absolutely stormed the stage and got right in my face to chat with me for about five minutes. It's like working with the Easter Bunny! She's so gorgeous and funny and stage savvy, as you might guess! She and Billy Stritch and I discussed her impersonators, arts education in schools (her passion), and then she launched into the "Ephraim, let me go" monologue from "Hello Dolly!" There wasn't a dry eye in the house as she sang the opening words to "Before The Parade Passes By." It was one of those moments when I was so proud to be able to bring this icon to our little stage for those very lucky people. I'm sure we'll all be talking about it the rest of our lives!
LC: Cast Party helps discover people and also rediscover them. Who are some examples?
JC: I guess the most recent 'discovery' was the hilarious and extremely outrageous "Miranda Sings." I saw some of her videos on YouTube, and sent her a message that we'd love to have her perform at Cast Party. She (actually, her 'handler,' Colleen Ballinger) wrote back immediately, and we were off to the races. Her first appearance was brilliant, she started doing concerts at Birdland, and now she's booked in theaters all over the world. I'm so proud of her. On the other end of the spectrum, the brilliant Phoebe Snow had taken a break from performing to tend to family matters. She stopped into Cast Party one night to see what all the fuss was about, and we begged her to sing. She sounded as fabulous as ever, and was offered a booking at Birdland on the spot.
How to attend Cast Party:
Cabaret at the Castle Presents: Jim Caruso's Cast Party with Billy Stritch
December 8th and 9th, 6:00-10:00 pm
The Inner Circle at the Magic Castle® 7001 Franklin Ave., Hollywood, CA 90028
Tickets are limited, and range from $15 to $35. Visit www.magiccastle.com/eventtickets or contact The Magic Castle box office: 323.851.3313 begin_of_the_skype_highlighting 323.851.3313 end_of_the_skype_highlighting ext. 303 -or boxoffice@magiccastle.com.
Jim Caruso's Cast Party at Birdland
Every Monday night, 9:30 pm to 1:30 am
315 W. 44th St. New York, NY 10036
$10 cover
Lesleyann Coker is co-author of Boob Tube, a novel that examines the behind the scene world of soap operas. Download it free at Amazon or Smashwords.
Popular in the Community