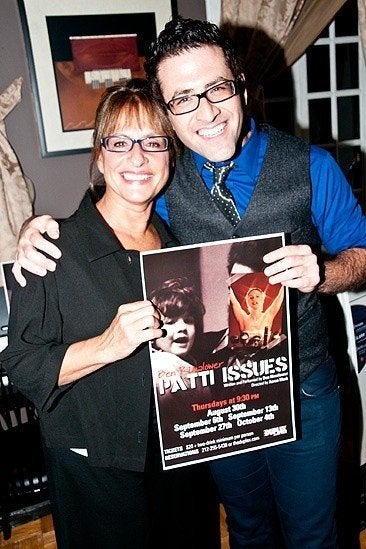 Thanks to Simon Cowell -- but really no thanks to him -- and to the scornful fellow's frequently equating "cabaret" with "old-fashioned" on American Idol and The X Factor, millions of televiewers have no idea that cabaret can be as fresh, as vital, as exhilarating a form of entertainment as any others available to the hungry public.
Sure, most cities today have no, or only one or two, cabaret rooms, but New York City -- though populated by fewer than there were in decades past -- isn't one of them. As a matter of reassuring fact right now, there are two cabarets featuring unique performers well worth going to see as they pull down the fourth wall that the stage and movies rarely removes and cabaret does all the intriguing time.
Tommy Tune, a performer like no other you'd find at work today, is a six-foot-six Texan, who came to New York to dance on Broadway and not only achieved his goal at his first audition but went on to steal the spotlight in Seesaw and cheer up thousands of patrons as he hoofed with Twiggy in My One and Only. In time he also exercised his form of infectious showmanship as a director, who believed like one of his mentors -- Carol Channing, no less -- that genuine stage-struck folks toured the country as often as opportunity arose.
At the moment the 73-year-old vet, looking and acting like a teenager with the lights of the Great White Way in his eyes, is giving a new meaning to the phrase "the red shoes." Wearing hot-red, red-hot tap Capezios (or the like) and a three-piece red suit with an open-necked white shirt, he's remembering his career in a show called "Taps, Tunes & Tall Tales." It's at the soon-to-shutter Feinstein's at Loews Regency, which is lucky to have him (check dates for appearances).
He's doing his fancy job while standing on a small raised metal platform on which he can rat-a-tat accompanying steps to the songs he sings and the memories he recounts. Most of the hour-plus as he reminisces under the seeming influence of predecessors like Fred Astaire and Ray Bolger and yet remaining very much himself, he keeps it breezy -- indicated by his Jerry Leiber-Mike Stoller opener "I've Got Them Feelin' Too Good Today Blues" and the Buz Kohan-Larry Grossman ode to being in thrall to what you do, "I Love It."
With a version of "I've Grown Accustomed to His Face," during which he changes the pronouns to "your" and "you" for reasons that may or may not be clear, he does venture into a darker mood by referring loosely to an ended love affair. On an Ira and George Gershwin medley from My One and Only, he again lays into sentiment while discussing the great tap dancer Charles "Honi" Coles with whom he partnered until Coles's final heart-breaking performance.
By the way, Tune, ebulliently accompanied at the piano by Michael Biagi, reports that of all the women whom he partnered -- Gwen Verdon and Ann Reinking among them --Twiggy was his favorite. (He initially shared screen frames with her in Ken Russell's kaleidoscopic The Boy Friend.) On his own, of course, he's far more than okay.
Now if he would only get around to staging Jerry Herman's as-yet-unproduced Miss Spectacular, which he's been mentioned to helm for quite a while and which is a hit waiting to happen.
Ben Rimalower neither sings nor dances. Instead he goes over his cabaret-related career in Patti Issues, in a monologue so startling -- and so impressively delivered at The Duplex Cabaret Theatre -- that he gives notice he may be embarking on a smart new entertainment path (also check performance dates).
The "Patti" with whom he has issues is, as some might already have guessed, Patti LuPone, to whom Rimalower swore allegiance when he was a show-biz-mad kid and first heard her sing "Don't Cry for Me, Argentina" on disk. Deciding he had to ally himself however he could with whatever she was doing, he worked his way towards a Manhattan apprenticeship. On leaving college, he secured a job assisting director Lonny Price. Don't you know that before long, he met and, getting over being dumbfounded, toiled with his idol?
Thoroughly committed to her artistry, he even dreamed up Leslie Kritzer's homage to La LuPone in "Patti LuPone at Les Mouches." (That was the memorable act the diva put together and played late nights after taking her Evita curtain calls.) It was when a recording of the sassy Rimalower-Kritzer replica was in the works that he had a run-in with his adored star that was eventually repaired. His occasional impersonations of her, whether she was in good mood or ill, are among the most enticing elements of his piece.
Were this opus merely one gay man's hem-kissing rave-on, it might be something a patron could take or leave alone. But it's not. Rimalower's inspiration is to blend his analytic tribute with a portrait of his father, a homosexual obstetrician-gynecologist who deserted the family in order to pursue an alternative life. Though some might decide details of his dad's sexual practices qualify as TMI, they're really further testimony to the seriousness with which Rimalower regards his recollected situation.
Recalling how often he and his sister Lucy saw or didn't see the absent parent and what happened when some reunions occurred, Rimalower -- lean and light but not at all light in his loafers -- transforms the solo show into a pithy and unforgettable depiction of how a child's need for love and for a role model can get oddly channeled elsewhere when those needs aren't more directly supplied.
And they say cabaret is old-fashioned. It's a view to which only the sadly unenlightened, no matter how prominent they may be, could possibly lend credence.
Popular in the Community