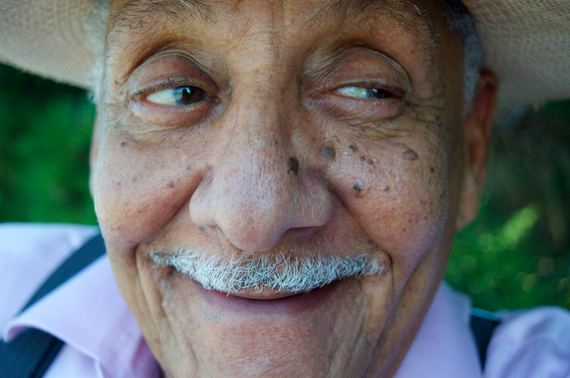 At first we rode in silence, disparate beings sharing only the sounds of the street. "46th and Lexington," I had ordered, consumed by my smartphone: by Snapchats to God Knows Whom, by Instagram, and by Facebook. My trance was broken when we came to a sudden stop. I looked up to see a Haitian Flag hanging on the man's dashboard.
A resident of Queens, Henri Picault, 86, has been driving cabs in the city for over 40 years now. He arrived here from Port-au-Prince at the age of 35 with his wife Dinorah Rodriguez. Both were eager for opportunity and to escape the political turmoil surrounding François Duvalier's 'Papa Doc' presidency.
They landed in the winter, in December of 1963. "There was a lot of snow...everywhere," Picault recalled.
Fluent in French, Spanish and Creole, Henri learned English from the newspaper and television, stepping straight into the American Dream.
At first, Picault worked in a delicatessen. But after 11 years of making sandwiches, he needed to get out from behind the counter, and he found himself driving a cab. This clearly suits him in character and charm.
"I make you laugh before you get into the cab," said Picault.
And, of course, there have been high moments in a lifetime of driving.
"Once I drove Rose Kennedy. She asked me, 'Do you know who I am?' I said 'God?' She said 'No, I'm Rose Kennedy. The mother of all those Kennedys!'"
More than a generation of driving means that Picault has been both an eyewitness to and a victim of changes on a number of levels.
"You know the problem about that machine they have in their hands now--what do you call it? The cellular phone or whatever--texting? We don't talk that much."
Today especially, Picault needs to talk.
"My wife died three years ago today," said Picault. He went on while the cab sat still amidst rush hour traffic. The meter was now turned off.
"I'm still suffering: I really hurt. That was the woman I really loved in my life. When she got sick--she had cancer--I told her I would give my life for her...and that was the truth. She should be alive and I should be dead. I cry every day. I suffer every day. People say you'll be all right, but you will never be all right when you've lost somebody you really like or you really love. You will never be--you will never find another anybody else."

One might wonder, given all he's seen, what makes him still tick.
"I'm happy now, with you. I love to deal with nice people...People ask, 'Why don't you retire?' I tell them I can't spell the word 'retire.'" He continued, "Behind the wheel, I'm one hundred percent all right. That's why I'm driving the cab."
Picault's distinct reflections on the pain of losing a loved one and rubbing elbows with the rich and famous make clear for us the universal heartache of personal loss, the healing value of humor, and the power of social interaction.
This cabbie's story is rich in substance and meaning, an illumination of the circumstances to and from which we've all been driven. It's enough to make you wish someone was listening.
REAL LIFE. REAL NEWS. REAL VOICES.
Help us tell more of the stories that matter from voices that too often remain unheard.