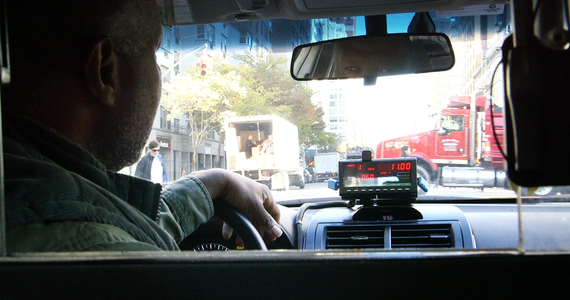 Earlier this year, I had the pleasure of speaking with a Haitian cabbie on my way to class. We talked about, well, pretty much everything, and I was mad at myself for forgetting to ask him for his contact information once I reached my destination.
But as we all know, life operates in interesting and ironic ways.
This past Monday afternoon, I hailed a taxi from Midtown to the Lower East Side. Sure enough, it was the same cabbie I met months prior.
"Helloooo, America. Hello, New York City. My name is Pierre Beauzile. Sometimes you only see me once in the course of this life, but I'll always leave you with an impression."
This is how Beauzile greets all of his passengers.
We immediately recognized each other and fist pounded--naturally.
"This is what I love most about life," said Beauzile. "It's spectacularly spontaneous."
And that's for sure. Beauzile has experienced many different walks of life, and a lot of his past pursuits have surprised him. He worked for Trans World Airline and Time Warner Cable, as a school teacher, real estate agent, social worker, actor, and of course, cab driver.
This is Beauzile's second shot at driving cabs. He spent eight years as a taxi driver during his twenties and began again after the Haitian earthquake in 2010.
"My mother passed away five months after the quake, and I returned to cab driving." He looked back at me and added, "I returned to cab driving as therapy."
I asked him what he found to be therapeutic about his current job. Without hesitation, he replied,
"The best part about my job is meeting different people who make you forget about your personal problems. Cab driving's allowed me to put things into perspective, to encounter happiness, to resolve issues, to find success. After all, that's what New York City is all about."
Have you been living the dream?

"Oh, yes," said Beauzile with confidence. "The American Dream is still very much alive and well."
Interestingly, Beauzile is writing a book titled Cab Driving in New York City. He said that, at first, his intention was to document his understanding of Haiti. But after many passengers insisted he publish a book about cabbing in New York, he decided he'd take the idea and run with it.
Do you have a favorite kind of passenger?

"A passenger that walks into a cab, says hello, and realizes that as soon as they're sitting where you are now, we're in a partnership. We're dancing."
What do you want everyone who's reading this profile to know?

"There will be obstacles, there will be red lights, there will be bumps, there will be curves." He continued, "I encourage you, all of you, to ask yourself what you loved about yesterday. I then encourage you even more to relive that moment in a meaningful way."
The cab stopped. It was time for me to go about my day and for Pierre to go about his.
"See you next time," he said.
"You know, one learns by driving a yellow cab in New York City." There was a long, thoughtful pause. "One learns."
REAL LIFE. REAL NEWS. REAL VOICES.
Help us tell more of the stories that matter from voices that too often remain unheard.