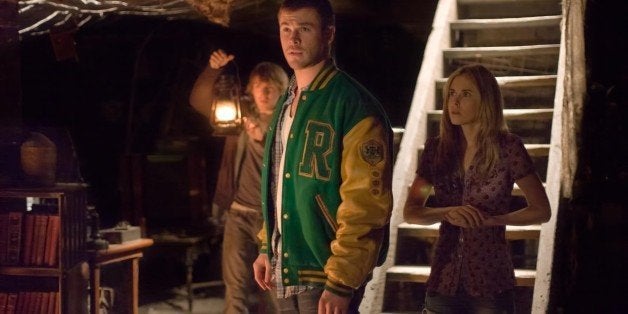 "The Cabin in the Woods" was celebrated as one of the most original horror movies in recent years, but now an author is claiming it wasn't so original after all.
Joss Whedon, who produced and co-wrote the 2012 horror comedy with director Drew Goddard, is now facing a $10 million lawsuit over copyright infringement. Whedon is named a defendant in the lawsuit along with Goddard, Lionsgate and Whedon's Mutant Enemy production company.
In the lawsuit, filed in the U.S. district court in California on Monday, author Peter Gallagher (no, not "The O.C." actor) claims that "The Cabin in the Woods" is "virtually identical" to his 2006 novel The Little White Trip: A Night In the Pines. Gallagher's book also follows the story of five friends who visit a cabin only to learn that (spoiler alert) they're being killed and filmed by a third party controlling events from elsewhere.
The suit goes on to point out the film's similarities to the book including the theme, dialogue and sequence of events, as well as character names -- the book has a Julie and Dura and the film has a Jules and Dana. The complaint also includes a detailed breakdown of 25 scene similarities.
Whedon's reps had no comment on the lawsuit. The Huffington Post has also reached out to Lionsgate and Goddard's reps and this post will be updated if one is received.
Popular in the Community