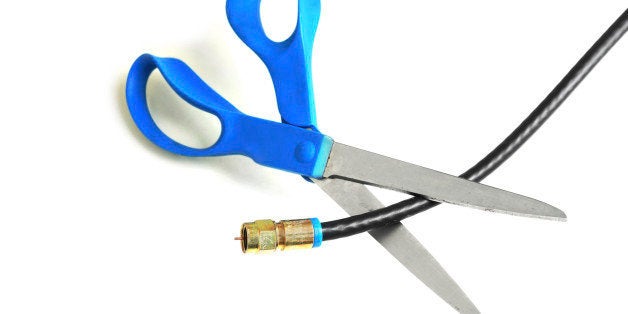 Your options for how to watch TV continue to grow, but cable companies could make you pay dearly if you want to "cut the cord."
The slew of new offerings could prompt some of the millions of households that don't pay for traditional TV to start buying subscriptions to new services. The new options could also spur others to cut the cord -- that is, to ditch their expensive set top boxes in favor of paying Sony, Dish or even Apple, instead of their cable provider, to watch TV.
But try as they might, most people will still be tethered to their cable company.
The majority of Americans who have a wired high-speed Internet connection get it through cable, meaning they pay a cable company each month for their Internet connection.
"I expect that as the market continues to shift towards the faster broadband speeds that only cable companies can offer, these providers will continue to raise broadband prices in order to offset their declining pay TV revenues," Derek Turner, research director at the advocacy group Free Press, told The Huffington Post.
Some Internet service providers have also been experimenting with so-called "usage based pricing," similar to the way most wireless carriers charge for data. If your broadband plan has one of these data caps, you could be charged for exceeding an allotted number of gigabytes of data during a billing cycle. So the more you watch, the more you'll have to pay.
According to a page on Comcast's website outlining the program, customers are notified when they've gone over their data allotment during a billing period, and they're given "three courtesy months" during which they can go over their data usage plans without being penalized. After that, they're charged $10 for each additional package of 50 gigabytes.
This type of plan could get expensive very quickly for people who stream a lot, or who plan to get their TV from a streaming service instead of a traditional pay TV provider. The average amount of data used when streaming high-definition video is about 1.6 gigabytes per hour, according to the networking company Cisco, and streaming Netflix in HD can use as much as 3 gigabytes an hour, according to Netflix's own figures. If someone were to stream the nearly five hours of live TV per day that the average American watches, then based on the 1.6 GB-per-hour figure, that person alone would consume about 233 gigabytes per month.
When you add other people in the household who may also be streaming, that figure can rise even more quickly.
At this point, such data caps are experimental, said Dan Cryan, the senior director of media and content at IHS. But they could become more widespread as cable companies try to keep people from giving up their TV service.
"There [is] such little competition that from a market forces perspective they're pretty free to do what they want," Cryan said of cable companies.
According to the FCC, the new net neutrality rules adopted last month will not regulate retail broadband rates. But, said Turner, the commission "does have the authority to respond to complaints about price gouging or other unreasonable practices." Still, that's unlikely to happen, he said, as the commission has acted only once since 1991 on a complaint about retail rates being unreasonable.
Some broadband customers have even found that it's cheaper to subscribe to a TV package and Internet than just Internet alone.
Cable companies want to keep customers subscribing to the bundle for a number of reasons, said Turner. Companies make money from those customers; they don't want their investors to see subscriber loss; they've found that it's easier to keep you subscribing if you subscribe to more than one service (and there's competition); and it makes it easier to upsell customers on new and additional services.
Chris Buecheler, a 37-year-old Web developer in Providence, Rhode Island, is considering signing up for TV service through Verizon just to drop the price of his Internet package.
For the last two years, Buecheler has paid Verizon $89.99 per month for a broadband connection, and he and his wife watch TV shows through Netflix and Amazon's Prime video service. But Verizon recently increased the price of his Internet plan to $94.99 per month. If he signs a two-year contract with Verizon for an HDTV package, his combined bill for TV and Internet will once again be just $89.99 per month, and he'll save $60 a year.
Buecheler said he plans to call Verizon and try to get a discount on his Internet service. But if the company isn't willing to do that, he said, he and his wife will get the TV package even though they don't really want it.
"There's no reason not to save the money," he said.
Related
Popular in the Community