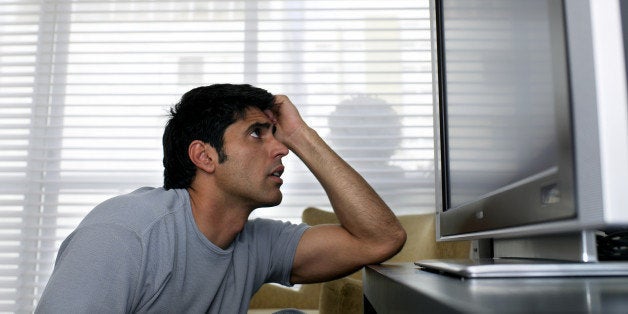 Comcast, Time Warner Cable and Charter are giving satellite and cable providers a bad rap.
The three companies helped land the cable and satellite TV industry dead last in a recent YouGov BrandIndex survey of consumer satisfaction.
The market research firm asked 9,000 people in an online survey whether they considered themselves satisfied or dissatisfied customers of over 1,200 different companies. It released the results of its poll on Monday.
It turns out that people are more satisfied with banks, credit card companies, airlines and the makers of medication for erectile disfunction than they are with the companies that provide them with TV and Internet.
Here are the industries that received the highest rankings for customer satisfaction:
Time Warner Cable, Comcast and Charter Communications all received negative scores in the YouGov survey, meaning that more customers reported being dissatisfied with the companies than reported being satisfied.
Time Warner Cable and Comcast's scores were "firmly" negative, said Lance Fraenkel, head of client services for BrandIndex. Charter Communications' score was negative, but hovered around neutral territory.
Here are the industries that came out on bottom in the survey:
The results of the survey come as Comcast, the largest cable company in the U.S., is attempting to buy Time Warner Cable, the second-largest, for $45 billion. The deal still needs to be approved by regulators.
The 10 other companies in the "cable and satellite TV" category all received positive rankings, with Verizon FiOS and AT&T U-verse topping the list, Fraenkel said.
"If you have a couple brands in negative territory and the category average is still firmly positive, then you know that there are brands that perform well in the sector," Fraenkel told The Huffington Post.
Time Warner Cable has traditionally had negative satisfaction scores, Fraenkel said. Comcast used to average a neutral score, but the company took a hit after the recording of Ryan Block's "customer service call from Hell" went viral over the summer, Fraenkel said. During the call, an aggressive Comcast agent made it very difficult for Block -- a product manager at AOL, the parent company of HuffPost -- to cancel his Comcast service.
"That to me stands out as a major event over the last few months that has damaged the brand and category perception," Fraenkel said.
In a statement to HuffPost, Comcast said it's "working hard and making significant investments to improve our customers' experience with us, and we know these results are not where they need to be."
Comcast said it has "put a team in place to listen to feedback from customers and employees and to rethink the way we interact with our customers," and that it has "been investing billions of dollars and making major operational changes to make it easy for our customers to do business with us." The company has "made this our number one priority," it said.
Time Warner Cable also said it is investing billions of dollars in customer experience and now offers more weekend and evening appointment options, as well as one-hour appointment windows.
"We are always looking for ways to deliver improved value, reliability and service to our customers," Time Warner Cable said in a statement to HuffPost.
A representative from Charter Communications declined to comment for the story.
YouGov conducts regular polls for HuffPost, but the BrandIndex research was not part of that partnership.
See how YouGov poll respondents ranked all the consumer categories below: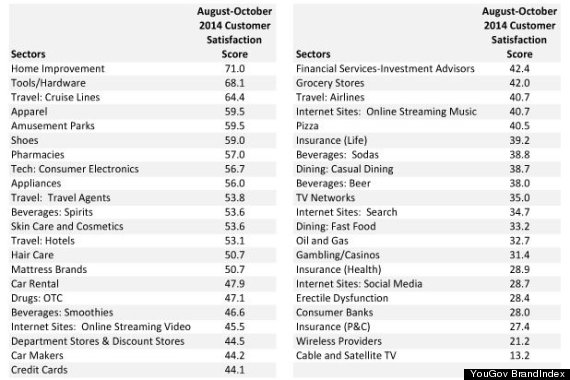 CORRECTION: A previous version of this article mistakenly listed "Tools: Hardware" on the chart of categories receiving a low rate of satisfaction from consumers. It received a high rate of satisfaction.
Popular in the Community