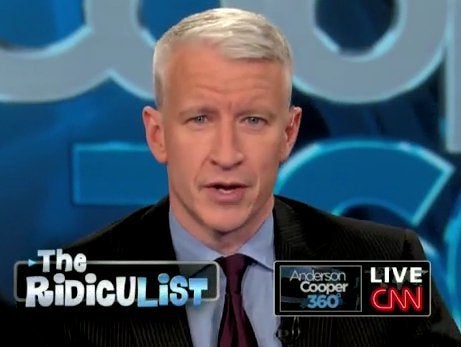 The big news is that total day news viewing was down year to year for every news network. For CNN the year was a veritable disaster. While MSNBC lost 1% of its viewers, FoxNews 5%, and Headline News 11%, CNN was down 29%. Year to year primetime was even worse -- CNN was down 34%, Headline News 20%, FoxNews 7% and MSNBC 5%. CNN changed leadership towards the end of the year, but the new leader was the head of Headline News. I would hate to think that his chief recommendation was that his network lost fewer viewers than CNN did.
Another interesting bit of news, but perhaps a mere aberration, was FoxNews fall from grace in the last week of the year. For the first time in years, FoxNews dropped out of the top ten among all cable networks. It managed to do no better than 14th in both primetime and total day. Sean Hannity was absent part of the time, but if his absence caused a ten point drop in the ratings, he should be getting paid a lot more money than he is. The lack of interest in news last week was not unique to Fox, MSNBC's primetime audience dropped from 29th place among cable networks to 30th, CNN fell from 33rd to 41st, and Headline from 38th to 46th. But, as I suggested above, this may be a onetime only event, perhaps most people want to avoid news over the Christmas holidays.
The third bit of news is that MSNBC has clearly emerged as the runner up to FoxNews, it finished second behind Fox in every demographic category in both primetime and total day.
I take no joy in any of the above. As I sit here, I recall January 1st, 1982, when we launched Headline News. We were riding high. CNN was getting a 1 rating, seen in 150,000 homes in a universe of 15 million homes. We had a loyal and attentive audience, and we seemed on the brink of greatness. Our slogan was "News, news and more news". We knew we were reporting events as they occurred every hour of every day and we were changing the world.
Fifteen years later, competition emerged and CNN changed to meet that competition. It offered less news and more opinion, anchors became shouters, sets and graphics were cosmeticized, the simple was replaced by the ornate and clean, hard facts were transformed into talking points. Politicians were permitted to announce idiotic and contradictory statements as if they were factually true, and CNN forsook its role as a strainer and became a spout -- just another spouting ground for con-men to take advantage of human dreams.
H.L. Mencken is reported to have said, "It is the nature of the human species to reject what is true but unpleasant and to embrace what is obviously false but comforting." I believe it is the duty of a free press to reject the "false but comforting" and report the "true but unpleasant." I think if CNN took that as its mission, it might get a hell of a lot more viewers.

Calling all HuffPost superfans!
Sign up for membership to become a founding member and help shape HuffPost's next chapter