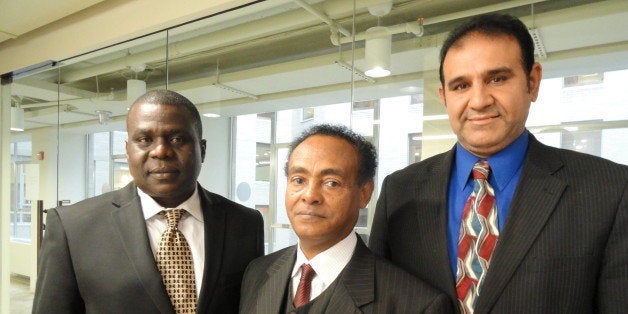 WASHINGTON -- Working for Sunny's Executive Sedan Service, Ishaku Atam and his friends have chauffeured some of the biggest political figures of our time throughout Washington: Hillary Clinton, John McCain, John Kerry and Newt Gingrich, to name a few. Escorting such esteemed guests comes with many responsibilities, not the least of which is: Be sure to smile.
That's often been the toughest part of the job, but not because of any outsized egos in the back seat. The drivers' beef is with the home office. Atam and 24 other one-time Sunny's drivers have accused the company of systematically ripping them off as they drove their clients, including guests bound for appearances on Fox News, CNN and MSNBC.
Given the atmosphere of luxury cultivated in Sunny's sedans, the big-name politicians and talking heads would have no idea of the conditions under which the drivers are working, Atam told HuffPost.
"They would be shocked if they knew," he said.
In complaints laid out in federal court, the drivers allege that Shafqat Iqbal Chaudry, aka Sunny, cheated them out of wages by misleading them as to what he billed the networks and other clients in his 50-driver sedan business. The suits allege that he pocketed much of the gratuity charges that customers would have assumed went to the drivers. And the drivers also claim Chaudry made them pay for gasoline, even though clients were billed for gas surcharges, and buy accoutrements, like bottled water and soda, for the sedans from him at marked-up prices.
"He is a tyrant," said Goitom Bisrat, a Sunny's driver who says he was fired. "He doesn't care. Drivers to him are sub-human."
Reached by phone, Chaudry said he would take HuffPost's questions at a later time, but didn't respond to subsequent calls. Chaudry is represented by the law firm Jackson Lewis, well known in labor circles for its "union avoidance" work. A lawyer for Chaudry said they wouldn't comment on the drivers' allegations.
A federal judge recently ruled that the complaint filed in Virginia by the 25 drivers wouldn't hold up as a collective lawsuit, but 13 drivers have refiled their own individual lawsuits against Sunny's in D.C.
The Sunny's litigation pulls the veil back on a cottage D.C. industry familiar to many inside the Beltway. The drivers offer first-class rides to journalists, politicians and think-tankers; and the networks, in turn, pay a premium for the escort. Drivers usually wait outside the studio as guests film their segments, and often get on friendly terms with the regular contributors whom they drive. (A HuffPost reporter became aware of the lawsuit while chatting with a driver en route to an appearance on MSNBC.)
Spokespeople for Fox News and MSNBC said their networks were unaware of the lawsuits against Sunny's. CNN didn't respond.
The Sunny's drivers claim their boss took advantage of a scheme widespread in the transportation business: the misclassification of employees as "independent contractors." Often portrayed as an arrangement that gives "flexibility" to "entrepreneurs," the independent contractor designation essentially lets employers shift workers off their books, which offers a bevy of tax advantages to a business. A business can then avoid unemployment taxes and workers compensation costs, and in many cases, shift liabilities to those who would otherwise be considered their employees.
For all the downsides -- such as not getting employer contributions to Social Security and not being covered by workers compensation -- being an independent contractor is supposed to offer certain benefits to the worker, particularly in the form of tax write-offs. But the Sunny's drivers say they were unable to enjoy many of those advantages. Atam, Bisrat and a third driver, Babar Khan, all told HuffPost that while they had gasoline costs deducted from their paychecks, they were instructed by Sunny's not to write off that expense on their tax returns.
"When we signed our contracts, they said, 'Don't claim gas, don't claim expenses,'" said Bisrat. "They assume we don't know our rights. Ninety-nine percent of the drivers are foreign-born drivers. They assume that we don't know whether we can claim something or not. I told him, 'You don't tell me what I can claim or cannot claim ... What I claim is none of your business.'"
Despite their employment designation, the drivers say they never felt all that "independent" as businessmen. Driving for Sunny's required them to be available 12 hours a day, six days a week, they said, which made it difficult to pursue other opportunities. They also said that management required them to wear uniforms. One suit alleges that Sunny's management "controlled all aspects of Plaintiff's job duties through threats ... and through the ability to withhold assignments."
According to the lawsuit, the drivers' statuses were only changed from independent contractors to employees in 2011, although the pay arrangement stayed generally the same.
"I argued personally, 'Why do you tell me I am independent contractor as long as I don't go out and do my own jobs?'" said Bisrat. "If you lease me the car, I pay for the car, and I go generate income on my own -- that would be independent. But we are working on their schedule, and we [drive] their customers in their cars. We cannot negotiate any kind of business with the customer. It is not independent."
Given the expectation that drivers would be on call 72 hours a week, a lawyer for the plaintiffs, William Cowden, said much of their pay claim boils down to a particular question of labor law: Were the drivers "waiting to be engaged" or "engaged to be waiting" as they idled in D.C. between assignments? He compared the drivers' arrangement with Sunny to a cabbie not being allowed to run the meter while his fare stepped out of the cab for a few hours.
"Sunny says they're waiting to be engaged, that they're waiting for an assignment," Cowden said. "We say they're engaged to be waiting. They're there because you want them to be there. They have to wait, and they need to be paid for that time."
According to the complaint, the drivers also weren't paid for the time they had to spend getting their cars washed, taking care of vehicle inspection and fetching sedans for Chaudry. Cowden said he believes that when the long wait times and extra labor are factored in, the drivers sometimes earned less than the minimum wage.
Although the arrangement changed over time, the drivers say they were initially supposed to be paid half of what Chaudry billed the clients for the ride, as well as half of the "gratuity" tacked onto the bill. Most clients might assume that 100 percent of the tip goes to the driver. (Some states, such as New York and California, have already moved to make it illegal for a company to take a percentage of a gratuity in this manner.)
The drivers claim Chaudry billed clients at a rate higher than what he told his workers he charged, paying them less than what their agreement entitled them to. They say they discovered this after discussing the charges with some of their clients. The drivers also say they were made to buy water and soda for their sedans exclusively from Sunny's, with the cost of the items deducted from their wages.
Atam said he was fired after filing the lawsuit against Sunny's but was later rehired. He's now paid on an hourly basis, though he said the wage fluctuates and that he doesn't receive health care or other benefits.
Khan, who emigrated from Pakistan, said he feels like Chaudry runs the operation "like a Pakistani brick factory." He is now driving people for Uber, an arrangement he much prefers to Sunny's.
Bisrat, too, has struck out on his own, driving clients in his own car.
"Now we really are independent," Bisrat said.
Calling all HuffPost superfans!
Sign up for membership to become a founding member and help shape HuffPost's next chapter