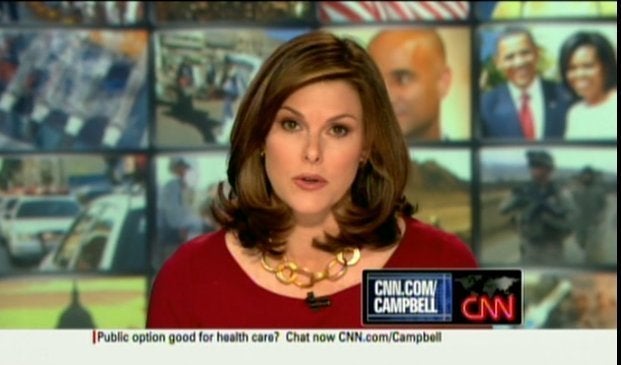 Third quarter cable news viewing ratings are in, and FoxNews does better and better on a year-to-year basis, while CNN and MSNBC show declines in total viewing and demographics. Fox first: It's up 30% in primetime viewing and 27% in total day. CNN is down 6% in prime, but up 9% in total day, while MSNBC is up 7% in prime but down 31% in total day. CNN was helped in the last week of August by a vast upsurge in viewing around Teddy Kennedy's death and funeral.
The demographics were even worse: CNN lost 13% of its primetime 25-54 year olds, while Fox was up 47%. MSNBC was down 7%. In 18-49s, Fox gained 42%, CNN lost 16% and MSNBC lost 11%. Fox gains may be attributed the red meat that anti-healthcare conservatives are throwing into the pit, or by the enormous success of Glen Beck, who joined Fox this year.
Total day demographics were scarcely better: Fox was up 38% in 25-54 year olds, CNN was down 1%, and MSNBC lost 29%. In 18-49s, Fox was 32% up, CNN 3% down, and MSNBC 23% down.
I cannot understand why Democratic politicians and consultants have been so ineffective in producing news that will attract their supporters to television sets. They have permitted flawed, emotional arguments the health care debate, and they have launched no effective counterattacks. They seem unable to combat the irrationality of the right, and have offered no cohesive strategy to develop support for their healthcare and economic initiatives. They seem confused and timid at a time when precision and boldness is demanded.
So far, I am alone in my belief cable news viewing reflects public attitudes on political positions--in other words, who people vote for, but, if I am right, unless Democrats develop a clear and compelling message, they face a very tough time in the 2010 elections.
It seems as if the "news" is so tough for Democrats to watch, that they've turned off their TV sets. (Unless, of course, and this is my ego writing, they've switched to the Food Network, which is doing better than ever, and beats Fox in every demographic.)