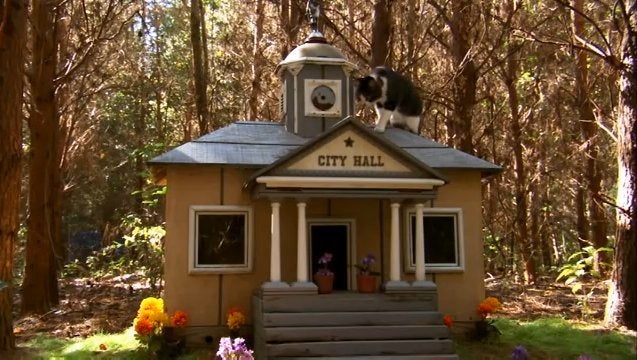 Despite the ranch's tagline "Where cats aren't treated like animals" and the tiny town built for the cats, authorities found inhumane conditions and very sick cats on the property.
Craig Grant, who opened Caboodle in 2007, was arrested on charges of animal cruelty and scheme to defraud.
He later wrote on the Caboodle web site: "Monday morning a SWAT team came in gun to my head took me to jail on what they said was a misdemeanor charge... I posted bail the same day, but I'm not allowed back at the ranch. I have no idea what's taking place there." The bond was set at $250,000.
Five months ago, a PETA investigator (warning, link contains graphic images) worked as an undercover volunteer on the ranch and recorded video of cats suffering from respiratory infections so severe that "they gasped for air and struggled to breathe, drooled, and had bloody mucus clogging their noses." See the disturbing video below.
According to PETA (link contains graphic images), Grant allowed cats infected with fatal contagious diseases to roam freely through and beyond the ranch. He also attempted to "clean" the cats' faces by vigorously rubbing their eyes, noses, and mouths with Clorox wipes, PETA says.
The ASPSCA has been seizing cats from the ranch ever since Monday. The last tally was at 700 but still growing.
The cats, who are sick with ringworm, feline AIDS, leukemia, and eye infections, are being kept in a warehouse in Jacksonville where 125 volunteers and vets are providing treatment, Tampa Bay Times reports.
Despite the apparent lack of care, Grant refers to his cat residents as his "babies" and says he worked all hours of the night to nurse them to health. He writes on his web site:
I've had a number of sick cats over the years. … All these cats were being treated. I either take them to the vets or call to describe symptoms and am told what to do. … I've gotten crippled cats back on their feet, ones with liver problems well again … I feel my heart does most of their healing. Night after night I am in the sick ward and work until I can't stand up anymore. Sometimes grabbing a roll of paper towels for a pillow to sleep on the floor with them at the end of the day.

The image of SWAT teams rescuing deathly ill cats is a long way from Caboodle supporters' depiction of the ranch as a feline heaven.
CORRECTION: An earlier version of this story indicated that the Animal Rescue Act would force shelters to give animals to rescue groups. That is the interpretation of PETA, who is fighting the bill. The clarification has been made.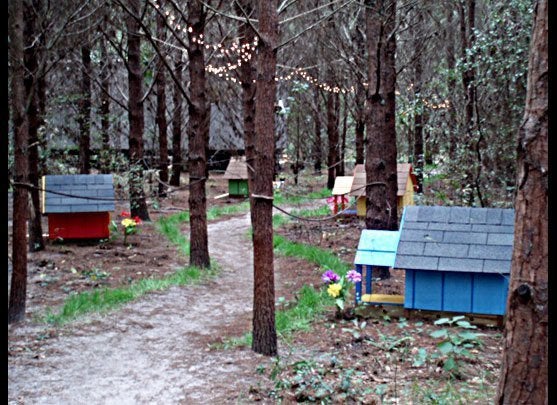 Caboodle Ranch