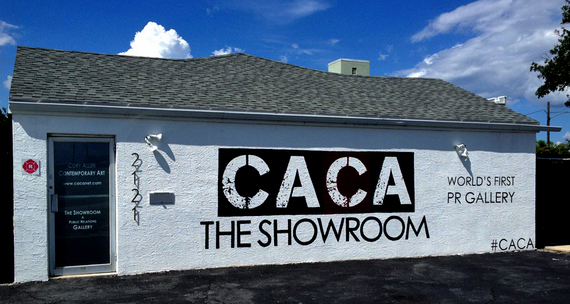 Cory Allen is no stranger to controversy. "I had two petitions and a boycott going against me," he says with a casual proud-ish smile. He is referring to public and media reaction to No Delete, Cory Allen Contemporary Art's first Saint Petersburg, Florida event. The show, in which tech-obsessed conceptual artist Xvala aimed to exhibit "leaked" nude photos of Jennifer Lawrence and Kate Upton and in the process gave his own privacy up to the internet gods received as much scorn as it did praise. Opponents questioned its artistic merit. As with all things art, there is no definitive answer. One thing is undebatable however; the show, its creator and CACA all received a lot of attention. This might be expected of just about any project Cory Allen sets his sights on.
"Art is not talked about as much as showbiz or gossip." says Mr. Allen about what prompted him to focus his already successful PR work on artists and galleries. A gallery and showroom of his own seemed the next logical step. Why Saint Petersburg, Florida? He came close to settling on Miami, influenced in part by the continuing success of Art Basel, but something didn't click there. He purposely avoided New York. Saint Petersburg offered an art-rich growing market where he could not only further develop the CACA brand but become a part of the foundation of what's to come. "This community has been really good to me," he readily admits.
The Showroom (the technical name of CACA's St. Pete art venue) strives to create a platform for diverse and eclectic artists and disciplines, local and visiting. In the future, Cory plans to add a performance stage and living quarters for artist residencies. He views what he does as an art form in itself. An exhibit at The Showroom is, in essence, a collaboration between the artist and Cory. He is eager to work with artists who have a clear voice. "If there's no clear message I don't want to do it."
Cory's concepts and goals for The Showroom are ever evolving. "I want this space to mirror the internet," he says, referring to injecting technology and tech aspects to exhibits to facilitate the viewer with readily accessible and instant behind-the-piece access. As the dealer and PR man behind Daniel Edward's L.A. Fertility and Landmark for Breastfeeding there should be no questioning of Cory Allen's determination and ability to create a national (worldwide, even) art conversation. As a growing arts destination, Saint Petersburg, Florida is sure to greatly benefit from his refined skillset and unwavering passion.
Up next at The Showroom is The Shroud of Scientology, also by Edwards. Much mystery surrounds the upcoming exhibit. We will just have to wait until Saturday, August 8th to discover what it has to offer.
Calling all HuffPost superfans!
Sign up for membership to become a founding member and help shape HuffPost's next chapter