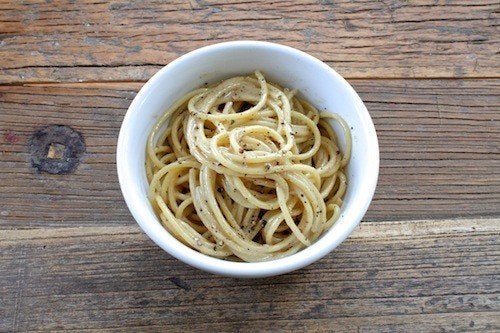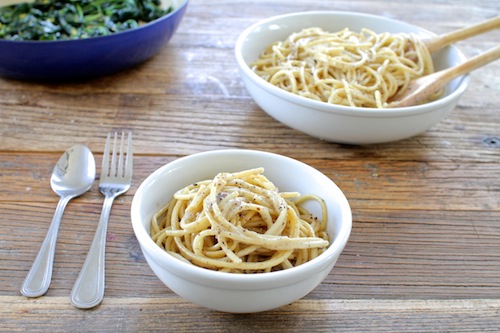 If I'm having friends over on a weeknight and I want something easy -- because Soul Cycle just kicked my ass, I need a shower and I'd rather drink a beer than shop for groceries -- I'll always refer to the timeless cacio e pepe, a Roman pasta dish made with just cheese and cracked black pepper. Its simplicity is so sophisticated and its rustic appeal helps me forget that I live in a city and too often call Soul Cycle my "spinagogue."
The first time I met cacio e pepe was at the hands of my brother, Tom, who is a great cook. Tom is actually one of those people who is good at everything and whose success can't annoy you because he's so annoyingly kind and generous.
Anyway, the recipe here is not Tom's, but one I've adapted from a book as timeless as the dish itself, called The Complete Book of Pasta, published in 1968 by an American journalist who traveled around Italy writing about all the pastas he ate. He actually got paid to do that. I think about doing the same thing, about renouncing this beast called higher education in favor of a real-life polyamorous affair with Italian culture, food, wine and, well, men, I guess.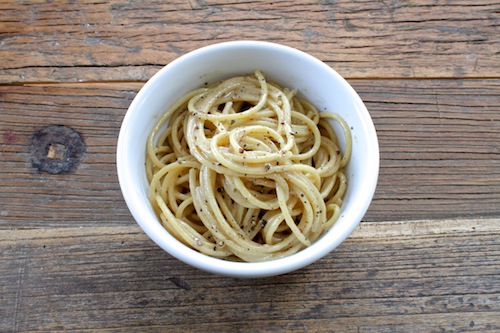 Of course it's not that easy. No one would pay me to do that and my friends would have no dinner parties if I left. But what the author, Jack Scott, noted as the reason he had to take his journey and write this book is still so relevant. "I am faced with the fact," he says, "that my fellow man is rapidly becoming less and less interested in cooking food" so that "in essence, writing a cookbook is like writing history."
That's a devastating statement. I took this book from my Grandmother's trove right after she passed and it should be required reading for all ("and after Huckleberry Finn, we'll turn to The Complete Book of Pasta..."). I read cookbooks most nights when I get into bed, a habit that proves problematic when I fall asleep and roll over them. It rightfully drove my ex-boyfriend crazy when I preferred to read about how to achieve the perfect crackling. Not sorry.
Of course my obsession with this genre is unusual, but I don't think cookbooks have to be history: I think we, people of my generation, want to cook, but maybe we're a little intimidated, unsure of how to approach the thing.
This dish, however, is approachable and both financially and spatially manageable. It's simple, rustic and beautiful -- as life should be. I like to serve it with spinach, lightly sautéed and flavored with lemon zest, olive oil and nutmeg. If that's too much, then a green salad is great too. A glass of light, not too fancy red wine is the perfect compliment.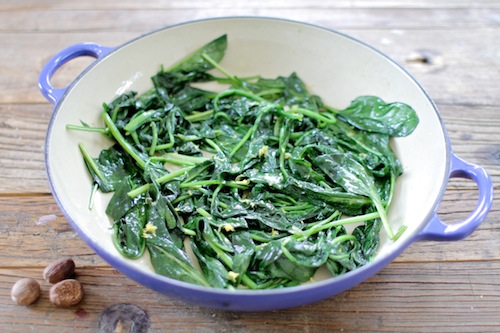 I like an equally simple dessert to follow cacio e pepe and, after so much pasta, fruit seems like an obvious choice. This time, I've chosen blood oranges, which are at the very end of their season, so make haste! They are a stunning variety. I drizzle the segments with honey and thyme leaves and I wouldn't be averse to adding a dollop of whipped cream...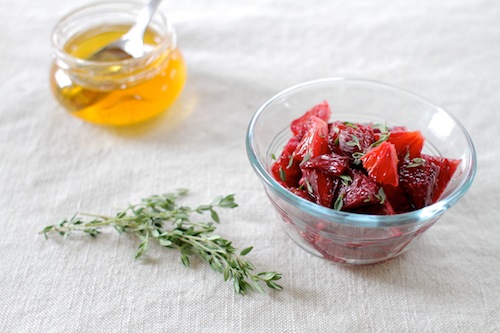 4 tablespoons unsalted butter
2 teaspooons freshly cracked black pepper, plus extra for sprinkling
1 cup freshly grated Pecorino Romano
1 cup freshly grated Parmigiano
I urge you to crack your own black pepper. I can assure you, you won't regret it. If you don't have a mortar and pestle, then at least grind it yourself -- and if you don't have either then wrap the whole peppercorns in a dishtowel and smash them with a rolling pin. Either way you're releasing flavor and leaving the pepper in big enough chunks to burst in your mouth. It's how they do it in Lazio.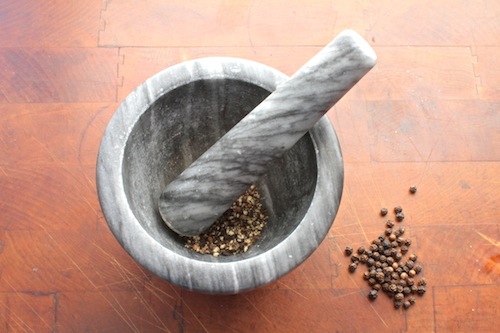 Bring three quarts of water to a boil and generously salt. The water should taste a little under seawater salty. Cook the pasta for the lowest time listed on the packet.
Meanwhile, melt ½ of the butter in a wide skillet and warm black pepper through.
When the pasta is cooked al dente, don't drain it, but use tongs to transfer it to the skillet. You want some of that precious pasta water to land in the skillet. Add the cheese, tossing until it melts and covers the pasta.
The key is to make an emulsion with the pasta water, butter and cheese. Add more pasta water if the sauce looks dry or stringy and keep mixing until it has fused together. Serve in bowls and sprinkle with a little extra pepper. I find that it usually doesn't need more salt.
1 T and a drizzle of olive oil
Spinach is so easy to sauté, but it can be tricky to get the timing right with the pasta.
Here's what I do. When the pasta has two minutes left to cook, heat one tablespoon of oil in a low-sided sauté pan and add the spinach. Toss and cook until barely wilted and turn off the heat. Add the zest, nutmeg, oil and salt, tossing again, and cover to retain the heat before attending to the pasta. The zest and nutmeg can be prepped and grated on a microplane -- an essential cooking utensil -- before cooking the spinach. No problem.
Blood Oranges with Thyme and Honey
Serves 4
First you have to supreme your oranges. That is one of my favorite cooking verbs. It sounds so feisty, but it only means removing the skin, pith and membranes from the orange. I find that it's easiest to do so with a small, serrated knife. You're trying to cut away the bitter pith without taking off too much flesh.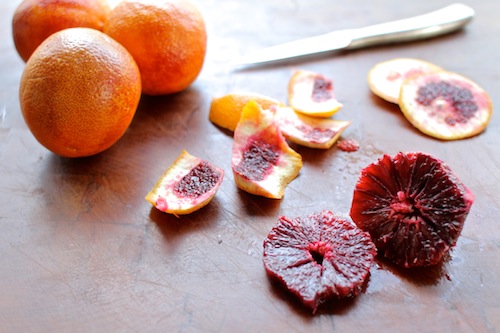 As you can see by the picture, I'm not very good at it -- my skins are pretty fleshy. This task never failed to embarrass me when I cooked on the line. I could try to explain it better to you, but, for all our sakes, it's probably best to YouTube it. So! Just drizzle with honey, sprinkle with thyme leaves and finish with a dash of salt. Done!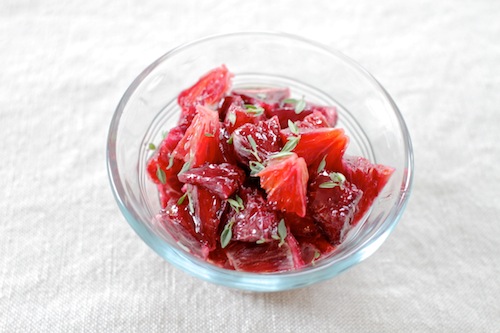 Follow me on Instagram @alicschmidt!
All styling and photography done by the glorious Echo Hopkins, my partner in crime. Follow her @echohopkins!