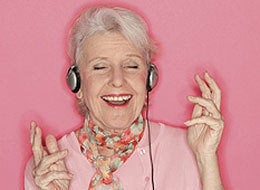 I tripped right into the gangly, urgent, danceable music of Ezra Furman & The Harpoons quite by accident last summer, and from the Jonathan Richman-esque spoken word lead-in of "I wrote this song in a paper bag..." my ears were happily perked. With a sound that channels some of the best awkward charm since the Violent Femmes, Furman has found an outlet for the restlessness of youth.
Their music unfurls into cacophony and melody, retro and squawk, The Kinks meet punk, with a dash of The Replacements' sloppy joy. There are handclaps and awkward yells and lyrics about enjoying the music without worrying 'bout the words. That sounds like a plan tonight when they hit Denver's Hi-Dive for the explosive opening of their big autumn tour.
That song makes me want to do some sort of modified twist dance move. It's all in the hips. Ezra Furman & The Harpoons were signed by Minty Fresh Records while they were yet in college at Tufts, and are still evolving as a band through hundreds of live shows. I like where they are heading. Brian Deck (Modest Mouse) produced their album, and they played to an enthusiastic hometown crowd at Lollapalooza this summer.
Let's check 'em out tonight.