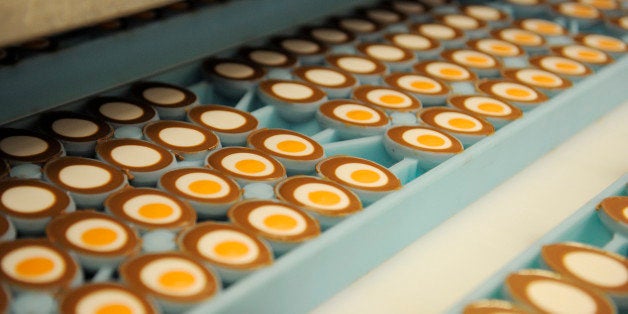 The Internet erupted into a firestorm of outrage on Monday over news that Cadbury is changing the recipe for its iconic chocolate Creme Eggs. But Americans have nothing to fear: In the U.S., Cadbury's chocolate-covered, fondant-filled candies aren't changing.
"None of the changes made in the U.K. are affecting the eggs in the U.S.," Anna Lingeris, a spokeswoman for the Hershey Company, which makes Creme Eggs for the U.S., told The Huffington Post on Monday.
Earlier in the day, it was widely reported that Mondelez International, the maker of the popular Easter treat in the U.K., was tweaking its recipe. Each egg will now have "a standard, traditional Cadbury milk chocolate for its shell," instead of Cadbury's Dairy Milk chocolate, Mondelez said in a statement.
Cadbury UK's Facebook page was inundated with comments from Creme Egg fans protesting the change. A Facebook page to "Save The Creme Egg" was created, and many Creme Egg loyalists called out the company on Twitter.
But Americans won't see any difference in their Creme Eggs, which were already not made with Dairy Milk chocolate. That's because Cadbury's products in the U.S. are manufactured by Hershey, not Mondelez. According to Hershey spokeswoman Lingeris, Americans just aren't that into Dairy Milk.
Lingeris also confirmed that Creme Egg packaging won't change in the U.S. -- unlike in the U.K., where the number of eggs per box is shrinking from six to five.
Creme Eggs, a top Easter product for Cadbury, generally hit store shelves in the early months of the year.
Popular in the Community