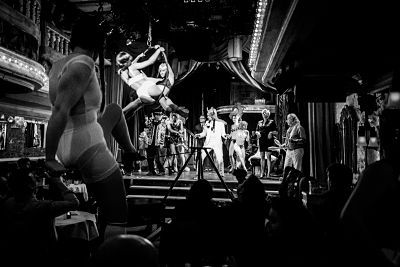 Provocateur? Entertainer? Pop genius? Rapscallion? Hustler? Romantic? Insatiable lover? Prankster? Satirist? Sage? American hero?
Recently, a severe heat advisory was upon us in New York City, however for the unsuspecting patrons of a serene Chelsea café which normally tends to the urban chic, there was no warning that performance artist Kenyon Phillips was about to arrive. My personal history with Mr. Phillips stretches back to the early 21st Century wherein I served as his bassist for an entire year in his shock rock ensemble Unisex Salon, which is another scandalizing tale for another time. I am still in recovery almost fifteen years after living, breathing, bleeding shouting, pointing, creating, debating, composing, and clubbing with my most inventive band leader.
Kenyon, outfitted in snug black trousers, clanking silver jewelry, and a baggy white designer t-shirt that surely adorned Roland Gift, or me, in 1986, looks fabulous in the sweltering warmth as sweat streams down his rather svelte figure. An out-of-towner taps me on the shoulder to inquire as to the identity of this obvious celebrity in our midst. The customers stare, as do the regulars. On cue, I respond in a hushed delivery: "oh, you must be joking...you know who that is..." When you are in the presence of Kenyon Phillips, life is theater. So I act my part.
Among Kenyon's most recent endeavors include his acclaimed, surrealistic autobiographical rock opera cabaret; The Life and Death of Kenyon Phillips -which I previewed for Huffington Post in April 2014. Since the production's debut Kenyon's creation has undergone a metamorphosis - which thereby warrants revisiting. Actually, all the versions of Life and Death, including those which packed Joe's Pub and The Box in the past year, merit continual discussion as no performances are ever the same.
Akin to a be-bop composition - Life and Death serves as a frame. The content moves with the moment; the phrasing, the delivery, the intonation, the libretto - it's All That Jazz on steroids. With a cast that boasts Michael Musto, Daphne-Rubin Vega of Rent, along with Kenyon's dexterous all-girl orchestral rock ensemble The Ladies in Waiting, a bacchanalian battalion of mind-blowing aerialists, acrobats, and burlesque artists known only to the after-hours culture of Manhattan, Life and Death is about to take on a new life.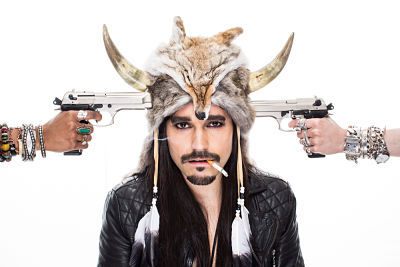 Enter Tony Award winning actress Cady Huffman, who makes her New York theatrical directorial debut with The Life and Death of Kenyon Phillips at Webster Hall. Ms. Huffman arrives at the aforementioned Chelsea café sans the pomp and circumstance of Mr. Phillips; however Kenyon's reverence for her is most apparent. Her body is impressive -Mel Brooks dubbed her "the mountain every Jew would like to climb!" And her body work is impressive as it is expansive. You've seen her on stage, television, and film in such seminal works including Romance & Cigarettes, Curb Your Enthusiasm, a Tony Award nomination for The Will Rogers Follies, and a Tony Award for the Best Featured Actress in a Musical for her performance in The Producers, to cite a very select few.
Cady intends to bring even more of the "real" Kenyon to the production. "This is how I live my life, by being myself on stage...that's what goes into doing a great Broadway show...you find that part of you that has nothing to do with playing a character - and then you become more of yourself."
Life and Death at Webster Hall will have a decidedly Bob Fosse bent. Cady worked with Fosse for Big Deal, an experience which further shaped her taste in music, among other aspects of her artistry. Ms. Huffman vividly recalls her first Fosse moment previous to actually working with the iconic choreographer.
"I was on a date at the Granada Theater on the hard scrabbled streets of Santa Barbara...and we saw All That Jazz ...at that moment my life changed before my eyes. When Sandahl Bergman ripped off her top and danced, my date asked me 'would you do that?' And I said 'yeaaaaaahhhhh!!!"

Kenyon's Life will now imitate his art and vice versa much like Fosse's "Joe Gideon" thanks to Cady's directorial modus operandi. "In the All That Jazz audition scenes, Joe spoke to every single performer exactly like Bob - 'thank you for coming...we're not going to need you this time...please stay....' It was a seminal moment in my career!"
In previous version(s) of Life and Death, Ms. Huffman played the role of Kenyon's mother. When the Webster Hall gig materialized, Phillips approached Cady - in character. "Mom, would you direct me?" At first she refused, to which Kenyon claims he pried her with drink. Note that the lips of Mr. Phillips have touched many things - a few of which I can vouch for, but demon alcohol is not among them. "When she called me back I could hear the clink of empty bottles in the background...it's been amazing since she's signed on." As directing Kenyon and acting would be a conflict of interests of sorts, Vega once again returns as Kenyon's mom. "Cady's like the 'big mom' now, co-choreographing the production and giving it shape and form."
As such Mr. Phillips has had to step up his game. He notes that "Cady is the real Broadway deal. She is uptown and I am downtown rock 'n' roll. She'd storm in and demand 'where are the charts?! Where are the lead sheets? But we got it together." Huffman emphasizes that the script, the costumes, and the entire presentation is tighter and has purpose even though it appears "off the cuff" to the audience. "The chaos," she proclaims "must have organization!"
To not know Kenyon is to still love him. Huffman assures me that Kenyon's life story has universal appeal despite his lack of celebrity status beyond the downtown performance art scene, which is curious news to some tourists in a Chelsea cafe. We discuss Kenyon as an American "everyman" in a culture which now champions Caitlyn Jenner; shrugs indifferently at news anchors which admit to habitually lying and politicians acting out their sex fantasies on social media.
So what is the theater-goer to expect at Webster Hall on a hot August night in the year 2015? A new opening number which is an ode to Kenyon's narcissism replete with a Papal procession - and in the process, emerges as a sly commentary on our obsession with ourselves by way of Facebook and other social media platforms; circus and specialty acts; dancing genitalia; forbidden love, juggling sex toys; and a soundtrack worthy of Rocky Horror, Ziggy Stardust, and Phantom of the Paradise legend, among other elements I am sworn not to divulge. You'll just have to see for yourself at Webster Hall. We'll all be there.
The Life and Death of Kenyon Phillips happens on stage on Wednesday, August 19, 2015 at Webster Hall, 8:00 PM EDT. 18 years and over.
Popular in the Community