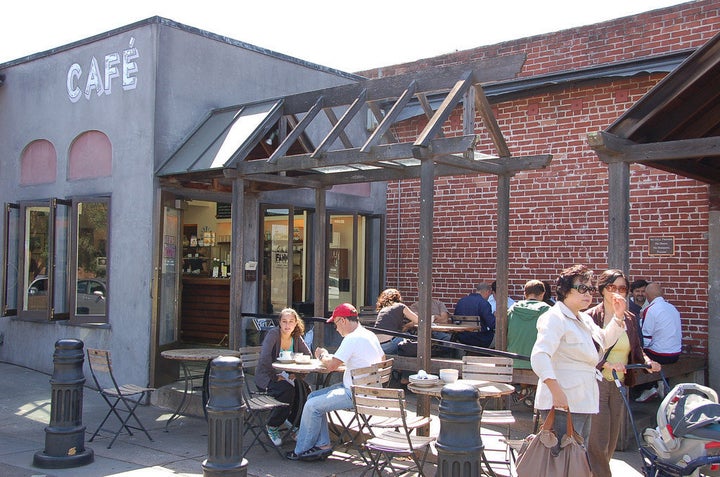 Friday was a sad day in Berkeley when, after 28 years, Alice Waters' Cafe Fanny permanently closed its doors. According Inside Scoop, the restaurant was no longer "economically viable."
The owners (Waters and her brother-in-law) announced the restaurant's closure on the eve of its last day, to both the public and the employees. And according to Berkeleyside, the employees were visibly shaken.
"One barista I spoke with was already talking about looking for a new job," said a customer to Berkeleyside. Workers were given two weeks of severance pay.
In a letter posted at the cafe, the owners explained the closure:
Twenty-eight years ago Cafe Fanny was conceived in the spirit of Marcel Pagnol's trilogy -- a love story involving the whole community, centered around a little standup cafe.

So it is with a heavy heart that we are closing Cafe Fanny today after 28 memorable years.

It is the right moment in time to explore new possibilities for this small space that can still house the romance and idealism of the original.

We want to thank our staff, suppliers, friends and most of all you, our wonderfully loyal customers who have been with us in bowls of cafe au lait and beignets for so long.

With gratitude and love,
Alice, Jim, Laura, Steve and Kermit, March 8, 2012
The abrupt closure came as a surprise, as the cafe regularly has a line wrapped around the door. When asked about the timing, Waters said, "It's been 28 years of taking care of Cafe Fanny. But my brother-in-law and my sister are in a different place in their lives and they can't take care of it the way that they have."
Cafe Fanny first opened its doors in 1984 as a simple cafe and casual counterpart to Chez Panisse, and was named for both Waters' daughter and the heroine of Marcel Pagnol's 1930s Marseilles movies.
According to the Cafe Fanny website, the cafe existed to create "an ideal reality where life and work were inseparable and the daily pace left time for the afternoon anisette or the restorative game of petanque, where eating together nourished the spirit as well as the body -- since the food was raised, harvested, hunted, fished and gathered by people sustaining and sustained by each other and by the earth itself."
REAL LIFE. REAL NEWS. REAL VOICES.
Help us tell more of the stories that matter from voices that too often remain unheard.