Café Nordo and 14/48 Projects joined forces to create the unique and creative Food Theater Thunderdome that consists of four short plays staged along with a four-course gourmet dinner. Naturally, each of the food courses is themed to match the play during which it is served.
The 14/48 Projects process begins the "Destiny Party" on the Sunday prior to the Thursday opening of the show. That event brings together four playwrights, four chefs along with actors and other theater production people. During the Destiny Party, the theme for the entire production is drawn. Then, the chefs draw which meal course they will prepare and the playwrights draw which course they will write for. Actors are attached to each play, and the collaborative group has four days to prepare their portion of the show.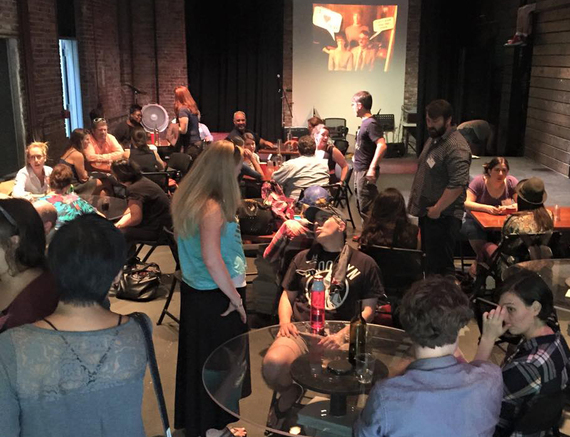 The theme for the show I attended on Saturday, August 22 was "To Have and To Have Not," and each of the four plays had some relevance to that theme. More important, each of them was extremely entertaining and accompanied by delicious culinary delicacies and a great live band.
During the soup course, the cast and wait staff sprinkled stuff on our beet-based soup to make it steam like dry ice, and the effect was both startling and spectacular. This touch of molecular gastronomy - that I was later told was a savory tarragon ice cream made with liquid nitrogen - was also quite tasty.
Then there was the main course play "Bennie" about a young girl and the disappearance of her pet rabbit Bennie. Cleverly done, this play could only end one way - with the serving of "Bennie" as the main course. The mustard-braised rabbit was delicious, and there was plenty to go around at my table because everyone else had chosen the vegetarian option.
All in all, this production of Food Theater Thunderdome provided an outrageously enjoyable evening not to be missed. A new production will be unveiled this Thursday 8/27 and run through Saturday 8/29 at Café Nordo.
Popular in the Community