Café Nordo's newest production Bohemia is a distinctive blend of theater, music, food and history. The history centers on a deceased Chopin and Antonin Dvorak, who is trying desperately to find some form of originality in his musical creations.
Then, there are the Green Fairies who do triple duty as greeters, food servers and actors. These women seem to be constantly hovering around in a way that keeps the audience fully engaged and delighted.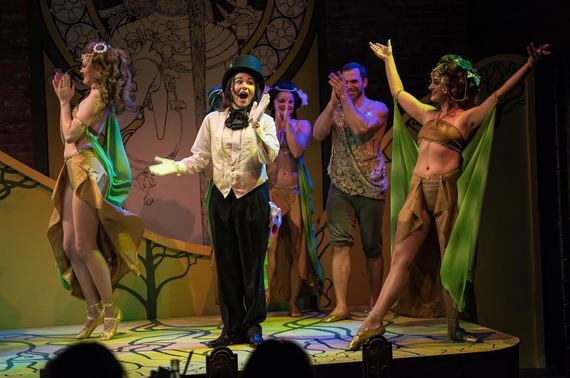 That audience is, however, divided into two sections, those who purchased the show with dinner and those who were there only for the show. The show only folks like myself were seated at desk-like tables in the back of the room, close enough to see and hear everything but clearly not a part of the food and drink festivities.
Thus, during the two intermissions the show only folks got to watch as the other half was served. The initial intermission was for the ritualized serving of absinthe (the potent green liquor often called "the green fairy"). The second intermission (which did not come until 9:45) was the goulash dinner, which looked and smelled delicious, even though I was okay not eating such a heavy meal late at night.
The highlight of Bohemia was definitely the lovely Opal Peachey who began the evening as a Green Fairy greeting everyone and later transformed herself into a tux and top hat wearing Chopin. Peachey is an amazing actress and singer, overshadowing just about every aspect of the show with her presence.
Still, the entire performance felt a bit like a scaled down, historical Teatro ZinZanni with a haves and a have-not section. That distinction seemed to create a divide that made the show a bit less appealing for those of us in "steerage." We smelled the delicacies and watched the upper class, but there were no scraps for us.
All in all, Bohemia is well worth the full-fare ticket and a delight to watch from afar, which is close enough to see and hear everything in this intimate setting. Bohemia continues at Café Nordo through September 27.
Calling all HuffPost superfans!
Sign up for membership to become a founding member and help shape HuffPost's next chapter