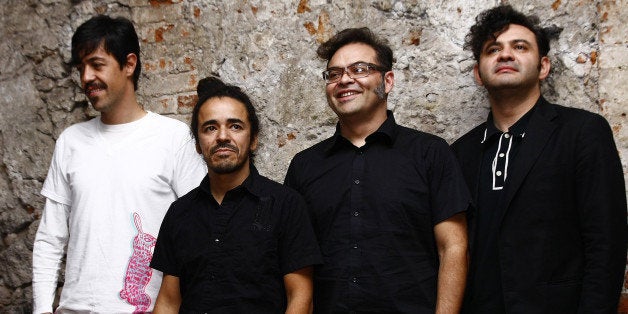 NEW YORK -- Café Tacuba revisited an old friend at Stage 48 on Sunday night, as the legendary Mexican rock group performed every track from its 1994 breakthrough record, "Re."
The album's 20th anniversary is the reason for the band's current U.S. tour, in which the quartet is also celebrating 25 years together. Café Tacuba's Rubén Albarrán and Emmanuel "Meme" del Real spoke with The Huffington Post about the experience of coming back to their breakthrough record and the difficulty of staying together for over two decades. They also spoke out about the "crime against humanity" in Mexico, which they they want their fans to be conscious of.
At the show Sunday, a sea of people stood at the foot of the stage, shoulder to shoulder, enthralled by the rhythms emanating from the stage. The air was heavy with sweat and the euphoria of fans who seemed lost in nostalgia for their adolescence. As the band moved from the uptempo "La Ingrata" to the soothing "Eres," the crowd's energy followed -- first violently crashing into each other and later holding hands to create spinning circles, always moving intuitively with the music.
"I feel very proud of what we did at the time," Albarrán said. "I think that we made a good portrait of who we were as individuals, as a group and as a society 20 years ago. ... That multiculturalism that we lived, that eclectic world that we moved in, is somehow sketched onto that album. "
Despite the long-lasting impression "Re" had on the Latin American music scene, del Real says there were songs in the album the band had never performed live, and others whose interpretation had changed over the years.
"What happened to me, at least, was that I found many memories when trying to dissect [the album]," del Real said. "Everything reminded me of the moments when we recorded it, why we recorded it, and I understood some things that, at the moment when we made it, we did without question."
The success of the 1994 record catapulted Café Tacuba to fame and cemented the band's aptitude for working with a variety of musical genres, as the record mixed several. Since then, the Mexican band has continued to experiment with its style. Albarrán says their previous work has stayed with them but will remain in the past.
"Those influences have never left us," the vocalist told HuffPost. "Of course the way we interpret them and apply them is different; we don't apply them the same way, probably because it would bore us a bit now. It's inevitable to keep walking. It's impossible to return to the same way we were 20 years ago, and it's also not healthy."
The tour also marks Café Tacuba's 25th anniversary. When asked how the band has managed to stay together over the years, del Real admitted it hasn't been easy.
"The first answer is: I don't know," del Real said with a laugh. "I don't know, because it's truly difficult. Today, 25 years later, I can tell you that personally I feel it's more complicated and complex than ever."
"But what I do know is that even now, when we get together to record albums and when we get on stage, there is a lot of chemistry and a spark," he added. "There may be some things that don't work, like in everything, but we try to cope with it."
Albarrán said the key has been "mutual admiration" and allowing every member to pursue projects outside of the band. The vocalist, for example, has released solo efforts, while del Real has worked as a producer for artists like Juanes and Julieta Venegas.
"I think all of that is important because when we get back together we come back eager to meet and work together," Albarrán said.
"I think it's important that we all talk about it because it's a crime against humanity," del Real said. He added that the violence represents a new low, "lower than what Mexicans have already been habituated to."
"It's information that is missing," he said, adding that people need to be informed and "know the great disparities that exist in our countries, and the way that a big part of the population is oppressed because of the lack of education and especially information."
Albarrán shared his band mate's sentiment and explained why everyone should be concerned about the disappearances.
"We hope that the 43 missing students are well, and we ask that they be returned alive," the vocalist said. "Wherever they are, we accompany them in their loneliness, in their fear and hope they are found soon. Because those students are our sons, our brothers; they are not strangers or far away, they are very close to us. What they did, they did to all of us. And we can't allow it."
REAL LIFE. REAL NEWS. REAL VOICES.
Help us tell more of the stories that matter from voices that too often remain unheard.
BEFORE YOU GO
PHOTO GALLERY
Thousands March in Mexico City for Missing Students