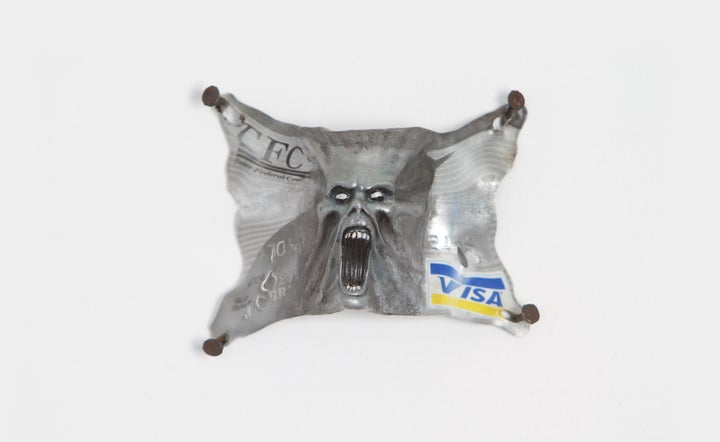 Like millions of Americans, this Los Angeles-based artist has his share of credit card debt that he's working to pay off. However, unlike all those other folks, he's raising the money to pay off his cards by melting his cards -- and any that he can find -- into elaborate artistic statements about the evils of credit cards. He then sells his artwork for $1,200 apiece.
As Alanis Morrissette might say, isn't it ironic, don't you think?
Motter's path to becoming the Caravaggio of credit cards began when he attended college in Oklahoma in 1994.
Before that, he had grown up on a commune with his dad, a retired vaudeville hand-balancing showman, and was taught to pay for everything in cash.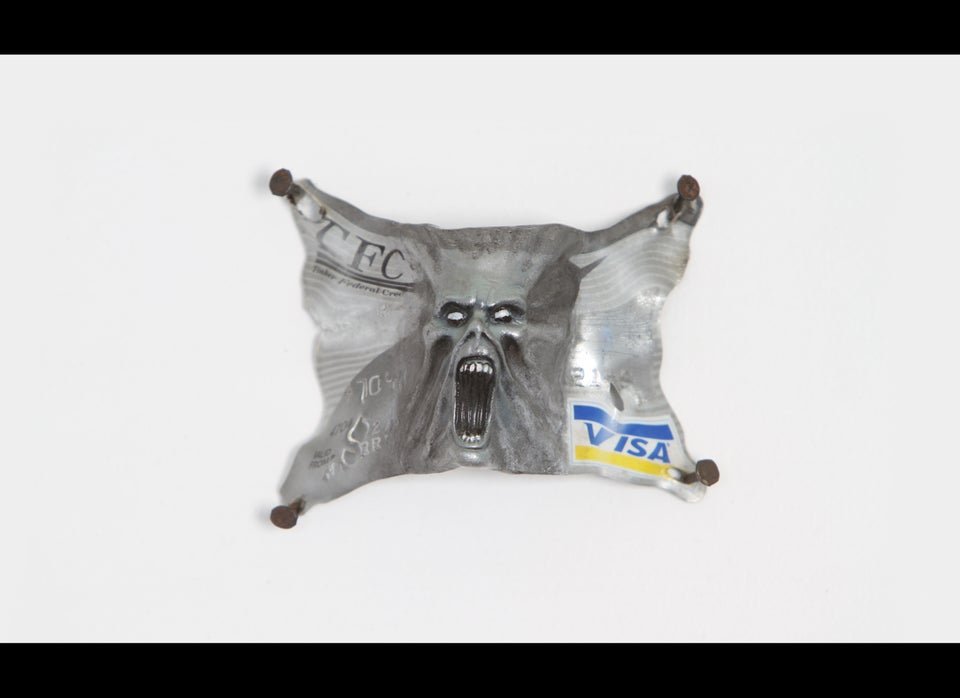 Melted Credit Cards Turned Into Fine Art
"When I first got in to college, I got a lot of applications for credit cards because the card companies paid the university for the students' addresses," Motter told HuffPost Weird News. "They used to tell us to get them in case of emergencies, so I thought one might be good to have."
A few weeks later, Motter received a $50 check that he assumed was a gift for him.
"I thought it was a way of saying, 'Welcome to the family,'" he said.
Instead, it was a way of getting him on the road to being a debtor -- something Motter didn't realize until a month later when he got a bill for the money he spent.
"I went to the bank and asked for the check back because I wanted to press charges," he said. "But they told me it was perfectly legal. I realized that if they can trick me, it's my fault, but I decided to figure out a way to reverse things."
At first, he tried his revenue-stealing revenge by turning credit cards into pendants and necklaces, until one fateful night.
"For some reason, I just decided, 'Screw it! I'm going to burn a card!'" he said. "I picked up a Discover card and held it over a candle. I was surprised that it didn't catch on fire. It just flopped like rubber and than froze in place."
Motter discovered he was able to stretch the Discover card a significant amount and figured out a way to make it look like a face was coming out of the card.
After that, Motter started to stretch himself as well, turning out 15 card sculptures, including a working miniature guillotine and learning to shoot flames out of his mouth in the process.
But despite Motter's obvious talent, the world wasn't ready to look at his credit card critiques back in the prosperous 1990s.
"I put the sculptures in a show and people were indifferent," he said. "Many people didn't agree that credit cards were bad. I said, 'Just wait! They're going to get people in debt. There will be trouble in the future!'"
Whether people didn't take him seriously because they didn't think the good times would ever end -- or because of his tendency to walk around with his shirt off wearing only American flag-themed pants -- doesn't matter now.
Fact is, the work of this prophet against corporate profit is now in vogue.
"In the past two years, there's been a bigger market for my work," Motter reported. "Everyone is on my page. People come by and they drop the 'F-bombs' against the banks."
One of those people who's been impressed with Motter's work is Nicole Hill, a swim teacher in Santa Monica, Calif.
"I call it 'Credit Card Death Art,'" she laughed. "It's high quality stuff and very timely."
Motter's former neighbor, Phil Raizen, not only admires the art, but the artist's personal integrity.
"He really lives up to his beliefs," Raizen said. "He grew up on a commune and really doesn't use credit cards."
Although Motter is able to sell his credit card sculptures for a hefty sum, he only sells them when he's absolutely desperate for cash.
"I really think they belong together," Motter said, adding that the longer his art pieces stay together, the more historical they will be. "We're coming to a day when credit cards will be obsolete."
Although he doesn't like credit cards, he admits that certain types are more aesthetically pleasing to his eye.
"I love the ones with the American flag on them," Motter said. "I took one of them and glued a crawling Army guy on it and use it as a belt buckle. And the silver parts of old Citibank cards work great if you're making the blade of a guillotine."
Motter says some people have given him cards with which to create custom pieces, but he always makes sure they are from a dead account before commencing the project.
He admits he owes a debt to the credit card companies for inspiring this project, but, despite his best efforts, he is still in debt because of some unexpected expenses.
"I do have some credit debts, and I am trying to use the sales from these to pay those off," he said. "I liken it to feeding bacon to a pig."
WATCH Cain Motter's Credit Card Art:
Related
Before You Go
LA artist Cain Motter is paying off his debt by melting credit cards into fine art.
Popular in the Community