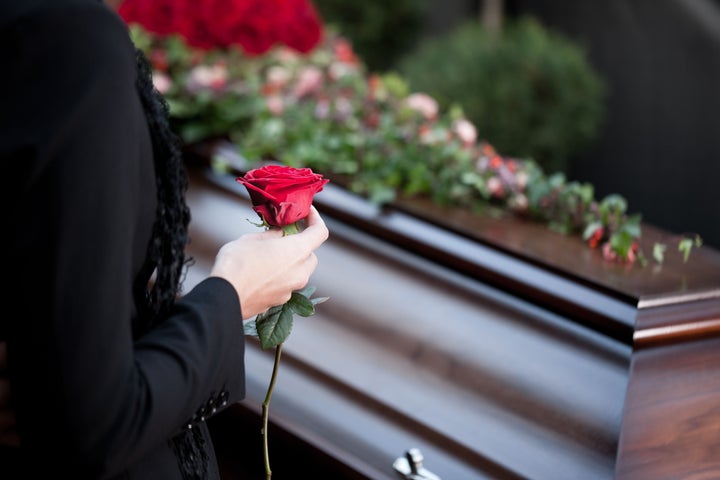 Mortician And Newly-Minted Internet Sensation Caitlin Doughty Wants To Radically Change How We Think About Death, Dying And The Funeral Industry
Though I am obviously not of the target demographic, Jezebel -- A Gawker Media property that offers "Celebrity, Sex, Fashion for Women Without Airbrushing" -- is a mild obsession and a must-read in the course of my daily internet travels (after the Huffington Post, that is. *wink*). When I first discovered it, shortly after the 2007 launch, keeping up with the 'Jezebelles' and their musings felt a bit wrong -- as if I were peeking behind a curtain into a place I wasn't really supposed to be. But that quickly passed as it became clear that the blog is a highly relevant and useful resource for men who adore women, and I am a very proud member of that club.
I learn there. I laugh there. And on occasion I discover truly exceptional women there who are questioning and/or changing the way we as a society view any number of subjects, including the taboo ones. To wit, meet Caitlin Doughty of Los Angeles, California -- a feisty 27-year-old mortician and, thanks primarily to Jezebel, rapidly-rising Internet sensation.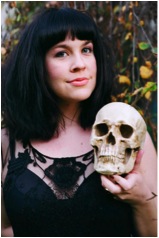 "She is funny, adorable, witty, clever and charming -- not that we've ever met." Effuses Jezebel Editor Dodai Stewart on her recent discovery. "The typical Hollywood casting for "Mortician" is usually a creepy old Vincent Price-looking dude, and she's definitely completely unexpected and different."
Stewart recalls the day last November when she opened a heads-up e-mail from a reader with a link to the first installment of a Doughty-and-friends-created video short called Ask A Mortician. "It was fascinating -- a fun, friendly, female mortician talking about death? Not the usual YouTube fare, and so interesting. You don't often see women talking about death."
The featured clip was a huge hit with readers. Jezebel's Facebook page lit up with 'Likes,' gushy comments, and a clamor for more.
"I can't say that I was surprised, because I'd hoped people would see what I saw -- something really and truly fun, fresh and different, macabre, yet fun." Said Stewart during a series of e-mail exchanges, "It's obvious she's passionate about morbid stuff, but she's also full of life -- it's an excellent juxtaposition and combination. I was glad when readers enjoyed it, and wanted more."
And more they got. As of this writing, Ask A Mortician volumes 2, 3, 4 & 5 have all been eagerly anticipated and delightedly received, as well as a special clip made just for Jezebel wherein Doughty takes readers on a rollicking tour of famous Hollywood death sites.
Caitlin Doughty was born "on a balmy August evening on the cruel unforgiving shores of Oahu, Hawaii" to Stephanie, a realtor and John, a high school social studies teacher. In interviews, she talks of an early fascination with the macabre -- but her folks didn't realize quite how far this interest extended until after she graduated from the University of Chicago with a degree in medieval history, moved to San Francisco, and announced that she had found her true calling shortly after having scored an apprentice gig at a neighborhood mortuary and crematory.
"It came as quite a surprise, as we thought her working there was just a way to make ends meet at a job that was close to her apartment," says Stephanie, "come to find out that she had been interested in the business of death for quite some time and that we had somehow missed the signs!"
"She told us that she had decided to get a second degree in mortuary science right before we were all going to a big family wedding/reunion on the East Coast. She apologized for the fact that I was going to have to face everyone finding out about her plans, but I assured her that -- when we all got together and the topic of how all of our wonderful children were doing -- I would win the discussion hands down. And I did!"
How Doughty landed that first job that started it all will come as no surprise to anyone who's seen her video clips or visited her collaborative website, Order of the Good Death. She simply showed up one day at Pacific Internment Service and charmed owner Michael Tom (who himself learned the craft on the job) into taking her under his wing. "I've always been open to hiring people with a good attitude and outlook and no experience in the field," says Tom, "Caitlin's sense of humor and intelligence made her an easy choice to hire. A couple things that struck me early on were her love of esoteric European literature and plays and her habit of writing in her journal about goings on at work. I always thought she would write a great play about the business, maybe she still will."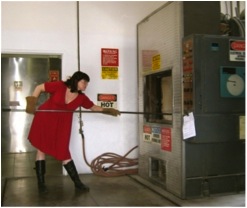 Now, 4 years later, living and working in Los Angeles as an established funeral director in her own right, she's causing quite a stir by taking her message and her passion to the people. While indeed most responses to her quest to lift the veil and help the world better understand death, dying and the profession she loves have been overwhelmingly positive, some in the funeral industry aren't exactly falling quite as hard for her as her civilian fans are.
For example, I called up the Wisconsin-based National Funeral Directors Association, shared a few episodes of Ask A Mortician, and asked if they would get back to me with a comment. Still waiting.
Amidst a sea of positive comments about the aforementioned "Volume 1" lies this beaut:
This is typical of someone who has been in the business for four years. Using the term "mortician," making videos of their profession, and just love telling people what they do. I have been a FUNERAL DIRECTOR and EMBALMER for over 15 years. Seen it all, and kids like this make me sick.
Mentor Tom, with whom she remains close, takes a more encouraging tone with regard to his former pupil's newfound internet celebrity. "I think anything that pushes people to think about mortality and its lessons as to how one should appreciate life is to be applauded. I've shown a lot of friends not in the field her videos and writings and it usually brings both laughs as well as answers to questions they didn't even know they had."
"I haven't spoken to many other funeral directors about Caitlin's work. Some in the profession may well be taken aback by the playfulness of many of her pieces. I find nothing offensive about anything she's done. She has done a great job translating her enthusiasm about our profession."
But it is Caitlin Doughty herself who is her own best defender, and she's an unabashed one at that. In a recent blog post responding to her critics, she writes:
"I don't believe that our current death industry works for us. Sure bodies get buried, bodies get cremated, things get done. But we are missing a transparency, missing an interaction with the reality of death. The knowledge of death is not for an elite group of professional technicians. That's like saying the knowledge of love is for an elite groups of professional technicians. It is for everyone."
If, as "Our Favorite Mortician" (as Jezebel dubbed her) says, her fundamental goal is to simply get people talking about death, that's working out pretty well indeed. And it's pretty obvious we're juuuuust getting started.
Photo credits: Portrait w/ Skull: Darren Blackburn. Crematory: Caitlin Doughty
Popular in the Community