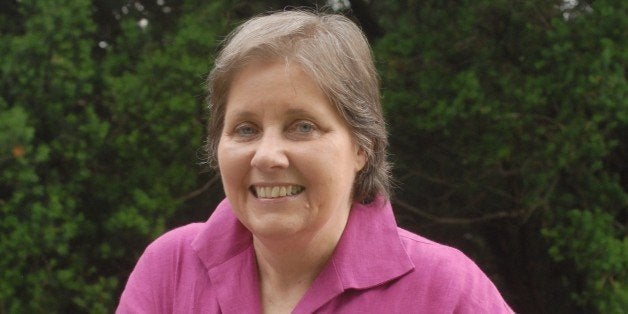 An astounding 40 percent of homeless youth are believed to be LGBT. This week's Huffington Post Gay Voices RaiseAChild.US "Let Love Define Family™" series installment looks at how families and foster families can help these youth. We spoke with Caitlin Ryan, Ph.D., ACSW, director of the Family Acceptance Project in San Francisco, CA, to learn what can be done to keep families with LGBT children together and to help reconnect families when LGBT youth have been ejected or removed from the home.
The Family Acceptance Project is a research, intervention, education, and policy initiative that works to prevent health and mental health risks and promote well-being for lesbian, gay, bisexual, and transgender (LGBT) children and youth, including suicide, homelessness, and HIV -- in the context of their families, cultures, and faith communities. The project uses a research-based, culturally grounded approach to help strengthen ethnically, socially, and religiously diverse families and promote positive development and healthy futures for LGBT children and youth. -- Corinne Lightweaver, RaiseAChild.US

Corinne Lightweaver: What needs to be done to help LGBT kids stay with their family so they don't end up in foster care or homeless?
Caitlin Ryan: Before we started the Family Acceptance Project, little was known about the families of LGBT adolescents and research had not been done from the perspective of the whole family to study what happens in families when young people are found to be LGBT during adolescence. So the perception was that all families were rejecting and that there was really little that could be done to help them stay connected to their families and also to intervene after disruption had occurred.
I've worked in LGBT health and mental health for 40 years, including frontline work in the AIDS epidemic, and I had seen many different experiences of LGBT young people and their families over the years. Based on my experiences, I knew that the range of responses from families was far more diverse than was perceived. And I knew that we needed to do two things: First, we needed to conduct a comprehensive study that would look at how families respond and how their reactions to their LGBT child relate to that young person's health, mental health and well-being. And, second, we needed to develop a new family-oriented approach to wellness, prevention, and care for LGBT youth across all of the disciplines and systems of care. When I started focusing on this work, families were seen as adversaries and even as enemies, and there were no family-related services for LGBT young people. The primary way of providing services for them and supporting them was through an individual provider, and through peer support services, because the perception was that families really couldn't help.
When we started our first study of LGBT youth and families, we found that families had a wide range of responses when they learned that their children were LGBT. We studied not only intact families but also families whose children were removed from the home and placed in foster care and juvenile justice facilities, as well as young people who were thrown out of their homes and who ran away because of their family conflict. We studied each key family member -- the LGBT adolescent, the parents, caregivers, grandparents, and aunts and uncles -- to understand the sources of support, the wide range of reactions, and how the culture, faith, and other critical aspects of their lives related to how they responded to that LGBT youth. We also looked at how they had adapted and changed over time and how they learned to help and support that LGBT young person.
One of the very hopeful things we learned was that many families whose children were out of the home wanted them back. We found that many families whose children were homeless and on the street wished that they had done something differently, that they hadn't reacted out of anger. This included families that were very religiously and culturally conservative and who had significant misinformation about sexual orientation and gender identity. Many regretted what had happened. They learned about LGBT issues and become more supportive over time. Sometimes it was too late and some of them had never seen their child again.
We have developed a new family-oriented model of care for LGBT young people to prevent risk, and promote that child or adolescent's well-being. We have trained over 60,000 health and mental health, social service and school-based providers, families, and clergy across the U.S. and in several other countries. We've been working to implement this family model of supporting LGBT young people and also helping families reconnect after families are fractured. And we continue to provide training on our family intervention work, most recently in Alabama.
Corinne: What tools has Family Acceptance Project developed for families from specific cultures or religious backgrounds?
Caitlin: We have published booklets for parents in three languages, and we've started to develop a faith-based series of family educational materials. The first faith-based booklet we published is for Mormon families, but we've been working on versions for Catholic, Jewish and Evangelical families, and one specifically for African American clergy and families. These booklets were the first "best practices for suicide prevention for LGBT youth" to be included in the best practices registry for suicide prevention. We are also producing a series of short, 15–20-minute documentary films to help ethnically and religiously diverse families support their LGBT children. We have produced one about a Latino family and another about a Mormon family. Our most recent film has received 18 awards.
The films are intended to give LGBT youth and families hope, to humanize them, and to show family accepting and rejecting behaviors that we measure in our research, as well as experiences we have learned about from our research and intervention work that help families move from struggle to support of their LGBT children. Our film director Vivian Kleiman, a Peabody Award-winning documentary filmmaker with whom I've worked for about seven years, ensures that these films engage and move families, youth, and others who use them.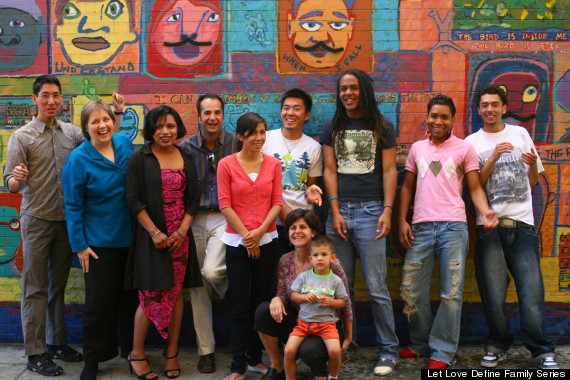 Corinne: Does the Family Acceptance Project do any reconciliation with LGBT adults who were kicked out as teenagers?
Caitlin: We haven't done that work with anybody over 21, but we have certainly provided guidance to families that have young adult children and are trying to reconnect with them. What's exciting about the work we've done is that it relates to LGBT people and families at any age. And many older LGBT adults use our family education materials to help their families understand what happened to them in childhood and adolescence.
Our family intervention work is based on rigorous research, including in-depth individual interviews we conducted with LGBT adolescents and their families. Each one was private, conducted in English or Spanish, audio taped and transcribed. We have about 8,000 pages of transcripts on key aspects of their lives. Our research documented for the first time specific ways that parents and caregivers respond to their LGBT children. This includes behaviors such as telling an adolescent that God will punish them, or trying to change their sexual orientation or gender identity, versus standing up for their children when others mistreat them because of who they are.
We identified more than 100 family accepting and rejecting behaviors, and then measured them in a survey of LGBT young adults who were out to at least one parent or caregiver during adolescence. We assessed whether or not these family reactions occurred and if so, how often did they occur? And what we found was that high levels of accepting and rejecting behaviors had a compelling relationship with that young person's health and well-being as a young adult.
We also looked at sources of support: Where did the family go for help? How did they learn to deal with this? What happened to them over time? This research enabled us to show parents, families and caregivers how their specific reactions to their LGBT children were related to suicide attempts and thoughts, substance use and abuse, depression, sexual health risks, access to care, social support, self-esteem, sense of the future and even general health. The findings are very compelling. For example, we found that LGBT young people who are highly rejected by their families were more than eight times more likely to have attempted suicide at least once, compared with peers with no or low family rejection.
Corinne: What recommendations have you been able to share with families?
Caitlin: We have been developing specific family educational materials -- based on our research -- to educate and inform families, extended family members, providers, and clergy. We have been educating families about how their words and behaviors affect their LGBT children's health and well-being. And also how their reactions contribute to family conflict and positive relationships. One thing we have learned from families who have thrown their LGBT children out of the home is that they didn't realize that it would affect the whole family. Many of them didn't understand what would happen when they acted out of anger or disappointment or shock. They didn't understand that their child would take them literally when they said, "I never want to see you again. Pack your bags and leave." They didn't understand that they might not see them again and some of these parents were devastated when they realized the impact of their actions.
Corinne: Have you actually seen kids go back with their parents after they've been in foster care or been homeless?
Caitlin: Yes, we have. Depending on the age of the young person and the family dynamics, it may not mean living in the home with that family but we have definitely seen reconnection with family members. In terms of helping families reconnect, it's not as easy as saying that they should just change a few behaviors. Many families with kids in care have dysfunctional interactional skills and poor communication skills, or suffer from mental illness or chemical dependency, and they may have other challenges as well. So it requires a range of interaction strategies to help families understand how to support their LGBT children, to identify other needs that family may have and meet them, and also to teach them a new way of interacting with that LGBT child.
One of the things that many parents need to learn is a new and non-pejorative way of communicating with their LGBT child. One example is in how parents communicate underlying anxieties and fears. We found across the board that whether a parent was highly accepting or highly rejecting, underneath they feared what might happen to their child in a homophobic and transphobic world. They often had a lot of fear, and many parents don't know how to express that fear so it may come out, for example, as a father criticizing the way his son is dressed, saying, "Are you going to go out of the house like that? You look like a faggot!" That adolescent immediately experiences that language as rejection and it's very painful but underneath that parent is trying to express concern and care for his son although it comes out in a dysfunctional way.
Corinne: What role might foster families have in reconciling families so that the teenager may heal?
Caitlin: There are a lot of things that caring adults can do. One thing we've found from our research is that many people think they're accepting and supportive of an LGBT adolescent but they're not, they're actually ambivalent and tolerant at best. If you ask a teenager, "Do your parents accept you?" they might say, "Well, they didn't throw me out of the house. I think they care about me, but we never talk about who I am. They never ask to meet any of my LGBT friends, and they never ask me about my work on LGBT events at school." We found that even moderate levels of rejection still confer risk, and also constrict family relationships and decrease intimacy and connectedness. We can teach those families who want to be accepting -- and think they are -- how to fully accept and support their LGBT children.
In our research, we have identified more than 50 supportive and accepting behaviors that parents and caregivers can engage in to help promote their children's sense of wellness, reduce risk, and increase connectedness. Adoptive families and resource (foster) families can help the LGBT children they've adopted and care for to learn that their birth families were not responding out of hate, but out of a lack of education and disinformation. And they can work with that adolescent to help increase connectedness with their biological families. One of the things we've found is that for LGBT out-of-home youth, the hope and the hunger for some kinds of connectedness with their biological families is quite deep. Many of them will put up with a lot from their families for a little shred of connectedness. So being able to help them achieve or maintain some level of connectedness and relationship is actually a positive thing for them and helps their sense of self-worth."
In August, Caitlin Ryan received the Founder's Award from the Association of Lesbian, Gay, Bisexual, and Transgender Addiction Professionals and Their Allies (NALGAP) at its leadership summit in St Louis. She is the author, with Shannan Wilber and Jody Marksamer, of Serving LGBT Youth in Out-of-Home Care: CWLA Best Practices Guidelines. For more information, visit the Family Acceptance Project website at http://familyproject.sfsu.edu.
Corinne Lightweaver is the Communications Manager at RaiseAChild.US, a national organization headquartered in Hollywood, California that encourages the LGBT community to build families through fostering and adopting to serve the needs of the 400,000 children in the U.S. foster care system. Since 2011, RaiseAChild.US has run media campaigns and events to educate prospective parents and the public, and has engaged more than 2,200 prospective parents. For information about how you can become a foster or fost/adopt parent, visit www.RaiseAChild.US and click on "Next Step to Parenthood."
REAL LIFE. REAL NEWS. REAL VOICES.
Help us tell more of the stories that matter from voices that too often remain unheard.