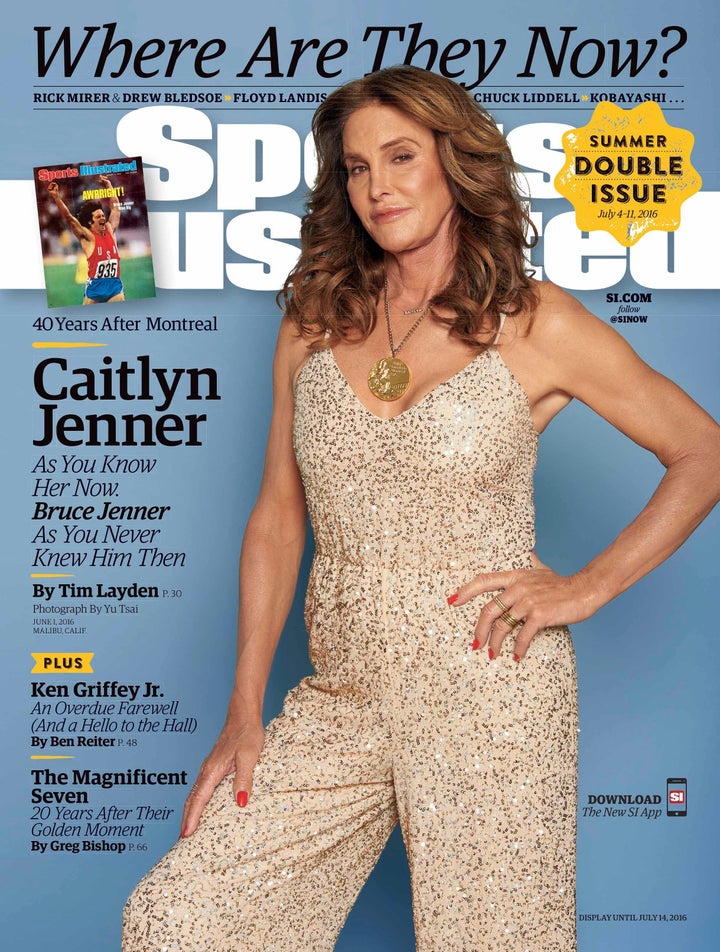 Caitlyn Jenner is the star of the new issue of Sports Illustrated -- and she's sparkling.
The magazine asked Jenner to grace the cover to celebrate the anniversary of her triumph at the 1976 olympics, where she won the gold medal and set a world record in the decathlon event. To mark the occasion, Jenner publicly donned her gold medal for the first time in 40 years.
The 66-year-old usually keeps the nationally prized medal in her nail drawer. "It was great for the kids at show-and-tell," she told the magazine, adding that she has never actually displayed it. But by pulling it out for the cover, she hoped to bring additional attention to transgender-related issues. 
"It's a picture that brings attention to this issue," Jenner said. "That's the important thing. That's why I wore the medal."
Jenner admitted to having a complicated relationship with her Olympic past, calling it "the perfect distraction" from her own internal struggles with her true identity at the time. 
While the world saw a great athlete, Jenner said her Olympic-trained body "disgusted" her at the time. "I was big and thick and masculine," she added. "The rest of the world thought it was this Greek god kind of body. I hated it. But it's what I was given, so I just tried to do the best I could with it."
However, Jenner said she appreciated that her Olympic victory catapulted her to stardom, allowing her to eventually become an advocate for the transgender community around the world. And, personally for her, Bruce's dedication allowed Caitlyn to eventually be content with herself. 
"I loved Bruce," she said. "I still love him today. I like what he did and the way he set an example for hard work and dedication. I'm proud of that part of my life. But this woman was living inside me, all my life, and it reached the point where I had to let her live and put Bruce inside. And I am happier, these last 12 months, than I've ever been in my life."
REAL LIFE. REAL NEWS. REAL VOICES.
Help us tell more of the stories that matter from voices that too often remain unheard.