On July 23, Caitlyn Jenner gathered with some of her closest friends to give thanks for the journey that gave her a new name.
Allyson Dylan Robinson, a transgender pastor, led the service. She shared a brief homily about Jacob, a Biblical leader who wrestled with God for an entire night, refusing to let go until he received a blessing. In the morning, God blessed Jacob with a new name -- Israel.
Robinson compared Jacob's struggle to that faced by many transgender people, who struggle to fit in and "boldly demand of God a blessing."
Addressing Caitlyn, Robinson said:
Today, dear one, God says to you, "Yes. I will bless you. I have blessed you. I have blessed you with a new path, a new vision, and new purpose. And with it, I offer to you a new name. Bear it well. And whenever you hear it, remember this struggle, and remember your purpose. Remember who you are and who I am. And remember those who struggle still."
The pastor continued with an affirmation of Caitlyn's name.
"Child of God, by what name shall you be known?" she asked Caitlyn.
"My name shall be Caitlyn Marie Jenner," Caitlyn responded. Those assembled repeated that proclamation.
"We, your friends and family -- your community -- do indeed affirm that you are Caitlyn Marie Jenner, from this day forward. Bear this name in the Name of Christ. Share it in the name of Mercy. Offer it in the name of Justice and in the name of Love," Robinson said.
Earlier in the episode, Caitlyn told viewers that she's always been a person of faith. She said she was surprised to find out that many of the other trans women in her community didn't celebrate their name change -- they "just got their new driver's license, new name, new gender marker, and kind of just went on with their life. Why shouldn't it be celebrated?"
"So, [the ceremony is] not just for me. Really, it's about all of them," Caitlyn said.
According to a GLAAD, a religious naming ceremony helps to reaffirm the community's support for a transgender person. It's also a way to honor the person's whole self -- past, present, and future.
In a blog for Medium, Robinson wrote that she was grateful for the opportunity to minister to Caitlyn and her friends.
"I'm even more grateful for the chance to share with an international audience the truth that God does not love transgender people in spite of who we are, but because of who we are."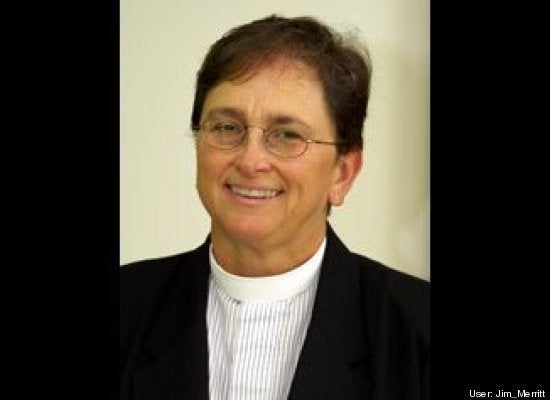 Most Inspiring LGBT Religious Leaders
Popular in the Community