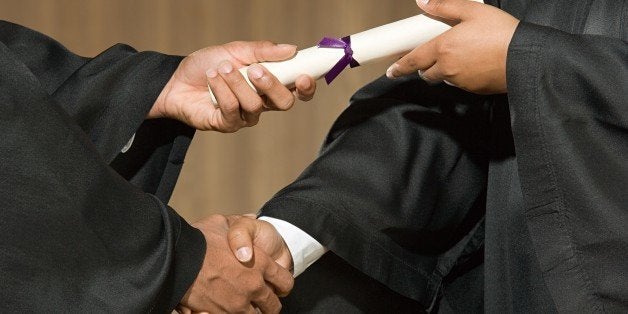 A N.J. Family Court judge has ruled that Caitlyn Ricci's parents, Michael Ricci and Maura McGarvey, are on the hook for $16,000 of their estranged daughter's $26,000 annual college tab. Caitlyn Ricci's share of her college expenses were set at $9,250, which includes her financial aid award. Her dad's share of the balance is 60 percent; her mom's share is 40 percent. McGarvey has set up a GoFundMe site to help finance her appeal of the decision. As of this time, she's raised $2,350 of the $20,000 she hopes to generate.
Rochester noted that this case isn't unique. Last year, another New Jersey college student Rachel Canning, 18, moved out of her family's home and sued her parents for tuition to attend Western New England University in Massachusetts. She later reconciled with her parents and dropped the lawsuit.
Is reconciliation possible in the Ricci case? "I would hope so," Rochester told The Huffington Post, "Caitlyn really wants her family back." Rochester predicted a greater chance of reconciliation with her mother than her father. "The dad clearly has some serious anger issues toward Caitlyn and his own parents," said Rochester. The lawyer said Michael Ricci's relationship with his parents is "a really major driving force" in the case.
That would seem to bear out what Michael Ricci said in his interview with Yahoo. "While I absolutely place blame on Caitlyn for this, the majority of it lies with her grandparents, who have fostered and even financed this debacle while she lives at their house. What kind of people encourage their granddaughter to sue her own parents…their son? . . . My ex and I want to help our daughter, we want her to be successful in life, but we would also like to have some influence in her life."
The Huffington Post has been unable to reach Michael Ricci for comment.
People who are following this story have tended to blame Caitlyn Ricci exclusively. When we asked Huff/Post50 Facebook fans about the Ricci case and whether parents are obligated to provide a college education for their children, the responses were a resounding "no." Here's what else they had to say:
Calling all HuffPost superfans!
Sign up for membership to become a founding member and help shape HuffPost's next chapter
BEFORE YOU GO
PHOTO GALLERY
Tips For Living With Adult Children