Calling Caity Lotz is a busy person defines understatement. She's a performer, sure -- but the actor (White Canary on the CW's forthcoming Legends of Tomorrow; Stephanie on Mad Men), dancer (toured with Lady Gaga, Avril Lavigne), stuntwoman (Death Valley, Step Up 3D), martial artist (Taekwondo, Wushu, Muay Thai), model (Esquire, Men's Health), and pop star (the group Soccx) has excelled in ostensibly innumerable endeavors. Caity pretty much rocks constantly.
Thus it's a fresh detour for Ms. Lotz to be featured as a demure, sensitive lass in "Missed Call," the new short film by director and producer Susana Hornil -- premiering at the 11th annual HollyShorts Film Festival. Ms. Hornil's resume proves equally impressive, as the co-founder of production company Hornil Brothers executive produced the Michael Winterbottom feature The Face of an Angel (starring Kate Beckinsale), worked at Mandeville Films and Scott Rudin Productions, earned a B.S. in very-useful Economics, and studied Film and Television at UCLA. Plus she's gearing up for her next feature (as writer, producer, and director): the psychological thriller Hearing Voices -- parts of which she'll lens in her native Venezuela.
I speak with Ms. Hornil awhile, then Ms. Lotz joins us. First I ask the director about the origins of "Missed Call," and she mentions meeting writer Nicolas Spadaccini while studying in Italy, then reconnecting with him at AFM, and encouraging him and writer Marcello Barbaro to send her a script:
"I was working on Simple Being (2014), an indie film, and it was related to someone doing a unique experiment and disconnected from technology, since we're connected to our cell phones and laptops and everything. I don't know about you, but every time I see my cell phone, it's like a black hole: two hours, three hours, in the blink of an eye. So when I read "Missed Call," it was more about the way technology is shaping how we live. I read it, and I really wanted to do something small, a short film, to establish myself as a director -- I've been producing for a while -- and I thought: 'This is it.'"
I note that Susana has a great eye, especially for urban environments -- she presents L.A. beautifully.
"In the beginning, I told my D.P., Carmen Cabana, that I'm a huge fan of anime, those kinds of films -- of course, this doesn't look like anime at all! -- but the character Caity plays, she lives in an imaginary world, where everything is happy and perfect, she has a lot of colors to her world. I wanted to show the way she sees the world."
Australia also figures into the story -- why and how?
"The writers are Australian," continues Susana, "and the actress was supposed to be Australian, too. But then I met Caity, and I told the writers, 'You know what? We have to rewrite this. She has to be American, because I want this actress -- she's amazing. So we decided to have the boyfriend be Australian, we switched them."
My mind contends with flashbacks of both Grease and Grease 2 (tastefully unmentioned), then I bring up the theme of telephone relationships -- how this could have been an "answering machine-type story" in the '80s or early '90s -- eliciting from the director a good-natured laugh. Susana then divulges some eerie real-life sources for "Missed Call" -- which prove totally spoilery, so publishing them would be a remiss call. Instead I ask how Susana found Caity.
"I don't know if you've had a chance to see The Machine," enthuses the director. "It's an amazing indie film, it's on NetFlix right now. I loved Caity's performance! So I was talking with Carmen, and she said, 'I know the actress -- we shot The Pact together!' And I went, 'You know her? Oh, my gosh. Can you hook me up with her?'" Caity's agent proved supportive, and Susana continues: "They were really into the film, and were serious about it."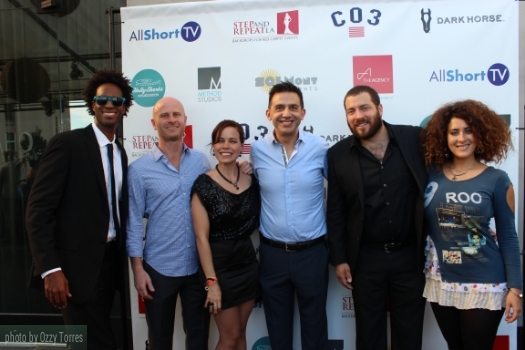 HollyShorts 2015: Theo Dumont, Nicolas Spadaccini, Susana Hornil, Marcello Barbaro, Daniel Sol,
Carmen Cabana
Suddenly, Caity Lotz herself leaps into action, and I promptly note something obvious: that "Missed Call" represents an unusual turn of character for Ms. Lotz -- so what attracted her to the role?
"Well, as you said, it's very different," agrees Caity. "So that was exciting to me, because I'm always playing these characters who are motorcycle-riding badasses, killers, and this was like a sweet young woman going through something -- and I was excited at the prospect of playing something different. And also that it's a drama -- I'm not doing any fighting, or dancing, or anything like that (laughs). Also I was attracted to the tone of it -- the way we talked about it was a very Amélie feel to it, like there's a happy lightness to it, that is kind of unexpected with what the story truly is. I thought that was unique, so I was excited to live in that world, and play this cute character, that was a different side of me that I've never gotten to express as much."
I mention that "Missed Call" must be a good call, because on my desk I regard a photo of Audrey Tautou (the Amélie soundtrack on CD, actually). Pleasing synchronicity.
"Amélie has such a signature look," Caity continues, "and so what Susana and I were trying to figure out was this character's hair, her makeup, her clothes. We tried to go for a very strong look for her -- the bright colors she wears, and the floral patterns. That's where we kind of got that look from."
Hey, borrow from the best; I'd live in a Jeunet world! I add that this is a vulnerable role, so how did these two prepare?
"Caity was in Vancouver," explains Susana, referring to the place in Canada where almost all American productions are filmed, "and we were chatting on Skype, and she was coming pretty much from the plane to the set, and I thought, 'Oh my god, she's going to have time to memorize all these lines?' But she came on set, and she was right on. I was impressed with her. Unbelievable. She understood the character right away, because Kirsten, the character, seems happy on the outside -- but inside of her, she has so many things going on. I got it on camera, and I was so happy, so yeah, I am really grateful for Caity's work."
"I was a little daunted by playing such a happy character," adds Caity. "Because sometimes I feel -- at least for me -- I was afraid I wouldn't be able to make it as interesting. Like these dark characters that are so guarded, and you're not showing a lot, it's easier to make them interesting. I almost feel like a more outgoing character is a little bit riskier."
I echo Ms. Hornil's theme of communication technology's effects on us, and Ms. Lotz elaborates:
"I was just actually thinking about it, because I was on my phone, and within five minutes, I had sent flowers to somebody, confirmed an appointment, forwarded an email to a writer -- and I never had to talk to one person!"
Caity looks at phones from both sides now: "It's is pretty amazing how much you can get done with it, so there's no question of the benefits of it. But I think a lot of us are starting to feel the down side of it, and I guess our whole time is about learning how to balance it. It's not just that you lose three hours, but sometimes you can lose quality time with people, because all of a sudden you're at a dinner table, and you look around, and everybody's on their phone! It's a way of connecting with more people, and easier -- but it's also an easy way of disconnecting with those that are right there in front of you."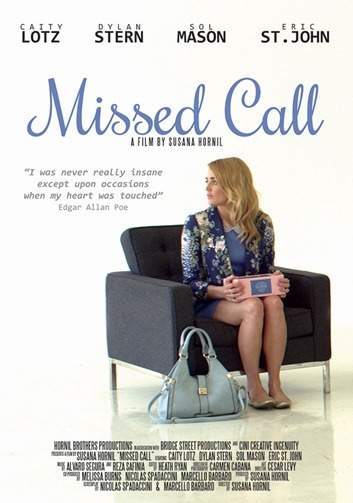 To the bemusement then amusement of the current two subjects, I enthusiastically plug comedy duo Garfunkel & Oates (Riki Lindhome and Kate Micucci) -- and how Ms. Lindhome tweeted, "I wish I could just favorite someone's text instead of respond to it." Caity and Susana laugh knowingly. Then I swerve into an unruly segue to DC's Legends of Tomorrow -- and can Caity tease any details for Canary fans?
"We haven't started shooting yet -- we start shooting in September. I'm really excited about it! This is such a mystery series, even to us, because we haven't seen scripts yet," Caity reveals. "I found out that we're doing a two-hour pilot, which should be pretty cool -- we're basically doing a movie. Another cool thing to look forward to -- most everybody who's going to be a fan of this show is a fan of Arrow and Flash -- and the first part of their seasons will be helping set up our season. These crossover episodes are just getting bigger and bigger -- it's exciting how big this world's getting."
There ya go, fanpersons. In conclusion, we go there: to the women-in-film issue -- which Ms. Hornil and Ms. Lotz contemplate:
"'Missed Call' has a very strong female presence," states Susana. "The lead is a woman, of course. Also the D.P., co-producer, line producer -- it was really amazing, the amount of women working together. I know that women complain about not having enough opportunities. It's also interesting to see where we're really coming from: how many women are really out there who want to direct or produce? Just a few."
"I was talking about this the other day with some friends," adds Caity. "Why do people want to watch a male lead? Women will watch things that are geared just for men -- but men will rarely ever watch things that are geared just towards women. I think it's the same as with style: you'll see women dressed in men's clothes all the time; but if men wear women's clothing it's degrading for them -- because they think being a woman is less."
The words "Monty" and "Python" very nearly escape my lips, but Caity sums up with a passionate recommendation of Madonna's "What It Feels Like for a Girl." Fair enough!
And speaking of pop stars, "Missed Call" features work from Moby as well as Susana herself, who sings on one track. Caity and I suggest that the director should cameo thusly in all her films, and Susana responds humbly: "It was a crazy experiment."
"Missed Call" can be viewed with the complete HollyShorts Online Festival here.
Images courtesy of Hornil Brothers Productions (except as credited).
REAL LIFE. REAL NEWS. REAL VOICES.
Help us tell more of the stories that matter from voices that too often remain unheard.