The defense lawyer for a Massachusetts man charged with a triple murder worries his client's "unique appearance" may bias jurors in their decision to convict or not.
His alleged accomplices, David Chalue and Adam Hall, are both serving life sentences.
Veiovis considers himself a worshipper of Satan, and told police he was a vampire who drinks the blood of others along with his own, Mass Live reported.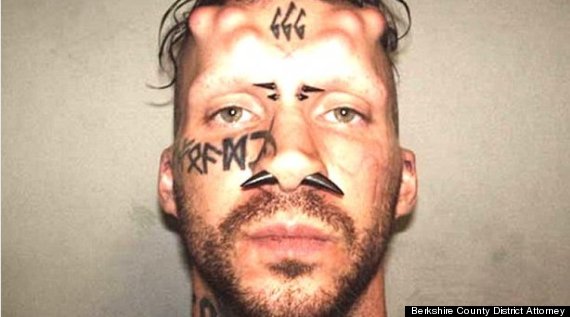 Along with a large septum piercing and the number 666 tattooed on his forehead, Veiovis also has body modifications in his head that resemble protruding horns. His lawyer, James G. Reardon Jr., told Mass Live he is worried his client's appearance might make prospective jurors prejudiced.
The number 666 is often referred to as the "number of the beast."
"I don't know what 666 means," Reardon told the publication.
The three victims were kidnapped and murdered before they were set to testify against a high-ranking member of the Hell's Angels. More from Mass Live:
Police believe Hall, Chalue and Veiovis killed the three men to prevent Glasser from testifying in an upcoming trial against Hall, a ranking member of the Berkshire County chapter of the Hell's Angels. The organization's clubhouse is in Lee, just south of the Lenox town line.
Before taking on a new name, Veiovis was known as Roy C. Gutfinski Jr.
In 1999, Gutfinski and his girlfriend were sentenced to 10 years in jail after bringing a 16-year-old girl to a hotel room, slashing a 7-inch gash in her back, and drinking the girl's blood.
In 2006, he was charged with kidnapping two strippers from a nightclub and holding them against their will in a hotel room. Those charges were later dropped, but he was sent back to prison for violating his parole.
Veiovis' trial will begin Sept. 3.
Like Us On Facebook |

Follow Us On Twitter |

Contact The Author
Related
Popular in the Community