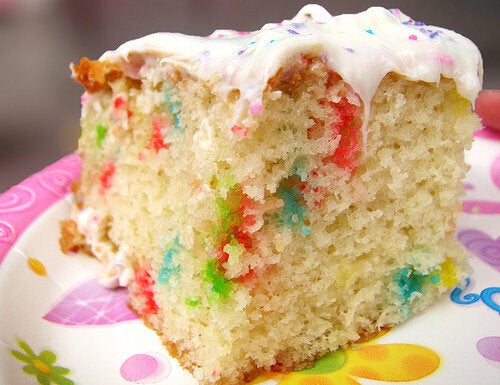 Your first birthday after the death of your last parent is weird. We're not supposed to brood about this, because Mom and Dad have died and went through whatever hell it was that got them there, and we're like, Boo hoo, who will bake my birthday cake? As adults, we're supposed to be above all that, but no. Even if Mom and Dad baked their last cake for you decades ago, something about their being now forever unable to do this anymore just f***s you up.
My friend Matt's 50th birthday last week was his first after his mom's death. A certain sadness tinged the mint juleps and barbecue. Matt's sister unveiled the cake she had baked for him. Slicing it, Matt gasped, his eyes wet and wide with wonder.
Cherry chip had been his favorite childhood cake, but it went out of fashion long ago and Mark had thought it obsolete. But cherry-chip fangroups online showed his sister how to resurrect this pink-speckled yellow marvel.
Do we all have favorite cakes-that-almost-got-away?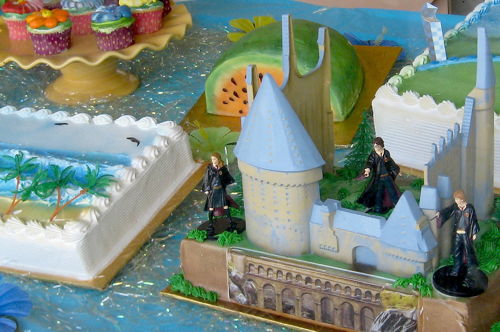 My friend, the expert cook and food historian, Susan Lee, fondly remembers the chocolate cake she baked to earn her Girl Scouts cooking badge:
"You stir the dry ingredients together in the pan and make three wells, then you pour each wet ingredient into one of the three wells... One well takes oil, one vinegar, and one vanilla. I can't think of any reason why the wells should be separate other than entertainment value, but the recipes are unanimous on this. My grandmother's typed recipe calls it "Wacky Cake."
Also from her Southern grandmother's files, "Fruit Cocktail Cake is interesting because canned fruit cocktail stands in for the oil or butter that would otherwise moisten the cake. In this sense it's related to all the miracle fat-free brownies -- containing prunes, applesauce, or beans -- that are in the magazines now. Fruit cocktail is mild enough to let you do a yellow cake the same way."
As for Tomato Soup Cake, it's "seasoned with sweet spices, so the result is a rich spice cake... You might think that because it calls for a can-opener it is a child of the 50s," but it's older than that. It's no Red Velvet Cake, but it has its devotees.
Can we save these slices of our heritage from oblivion?
Those with neither the time, talent nor inclination to do it from scratch can stage easy emergency rescues with cake mix.
"Sure, I use cake mixes," Susan admits. "They're so well engineered! I used to add a couple of spoonfuls of sherry to make it seem homemade; now I use a little extra vanilla extract, or almond extract, or ground cardamom -- mysterious."
Not all cake mixes are loaded with unhealthy ingredients. Harvard MBA Nora Schultz founded Naturally Nora in 2008 after realizing that big-name boxed mixes were packed with hydrogenated oils, artificial colors and other horrors.
"As soon as your kids hit nursery school, it's a constant party. Funfetti is the kindergarten cake of choice. Kids love neon colors. You want to make them happy, but looking at the ingredients on those boxes was just scary," Schultz says. "The mixes I found in stores were so full of chemicals as to be virtually bulletproof. The big players in this industry have taken their eyes off the ball."
"What I wanted was basically a cake-from-scratch in a box, for moms like me who had been reluctantly buying boxed mixes and feeling horribly guilty about it. Looking at the best scratch-cake recipes I knew, I thought: How can I modify this and put it into boxes?"
"Of all types of cooking, baking is the most scientific. There is the least room for error."
The result is a range of dairy- and soy-free baking and frosting mixes comprising all-natural ingredients -- and far fewer ingredients than their big-name counterparts. Schultz spent nearly two years developing the formula for Lot'a Dots, her natural version of Funfetti, using dots colored with spinach extract, elderberry juice, turmeric and paprika.
Mom's gone, and you're missing Fruit Cocktail Cake? It's never too late.
Images courtesy of A. Rufus and Kristan Lawson.

Support HuffPost
A No-B.S. Guide To Life
Related
Popular in the Community