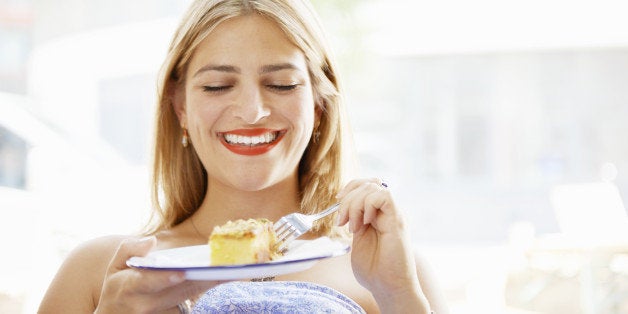 Remember to make time to eat and sleep before your wedding.
"If you lose any more weight, your dress will be falling off you as you walk down the aisle. You have 10 days left -- just don't forget to eat, because we don't want to have to do emergency alterations."
They were words I never thought I'd hear. Up until two weeks before my wedding, the idea of any item of clothing somehow "falling off" me would have been laughable. Funnier still was the concept of "forgetting to eat." You see I think about food every seven seconds, not just because I write about it, but because at heart I'm a food addict. The only way I have managed to stave off obesity is by willpower and lifting a lot of weights, and so my main fear leading up to my wedding was whether my dress would zip up, not whether it would fall down. I therefore refused to heed any warnings -- even from my wise seamstress. I just wasn't the sort of girl who could forget to eat. Perhaps this could be a problem for brides less obsessed with food, but not me.
Yet somehow in the last few weeks before the wedding, somewhere between hiring ovens, refrigerator vans and finalizing orders of service, the unthinkable happened: For the first time in my life, I stopped thinking about food and forgot to eat. I just didn't have time. Breakfast, lunch and dinner had turned into coffee, a banana here and there, and the odd hard-boiled egg in the car as I raced to check plate sizes and find linens. My jeans started to feel loose, my heart was permanently racing and I began fearing for my strapless dress' ability to defy gravity, but didn't dare try it on again.
Luckily, I had a back-up plan. We'd planned my bachelorette party, or "hen" as they call it in the UK, for the weekend before the wedding. I would have 48 hours to escape my lists and spreadsheets, destress and pack the pounds back on. I told my bridesmaids to forget everything plastic and penis-shaped: What I needed was delicious cake, steak, sleep, a hot bath and preferably a few hours alone in a sauna. I had exactly seven days until the wedding: There was no time for games of "Mr. and Mrs." when there was some serious bodybuilding-style "bulking" to be done.
I'd arranged to meet my Maid of Honor, Sanna, for afternoon tea at the Dorchester Hotel on London's Park Lane -- the perfect start to a weekend of much needed luxurious refueling, and the best selection of cake in London. Sanna arrived to find me propped up by various freshly plumped cushions, which our lovely waiter had brought (presumably to enable me to get myself into the perfect cake eating position -- I'd explained the seriousness of my situation and he'd reassured me he'd keep the cake coming), one hand clutching a glass of pink champagne, the other carefully spreading clotted cream onto the first of many delicious warm scones. I'd already worked my way through two plates of perfect finger sandwiches since arriving, and had no intention of stopping eating until I was sure I'd made up for all the meals I'd missed in the past fortnight. Luckily for us, it was The Chelsea Flower Show, and the hotel's pastry chef had designed special flower-themed cakes, so I ploughed my way through an array of glorious sugar flowers, flower pots and chocolate top soil, and then returned to the aforementioned scones. The wonderful thing about London's grande dame hotels like The Dorchester is you know they've seen it all before. So when Sanna covered the table in an array of logs (she'd made me table number holders), and I sobbed "I'm getting married!" into my scones whilst asking for more clotted cream, our wonderful waiters didn't bat an eyelid.
The following day, after a night of far too much tequila and salsa dancing, Sanna and I checked into The Corinthia for part two of my bachelorette party. The Corinthia Hotel prides itself on the quality of its sleep, which of course all hotels should by definition, but having spent many sleepless nights at hotels around the world, I can confirm isn't as easy to come by as it should be. Hotel rooms are either too hot or too cold; mattresses are too soft or too hard; there's always an odd noise coming from the corridor or the room next door, or dripping taps in the bathroom. The Corinthia, however, promises to have cracked the formula: sound-proofed walls, black-out curtains, Pratesi sheets and beds by Hypnos (who also supply Her Majesty the Queen). Having not slept properly for weeks, I was looking forward to testing it out.
But first we had a hot date with a sauna. The hotel's ESPA Life spa consists of four floors of sleep pods, saunas, steam rooms, a steel-lined pool, heated day beds, various jacuzzis and vitality pools and a gym -- it's a spa lover's paradise. I had an extraordinary facial, where a pair of truly magical hands somehow not only turned my skin from blotchy to bridal, but gave me such a good massage that I spent the rest of the day in a semi-conscious trance, going from the incredible glass walled "amphitheater" sauna (complete with 360 degree views of the spa) to the ice fountain, the shower, into the steam room...and back to the sauna, my brain finally totally free of all "wedmin" having been steamed and iced repeatedly.
That night we ate at the hotel's Northall Restaurant, with every intention of going out dancing again afterwards. However, after sharing a perfect bone-in Cumbrian sirloin steak, as well as a delicious native lobster, the former with triple cooked thick chips, the latter with thin French fries (there was no way the dress was going anywhere now), the lure of going straight up to the Hypnos bed at 10.30pm was just too great. And herein lies the problem: If you offer a ravenous, sleep-deprived bride-to-be a perfect steak, sound-proof walls, a deep bath and a bed with a Royal Warrant, there's no way she'll leave the hotel.
And so I spent my last Saturday night as a single woman fast asleep. But it wasn't just any old sleep -- it was ten hours of deep, uninterrupted, dreamless, perfect sleep. I woke totally recharged, ready to face my inbox and spreadsheets again, and thanks to the emergency weekend of cake and steak my dress fit like a glove a week later as I walked down the aisle.