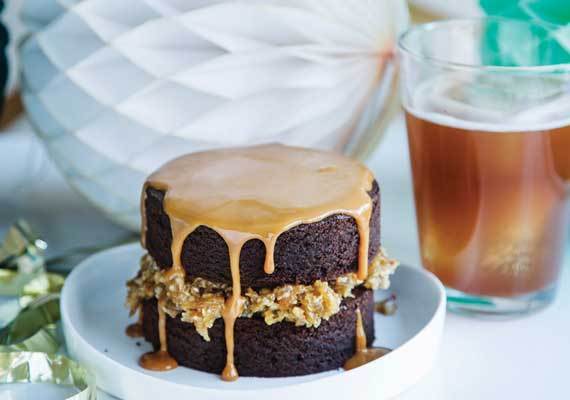 Paul Lowe
When there's something in life worth celebrating, the human brain tends to travel in one of two directions: 1) Let's eat cake! or 2) LET'S GET WASTED.
But Paul Lowe, the genius behind Sweet Paul Magazine, figures you might as well do both. As he says, "Let's face it, life would be very boring without cakes and cocktails." The two indulgences make the perfect couple, and he should know. HuffPost Taste editors have been leaning on Sweet Paul's expertise for years, whether we're looking for Nordic cooking inspiration or the world's best cake recipe.
Here, an individually sized espresso brownie cake is topped with an unusual cream the likes of which you've never seen or tasted. Sultanas (otherwise known as raisins made from white grapes) are softened in hot water and whizzed in a blender with walnuts to make a rich, creamy addition to plop on top of your dessert.
And to drink? A sarsaparilla cocktail made with gin. If you're not sure what sarsaparilla tastes like, it can best be compared to root beer. And if, like most of the world, you don't know where to buy sarsaparilla, look for it at health food stores.
Check out Lowe's recipes below:
Espresso Brownie Cake With Sultana Cream & Caramel
"I love making small individual cakes. I guess it's the child in me. The sultana cream is great and is also amazing on top of buttered toast."
1 cup plus 4 tablespoons sugar
1 cup butter, softened
Pinch of flaky sea salt
1/2 cup dark brown sugar
4 large eggs
1 cup dark cocoa powder, good quality
2 teaspoons instant espresso powder
1/2 cup all purpose flour
1/2 teaspoon salt
2 cups sultanas
1 cup water
1/2 cup toasted walnuts
1 cup granulated sugar
6 tablespoons salted butter
1/2 cup crème fraiche
Pour the sugar into a dry saucepan.
Melt 1 cup sugar over medium-low heat. It will first begin to get clumpy and then after a few minutes it will melt completely.
Once the sugar is completely melted, carefully add your butter in 1 tablespoon at a time. Be careful, as the sugar will boil up as you add the butter. Stir to combine the butter completely into the sugar.
Finally, drop the crème fraiche into the caramel a spoonful at a time while you stir it. It will boil up and sputter yet again. Mix until fully incorporated.
Stir the mixture for about 1-2 minutes more until it reaches your desired consistency.
Remove from heat and allow to cool.
Preheat oven to 350 degrees Fahrenheit.
Beat butter and 4 tablespoons sugar until creamy and add the eggs 1 at a time while stirring.
Add cocoa, coffee, flour, and salt and mix until you have a smooth batter.
Pour into a 9x11" buttered baking dish and bake for about 30-35 minutes. Cool on a wire rack.
Place sultanas, water, and sugar in a pot and bring to a boil. Let it simmer until almost all the liquid has evaporated.
Cool a little and place in a blender with the walnuts. Mix well. The results should be a thick creamy mixture.
Use a round cookie cutter and cut out round pieces of cake.
Sandwich them with the sultana mix in the middle and drizzle with caramel sauce.
TIP: You can store the topping up to 1 week in a sealed container in the fridge. You may want to microwave it slightly before serving or using it as a topping.
Sarsaparilla Sour
"This is my simple take on my favorite cocktail at one of my favorite restaurants in Brooklyn, French Louie. Nothing makes me happier than to sip one of these with some oysters. Cake goes well too."
Makes 1 cocktail (syrup makes enough for several)
1 cup dry sarsaparilla root
1 vanilla bean, seeds scraped out
1 cup sugar
2 cups water
1 ounce lemon juice
1 ounce gin
Ice
Bitters
To make syrup: Place sarsaparilla, vanilla, sugar, and water in a pot and bring to a boil. Let it simmer for 10 minutes, drain and cool.
To make cocktail: Place 1 ounce of syrup, 1 ounce lemon juice, 1 ounce gin, and ice in a shaker and shake well.
Pour into an ice-filled glass and finish off with a few drops of bitters.