An estimated 1-in-5 students at California State University, the largest four-year university system in the country, go hungry, and close to 1-in-10 border on homelessness, according to research by the school.
Cal State officials believe they've uncovered a crisis, and are holding a conference this week to discuss strategies to address it.
"Research is important but it has to give movement to action," said Rashida Crutchfield, a researcher at Cal State Long Beach.
In February 2015, CSU Chancellor Tim White commissioned research on food insecurity and homelessness among students. A year later, he extended it after initial findings showed a large portion of students were affected by these issues. The goal of the research, the university system said, is to confirm the scope of the problem and identify how to launch campus-based intervention programs.
White noted it's hard to concentrate on an exam "when you don't have any food in your belly." He also recalled that when he was chancellor of the University of California, Riverside, he would sometimes see students sleeping in parked cars on his way to school: "I would go, 'Ya know, there's something wrong here,' but we didn't shine a light on it then as we are now."
"I think it's touched a humanity chord in our students and our administrators," White added. The effort to address homelessness and food insecurity "is viewed as an investment to let these students focus on their studies and have sufficient food and not wonder where the next one will come from."
Officials emphasize that the issue of students struggling with hunger goes far beyond the trope of a college kid eating Ramen noodles or gobbling up free pizza: it's someone who does not know where their next meal will come from.
"It's very sensitive -- not everyone's talking about it," said Amber, a Long Beach student who has struggled with homelessness during her time in college. "I'm very outgoing, I have a lot of relationships with my professors and colleagues and whatnot. For those who are not, it's not as easy to say something. Because we're in a university, we must not be dealing with those issues, but it's a stereotype; being homeless means some of us are sleeping in our cars, in friends' houses."
Cal State said it's the first public university system to conduct extensive research on student homelessness, displacement and food insecurity, but it's not the first to host a conference on the issues. The Wisconsin HOPE Lab, based at the University of Wisconsin–Madison, hosted a similar conference in April. A survey by the lab of 4,000 students at 10 community colleges, similarly found about 1-in-5 were hungry and 13 percent were homeless.
Colleges are responding by setting up food pantries and programs to assist students who need something to eat. At CSU, 11 of 23 campuses set up options for food insecure students, ranging from pantries to programs assisting students apply for government-funded safety net benefits. One program, at CSU-Long Beach, called "Feed A Need," allows residential students to donate one meal to someone else on campus who may need it.
Fresno State has an app that sends a push notification to students whenever catered events end and have leftovers. The bonus on a program like this is that it also cuts down on wasted food going in the garbage. Fresno State also has a food and hygiene product pantry that's at least 2,000 square feet large.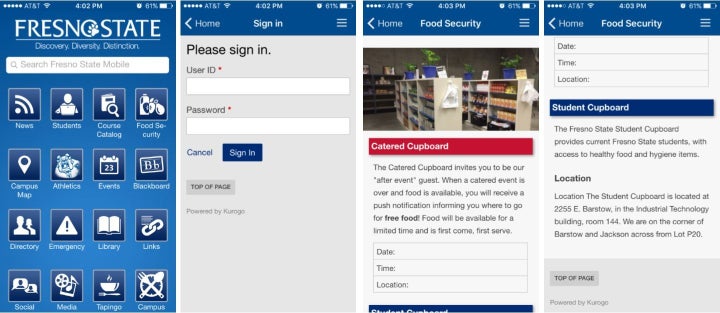 But part of the problem, which the conference hopes to address, is that about half of survey respondents at CSU however did not know what options were available to them if they were hungry or needed a place to live.
Crutchfield would like the idea of seeking out help for hunger or homelessness to feel as destigmatized as applying for financial aid to pay for tuition.
"I don't think it should be normal for students to experience homelessness or food insecurity, but I do think accessing support for these issues should feel normal," Crutchfield said.
Related