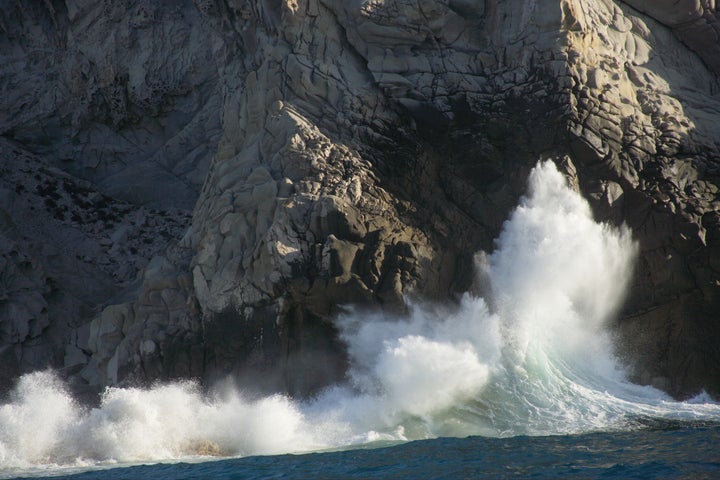 On our 30th wedding anniversary, my husband Gene and I travelled to Cabo San Lucas, Mexico. It's located on the southernmost tip of California Baja Sur peninsula. For a vacation, Cabo comes with strong vacation cred... just ask any celebrity or A-Lister who frequents the beaches and resorts there! Cabo is on the Sea of Cortez which has somewhat gentler waters than the nearby Pacific Ocean. The warm, dry, desert type climate produces a high of 93 degrees in July and 78 in January. We looked forward to a balmy 90 degrees during our May visit.
We landed in Dallas for a brief overlay. We called our daughter who had driven us to the Newark Airport with our car. She reported a mishap on route 80 while heading home to Pennsylvania. She ran over something in the road and a tire ripped. It needed replacement. Our SUV tires were not cheap and fairly new. We gave her our credit card number, hoping this was to be the last unsavory news we'd receive. Little did we know it was the beginning of a chain of more tragic news and mishaps!
After settling into our suite, we went to secure tickets for the shows being headlined that evening and Sunday, the following night. We'd explore Cabo after the weekend, preferring to relax at the resort our first two days. The musicals productions showcased their entertainment staff while a buffet dinner was served on a huge oceanfront patio. Music under the stars sounded good to us!
Before dinner ended, cold weather blew in from the ocean and winds picked up substantially. We were covering ourselves with the tablecloths and napkins but couldn't stave off the chilly air. We left early as Gene began having shaking chills. By nightfall, he was feverish and coughing. He has COPD and may have picked up something on the plane flight from the east coast. The cold ocean air likely triggered this dramatic response.
After a rough night, we found the office of the onsite physician, but he wasn't in. We went next door to the Pharmacia where we asked the Pharmacist about medical care. He said the doctor wasn't in until Monday. Then he turned and waved to several shelves of antibiotics, asking us which one we'd like to purchase. Culture shock set in! A different country, less restrictions, and a wide open drug marketplace! As a nurse, I used my best judgment and picked a broad-spectrum antibiotic, Amoxicillinia. It was relatively cheap and he pointed out that it was a 60 capsule bottle, enough for me if I got sick too. Not exactly what I wanted to think about, but a good point.
Gene took the medication, rested and drank lots of fluids. We hung out in our room all day with a TV that had only two channels, both in Spanish. We ventured down to the patio again for the dinner show. We had tickets and really needed some food. The weather had not warmed up and the winds were still kicking up. We were dressed in warmer clothing, but it was too brutal for my sick husband. No amount of hot coffee or shots of Tequila were going to make him feel better. We left mid-show and headed back for a long night of coughing, shivering and restless sleep.
Early the next morning, my daughter called with news that Gene's younger brother had died suddenly, of a heart attack. They wanted us to fly back for the funeral, but we couldn't take the chance of him getting on the plane for such a long trip in his condition. We felt awful about it and sent flowers with our regrets. Both daughters would represent us at this very sad time.
We spent most of the week indoors while he rested and drank lots of liquids. Some anniversary! We ventured out the last two days of our trip. I wanted to go to the beach for a short while, just to see the ocean up close and get some sand in my toes. Gene was in a lounge chair covered with a towel and shielded with a hat and sunglasses. I ventured to the shoreline, but was afraid of stepping into the water. There were signs warning of a strong riptide.
Just then, a gigantic wave headed toward shore. I turned to head back to the safety of my beach chair. It moved very fast and caught me in its forceful power, pulling me into the water. I fell face down and began clutching at the sand but couldn't get any traction. It was sucking me in like a giant vacuum. I started to scream, but before Gene could reach me, a tall and very athletic man rescued me from the water. He'd been a lifeguard and knew the riptides well. He tried to explain techniques for escape this phenomenon, but I couldn't take it in. I in was shock from the suddenness of this event. I squinted looking up at him as the sun was very bright around his head, like a halo. He looked just like the actor on Grey's Anatomy who played the role of McSteamy...I kid you not!
My bathing suit was filled with sand and felt like it weighed 100 pounds! I got back to my room quickly to dry off and pull myself together. I couldn't believe I nearly drowned without ever getting into the water! It certainly gave me renewed respect for the power of the mighty ocean. On our last night in Cabo, Gene felt somewhat better, so we went downtown for a nice dinner. We sipped giant Margaritas in an open air restaurant. Afterwards, we walked a few blocks, but it was too dangerous. Cars whizzed around corners and weaved in and out of traffic, onto curbs and over sidewalks. It was pretty wild! We were quite ready to leave Cabo and return to the rustic, quiet environs of the Pocono Mountains.