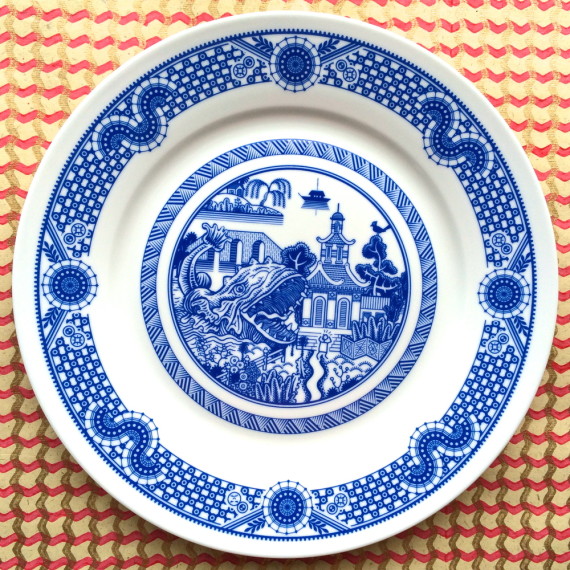 Moyer's series spruces up the tradition of classy and utterly dull chinaware by introducing UFOs, dinosaurs and volcanoes into the mix. The result, part good manners part apocalyptic disaster, is all hilarious.
"It's always fun to mock tradition," Moyer explained in an email. "The elements of the traditional willow-pattern plate have been going strong for more than 300 years. So they are ripe to play with. But the joke here is mostly about the appetite modern audiences have for monsters, explosions, and car chases. Combining the sleep-inducing tranquility of a classic plate with the silly thrills we've come to expect from films and stories is inherently funny."
The sci-fi inflected dishes are contemporary interpretations of 18th century blue willow pattern plates, the ones you've probably seen in your grandparents "do not touch" cabinet. While the 1700s edition used copper engravings to duplicate their imagery prior to glazing, Calamityware uses a silk-screening process, done by hand, to apply the image post-glaze. The plate is fired for fours hours as image fuses to plate, and viola! The thrilling details are as precise as possible.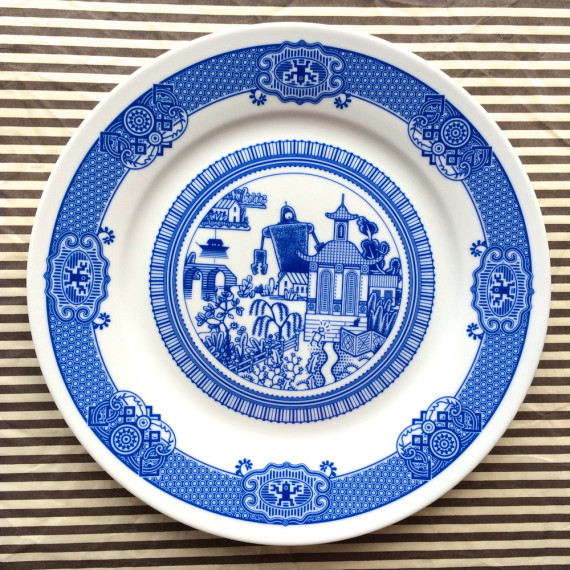 "Porcelain is the perfect material for these drawings because it makes the plates practical, utilitarian objects," the artist explained. "The plates are food safe, microwave safe, and dishwasher safe. Some people prefer to hang plates on the wall." Moyer seems to be onto something here.
He's currently in the midst of his third Kickstarter campaign, plotting a series of plates graced by a hungry sea monster who's escaped from an early Renaissance map. (The first were for flying monkeys and a robot, respectively.) He's accepting donors until May 31 but has already raised over five times his original goal of $15,000. Moyer plans to roll out a new Kickstarter every 90 days or so, until either he or his fanbase tires of the project.
REAL LIFE. REAL NEWS. REAL VOICES.
Help us tell more of the stories that matter from voices that too often remain unheard.
BEFORE YOU GO
PHOTO GALLERY
Unexpected Art Finds