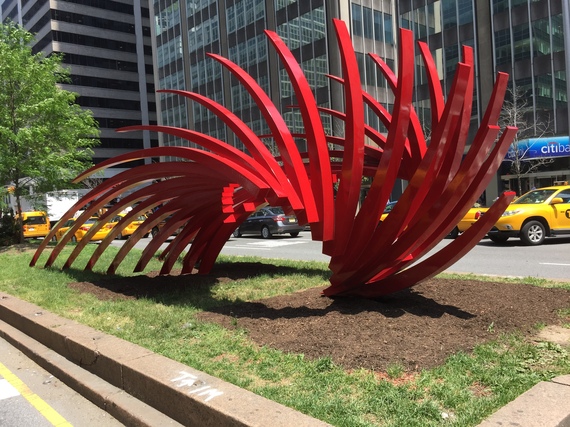 Monday Morning, June 8, 10 A.M: A score of journalists congregates in front of the architecturally revolutionary Seagram Building on East 52nd Street and Park Avenue. They are not here to confront the building's beleaguered Four Seasons Restaurant co-owner Julian Niccolini, who has been recently accused of acts of unwelcome sexual aggression and become tabloid fodder. They are here to meet, instead, with the visionary Spanish architect Santiago Calatrava, who did not design the Seagram Building - he was a small boy when it opened in 1958 - but did create the seven sculptures now lining the meridian in front of it and extending three blocks north to 55th Street. I join the waiting group, long intrigued by this man who spins steel into gossamer, who has created more bridgework than any dentist. I am an unwavering fan of his Margaret Hunt Hill Bridge in Dallas and have walked Calatrava's dramatic glass-floored arched bridge across the Grand Canal to the train station in Venice. The architect is also an engineer and an artist, whose sculptures, drawings and paintings have been exhibited at the Metropolitan, the Hermitage, and the Vatican Museums.
It is 10:10: The architect is slightly late. His home and office are nearby, just up Park Avenue, and it's about to rain.
Now it's 10:20. He's still not here. Along with his unique, lyrical and light-filled aesthetics, Calatrava is known for his delays. His still unfinished 800,000 square feet winged World Trade Center Transportation Hub (train and subway station) was due for completion in 2007. At 4 billion dollars, it has cost taxpayers twice the original estimate. Other handsome Calatrava projects in Spain and Italy finished much behind schedule. Here on Park Avenue, rain seems more and more imminent. A publicist holds a bag of umbrellas, in case any of the journalists are ready to flee.
10:24. Calatrava arrives and I forgive his tardiness. He is charming and he has that movie star thing, that glow. No wonder he is referred to as a Starchitect. And he ushers in the sun. The publicist will not need to supply umbrellas after all. He looks a decade younger than his 63 years and wears a fine blue suit and vastly perforated matching Brogue shoes. For an architect, his eyewear is surprisingly quotidian, not part of the Le Corbusier, Philip Johnson, I.M. Pei tradition; just simple gold rimmed lenses. Of medium height, he possesses a head of thick dark hair and a high colored clear complexion. He introduces the very young and pretty woman at his side, who is dressed in a chic checked mini-skirted suit. She is his daughter Sofia, a college student.
He clearly loves New York and mentions his early history here, having re-envisioned a completed Cathedral Church of Saint John the Divine in 1992. In so doing, he won a competition, but there are no plans for the 19th Century Gothic structure to be topped by a Calatrava designed glass arboretum. But other buildings, stations and bridges of his design are being constructed worldwide.
His seven shining Park Avenue sculptures are aluminum, some both spherical and spiky, and some more pyramidal but also toothy. They are red or black or silver. The tallest is 40' across and 20' high. Some utilize almost invisible cable wires. A smaller one brings to mind a little silver raptor. Leading his audience back and forth across Park Avenue, Calatrava explains his color choices, saying they were selected to complement and contrast with the buildings adjacent to them; he seems to favor red in front of stainless steel and black besides pale stone or brick, and he always seeks to capture the energy that is midtown. He notes the style of the curtain wall Lever House skyscraper and the historic St. Bartholomew's Episcopal Church, which he calls "an ornament of the city." He explains in his lilting and warm Spanish inflected voice that with his sculptures created for this location, there is "not a single vertical because the city itself is so vertical." He is pleased with their proximity to passersby. He points out that the red one on 54th Street seems to be "containing space." And that a black one "has a lot of facets" and "is supported at one point." As he himself gestures, I notice that his expressive hands have unusually long nails. Perhaps he is a Spanish guitarist, I wonder. Anyway, he is pleased with the way the metal of his sculptures reflects the yellow taxis and bright streetlights.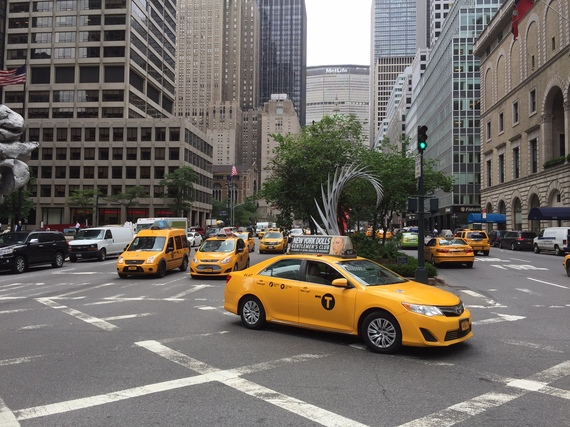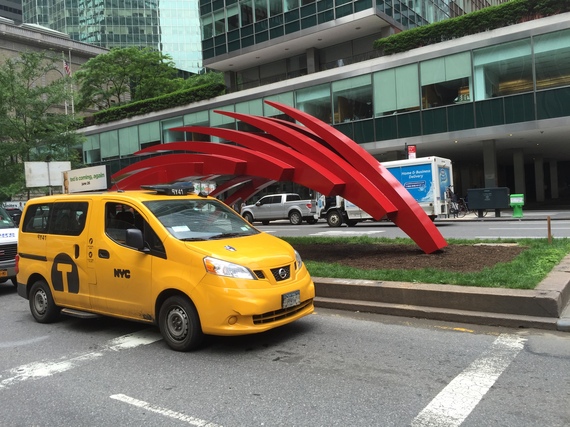 And he is happy to see his artwork as "part of the city for a couple months, not entities in themselves."
I ask him where they will travel after they depart Park Avenue in November. He thinks they may visit the streets of Paris, where he lived for twelve years prior to making New York home base. He says that New York today is what Paris was 100 years ago.
I then ask when the transportation hub will be complete and he says that, "only the Port Authority has the right to answer that question." While some blame Calatrava for the delays, other place blame with the Port Authority of New York and New Jersey. While the hub remains under construction - although optimistically due for completion in six months - Calatrava's stunning white underground pedestrian passageway linking the World Trade Center and Brookfield Place (the World Financial Center), became operational eighteen months ago. And finally, two of the four PATH train platforms have opened.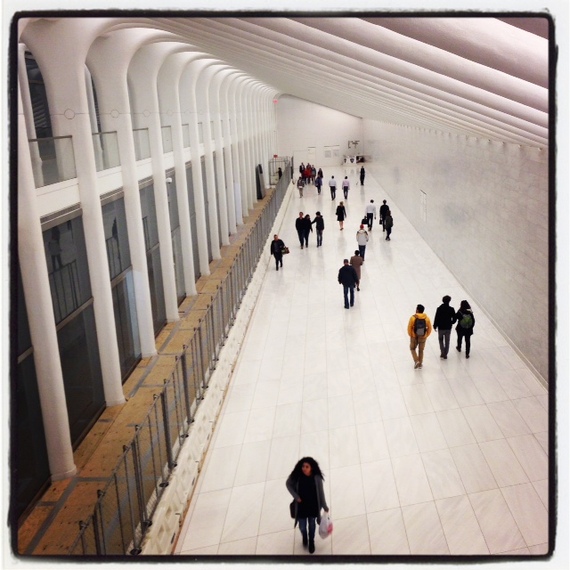 Copyright Sonia Moskowitz
He is also in the midst of building a gleaming white Byzantine-influenced church at Ground Zero that will replace the original St. Nicholas Greek Orthodox Church, destroyed on 9/11. It is due for completion in 2017, and seemingly on time. Calatrava has a myriad of other ongoing projects around the world; he mentions the Middle East and China in particular. For thirty years, he has primarily created public work: not just the more than 40 exquisite futuristic web-like bridges, but also railway stations and museums.
As for the riveting metal sculptures, Calatrava is proud that his work converses with a wide public: "Everyone can see and touch them. There is a strong link between sculpture and architecture."
The Marlborough Gallery represents Art by Santiago Calatrava.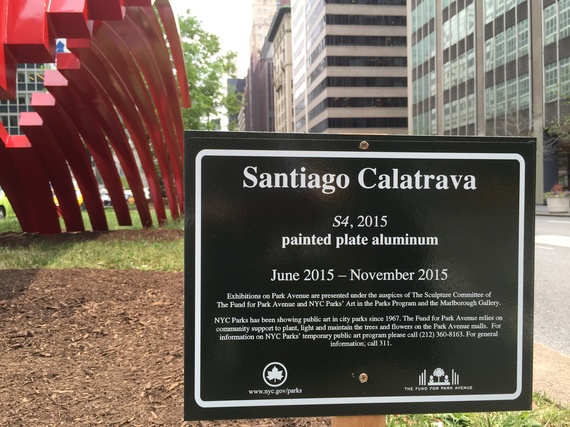 Santiago Calatrava
On Park Avenue (52nd Street-55th Street)
Presented by NYC Parks and the Fund for Park Avenue
June 8, 2015-mid-November, 2015
Calling all HuffPost superfans!
Sign up for membership to become a founding member and help shape HuffPost's next chapter