Maybe all of us, or if not us, our children, can cite Alexander Calder as the first artist who intrigued us. After all, it is Calder who invented the mobile - that ubiquitous, mesmerizing, floating thing that hung over our cribs.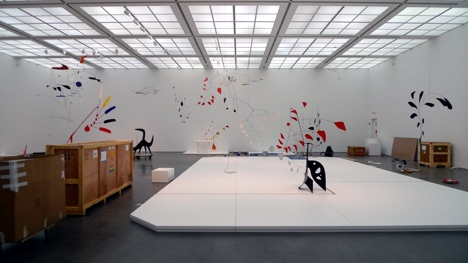 As much as others have tried to improve on Calder's brilliance, it is damned hard to improve on the master. Likely, most of us have seen monumental Calder stabiles (a sculpture that implies movement) dotting our major cities. Throughout our lives we have seen and enjoyed Calder's wonderful art. What art can be more accessible than that which taunts a cat and intrigues an infant?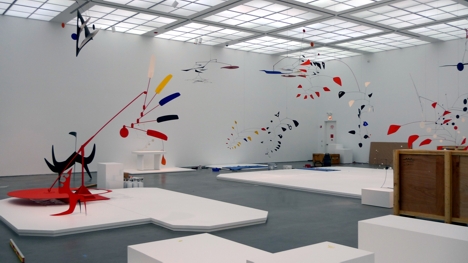 Yet, none among us has seen a full blown Calder exhibition, nor one as impressive or as beautifully installed as that which is about to open at Chicago's Museum of Contemporary Art.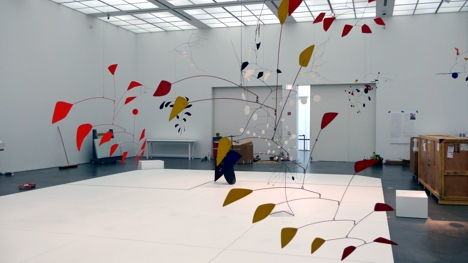 Fully, half the first floor of the MCA is turned over to Calder -- in a vast room without wall dividers, full of undulating, slowly transforming primary colors. The room, the balance, and our perceptions are in constant, slow flux. The room sings with the joys of color, movement, balance and composition. This is art for people who like to smile. Age doesn't matter. Infants will love this, as does my crotchety self, but I think you need to leave your cat at home.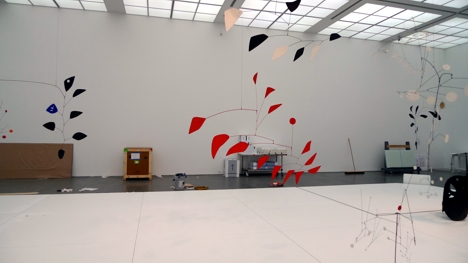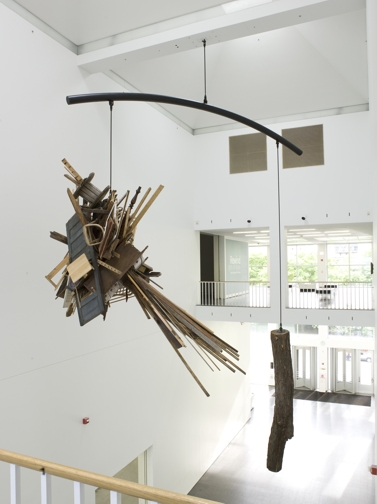 For me it is Aaron Curry and Jason Middlebrook who resonate the most with my aesthetic. Curry's balance, dichotomies, constructive use of negative space and intelligent, luscious surfaces reference not only Calder, but Noguchi and Arp as well, yet the work is fresh and stands fully on its own merit.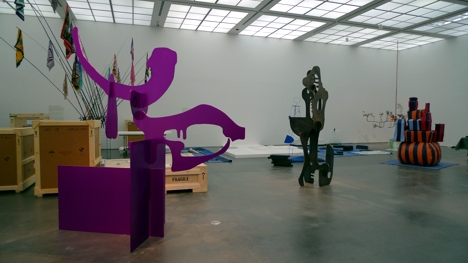 I've known Jason Middlebrook since he was 8 years old. He looks pretty much the same, but his aesthetic and art purpose has certainly matured. (Jason's father, David Middlebrook, is a fabulous sculptor whose art I first exhibited in the mid-1970's. With most artists, we can trace a line through their careers from early works to those more recent, observing continuity, growth and maturity. With the Middlebrooks, I see that line continue from father through son -- I love it!)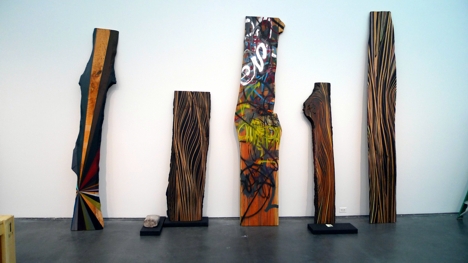 Jason Middlebrook's work is intelligent. It consumes us with its power, weight, diversity and idiosyncrasies, while we are being seduced (typically unbeknownst to us) by its content -- all that art hanging from the atrium ceiling was scavenged from Chicago alleys. Middlebrook is an artist to pay attention to for decades to come.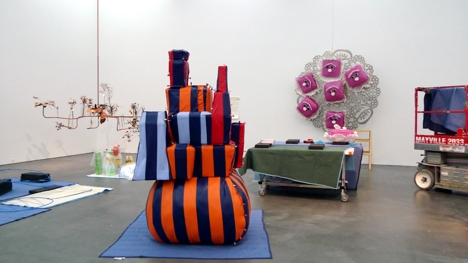 The MCA show, which I've nicknamed Calder and the Kids, is further evidence of Director Madeleine Grynsztejn's gentle hand shaping the course of the museum: establishing new relationships between artists; engaging young artists in participatory, hands on installations; presenting art that is cross generational; and art that is relevant simultaneously to scholars and toddlers.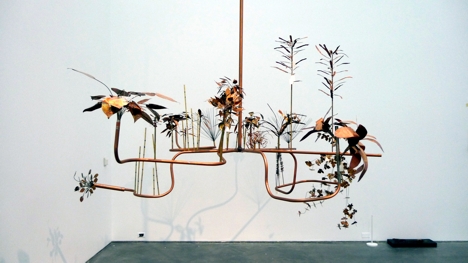 Three cheers for a job well done, from Grynsztejn, to curator Lynne Warren who did the "heavy" lifting, to all the artists who are here to rejoice in their accomplishments and shared energy, to the installers who got it right.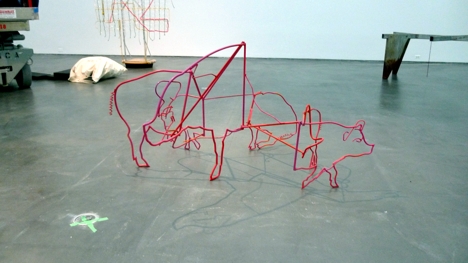 This is a show that people will travel to. And this is also a show that travels, broadcasting the MCA's imprimatur and spreading Grynsztejn's, healthy, atypical vision. A bright show on many levels.
Calling all HuffPost superfans!
Sign up for membership to become a founding member and help shape HuffPost's next chapter