Juanita Kinzie, a 24-year-old Sterling, Colo. mother, has been charged with first-degree murder of her 3-year-old son Caleb Pacheco, according to The Denver Post. The toddler's decomposed skeletal remains were discovered beneath a mobile home in Sterling on Sunday.
When Denver police contacted Kinzie on Sunday they said she was under the influence of meth and she told paramedics that her son was dead, CBS4 reports. Kinzie was no longer living in the trailer home where the boy's remains were found and she had only lived there for approximately six months.
The reason my family has started this page is they need help in finding me I was last seen in mid-January 2011 with my mother leaving my aunts home. That was the last time my family has seen me.

There is not an AMBER ALERT for me at this time as the local authorities have to make contact with my mother and father to verify I am missing. My mother, is not responding in an effort to help in finding me, there for it slows the process down. So my family is reaching out to the community for help with sightings and the where abouts of me.

Please continue to share this page with friends and families in an effort to locate me and return me to my family.
There were also several updates from Monday on the "Where's Caleb" Facebook page, including some from Cogee Fields, Kinzie's sister and Caleb's uncle, when authorities believed they had found Caleb's body and when they announced the arrest of Kinzie.
When Caleb's mother Juanita Kinzie abandoned him more than a year ago, he went to live with his aunt Yolanda Kinzie-Graber, according to Fox31. However, in January of 2011, Kinzie wanted her son back and despite Kinzie's history of drug and alcohol abuse, Logan County Social Services told Caleb's aunt Yolanda that she had to give the child back to his mother. That day in January when Kinzie took Caleb was the last day the family ever saw the young boy alive.
9News spoke with Caleb's family who said that they pleaded with social services to get Caleb from his mother, who they believed to be unfit to raise Caleb, but Kinzie would lie to authorities and no progress was made.
Juanita Kinzie is being held without bond at the Logan County Detention Center.
Image of Caleb [via "Where's Caleb" Facebook page] described as Caleb during Christmas 2010 at his Aunt Yolanda's House: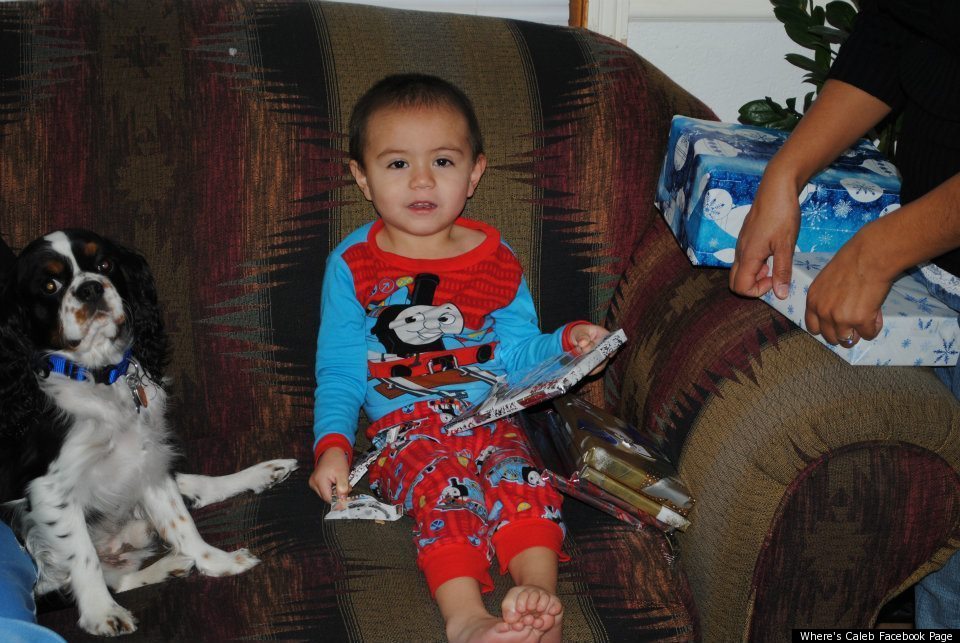 Related
Popular in the Community