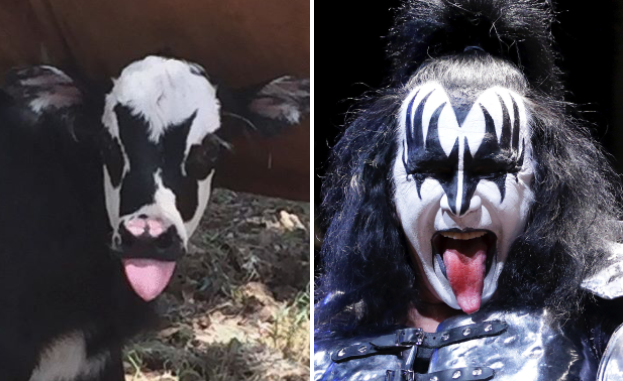 "Gene Simmons, where were you on or about November 25, 2016?"
That's the question being posed to the KISS rocker after an adorable calf was born at a Texas ranch on Friday with a face resembling the "God of Thunder" singer.
Little Genie, as she's since been dubbed, become an overnight social media star after being snapped sticking out her tongue while rocking butterfly-shaped black markings on her face, similar to "The Demon's."
The similarities between the pair immediately sparked jokes on KISS's Facebook page about the rock star ― who in the 70s was rumored to have grafted a cow tongue onto his own ― somehow being the calf's father.
Drew Taylor runs local marketing company Hill Country Visitor, which shared the photo on Facebook Saturday. He told HuffPost that the calf was born on Friday at a Kerrville ranch that's owned by a local steakhouse worker. It's about 65 miles northwest of San Antonio.
"I didn't realize how uncanny the comparison was until a friend put the two pictures side by side," he said of Genie's face next to Gene's. "I said, 'Can I have that picture? Can I use it?'"
After posting it to Facebook, it didn't take long for the photo to get the attention of the calf's hard-rocking doppelgänger, who tweeted out a link to the calf's story, along with: "This is real, folks!!!"
The excitement wasn't lost on Taylor, who said he reached out to Gene offering to buy him a steak.
Fortunately for little Genie, it won't be her hide on the line.
Taylor said it's been decided that she's way too tough to become anyone's next meal and will instead "moove" on to become a mascot for the steakhouse, whose owner he described as a collector of odds and ends.
"She's too cute a calf," Taylor said.
We couldn't agree more. Rock on Genie, and party every day.
Support HuffPost
The Stakes Have Never Been Higher
Popular in the Community