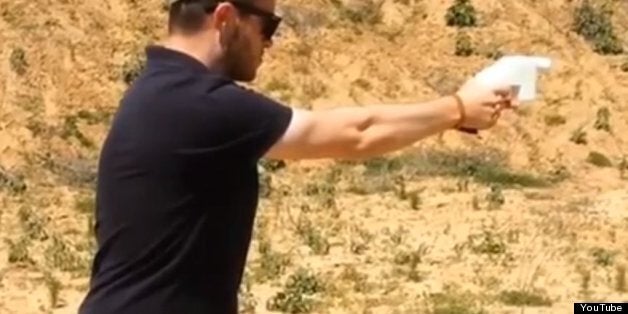 The power of technology was officially pushed to the limit on Sunday when the world's first 3D-printed gun fired a shot.
And California legislators are wasting no time fighting back.
State Senator Leland Yee (D-San Francisco) said in a press release Tuesday that he plans to introduce legislation that would ban using technology to create weapons with 3D printers. "We must be proactive in seeking solutions to this new threat rather than wait for the inevitable tragedies this will make possible," he said.
Defense Distributed, the company behind the D-I-Y weapon, hosts downloadable designs for printable gun parts on its website. Officials claim the practice remains perfectly legal under current law.
"[In the United States] a person can manufacture a firearm for their own use," Donna Sellers of the U.S. Bureau of Alcohol, Tobacco, Firearms and Explosives told the BBC. "However, if they engage in the business of manufacture to sell a gun, they need a licence."
On the national level, Senator Chuck Schumer (D-N.Y.) and Congressman Steve Israel (D-N.Y.) are pushing measures similar to Yee's that would outlaw 3D-printed guns.
But University of Texas law student Cody Wilson, the driving force behind Defense Distributed, thinks lawmakers' efforts will be futile.
"Gun control for us is a fantasy," he said in a documentary showcasing his project. "In a way that people say you're being unrealistic about printing a gun, I think it's more unrealistic, especially going forward, to think you could ever control this technology."
According to Defense Distributed's website, the company's goals include "to defend the civil liberty of popular access to arms" and "to publish and distribute, at no cost to the public, such information and knowledge."
While 3D printers aren't widely available to consumers currently, Staples announced it will begin selling the technology at major retail stores next month.
Related
Popular in the Community