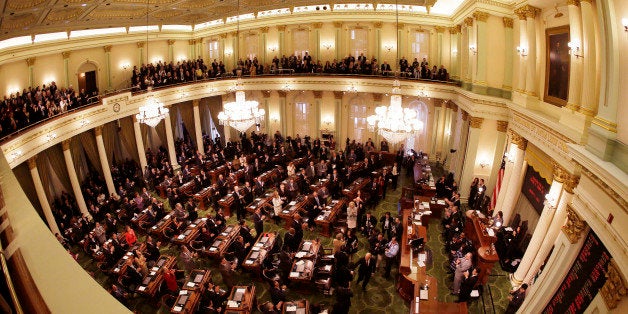 The California Assembly passed legislation Tuesday that would require faith-motivated crisis pregnancy centers to provide comprehensive information about reproductive health care options, including abortion.
The bill, known as the Reproductive Fact Act, would require pregnancy centers to post notices saying that reproductive health services, including abortion, are available to pregnant women in the state. Pregnancy centers also would have to disclose whether they lack a medical license. The bill passed on a party-line vote, with Republicans objecting on the grounds that it would unconstitutionally compel government speech for the state's 167 centers.
Abortion rights advocates have argued that crisis pregnancy centers systemically provide inaccurate or misleading information, such as suggesting that abortions cause breast cancer or depression. The advocates point out that advertisements for some crisis centers suggests they provide a full range of reproductive health services.
Anti-abortion advocates say the centers already inform patients of options. They also point out that the centers provide free testing for sexually transmitted infections, ultrasound tests and baby clothes. (The centers do not provide contraception.) The legislation has been dubbed "the Bully Bill," by anti-abortion advocates, who argue the bill unfairly targets crisis pregnancy centers.
"Surely, legislators in California have more important matters to attend to than carrying the water for Big Abortion, which is exactly what this proposed legislation represents," Jor-El Godsey, vice president of the pregnancy center network Heartbeat International, said in a statement. "This is a direct attack on California's grassroots, non-profit pregnancy help centers. These legislators should instead protect the right of every woman to get the love and care she deserves while she is facing pregnancy."
Abortion rights advocates argue the targeting happens when center staff members interact with patients.
"CPCs target women seeking abortion care with false advertising that misleads women into thinking they are comprehensive women's health facilities," Amy Everitt, NARAL Pro-Choice California's state director, said in a statement. "Instead, CPC workers are trained to lie to women to keep them from accessing contraception and abortion care. It's time for California to take a stand against their deceptive practices."
California is one of only a handful of states to expand access to reproductive health care in the last five years. In 2013, for instance, Gov. Jerry Brown (D) signed a law authorizing nurse practitioners, physician assistants and certified nurse midwives to perform first-trimester abortions.
The bill now heads to the Senate, where the earliest it could be heard in a committee is June 8.
Legislation attempting to regulate the more than 3,000 U.S. crisis pregnancy centers has met with mixed results. An Austin, Texas, ordinance requiring the centers to post signs disclosing they're not medical facilities was struck down in 2014, but the Supreme Court upheld a similar law in New York.
In California, similar measures have been tried at the municipal level. San Francisco three years ago passed a local rule requiring pregnancy centers to make clear that they don't offer abortion services or referrals. A federal judge upheld the ordinance this year, rejecting the argument that it compelled speech. Similar ordinances in Baltimore and New York City have also addressed concerns about transparency.
Meanwhile, some states direct funding from "Choose Life" license plates to the pregnancy centers. South Dakota even requires patients seeking abortions to visit a center before they can undergo the procedure.
Before You Go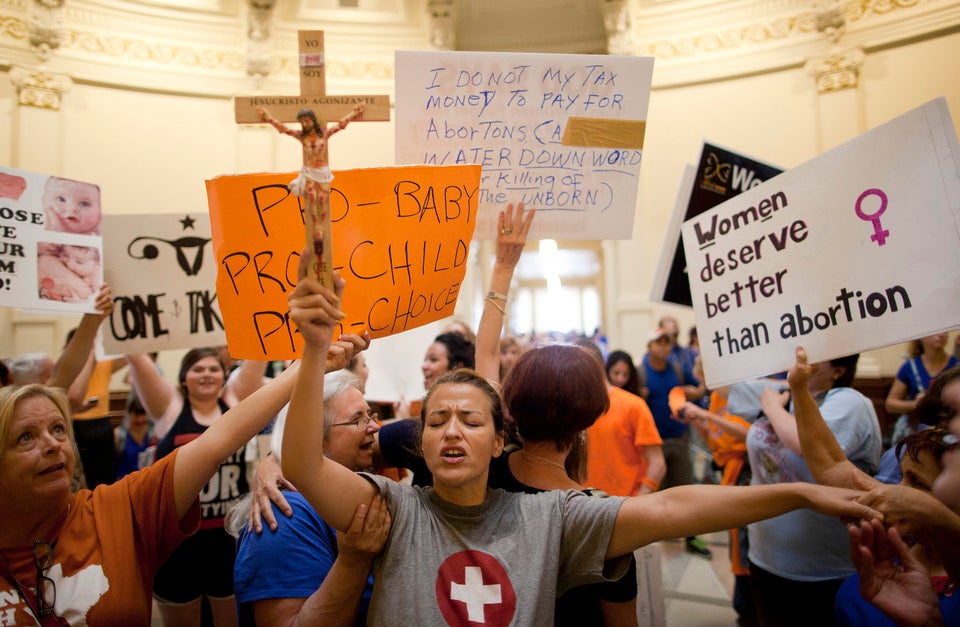 Abortion Protests Around The Nation
Popular in the Community