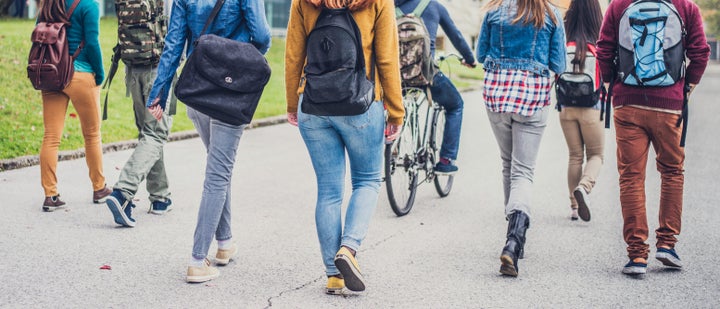 Jessy Rosales was a 20-year-old student at the University of California, Riverside, when she got pregnant. She had used protection and was not ready to become a mom, so she went to her campus health center to ask about the abortion pill — actually a combination of two medications that can safely end a pregnancy.
She left with a list of recommended providers. But the first clinic she called told her it did not perform abortions. And the second was a crisis pregnancy center — a facility that seeks to dissuade women from having abortions.
"I'm a first-generation student. For a large majority of my life, my parents didn't have health insurance, so I didn't really know what I was doing trying to navigate through the medical system," Rosales, now 22, recalled in a conversation with HuffPost.
Finally, more than two months after her positive pregnancy test, she went to a nearby Planned Parenthood health center, where she was able to get an in-clinic abortion. It cost her roughly $400 — a lot of money for a student supporting herself with part-time work and federal loans — and she was told she was too far along to be a candidate for the abortion pill at that point. (It must be taken before 10 weeks of gestation.)
"Had they provided abortion medication on my campus, I would have been able to get the care I needed when I needed it," Rosales said.
"Despite years of research showing that medication abortion is safe, it has been heavily regulated. Thirty-four states require that the pill be given by licensed physicians."
Until this week, it seemed that scenario — that a student seeking an abortion could get the abortion pill at her school's health center — would become reality in California, thanks to a bill that would have made it the first state to require that medication abortion be available at public university health centers by 2022.
But Gov. Jerry Brown vetoed that bill on Sunday, calling the legislation "not necessary" in light of existing options in the state.
Reproductive rights advocates in the U.S. argue that this reasoning exposes how even progressive politicians in the country's most pro-choice states remain ignorant of the challenges women face seeking abortion care.
"California is a state that has abortion coverage requirements for public and private health plans. It also does not require parental involvement for abortion," Elizabeth Nash, a senior state issues manager with the Guttmacher Institute, a policy and research organization that focuses on reproductive rights, wrote in an e-mail to HuffPost. "But somehow Gov. Brown couldn't take the step to actually make sure that abortion is accessible for young people."
Senate Bill 320 — which called for the 34 University of California and California State University campuses to make the abortion pill available in student health centers — was born out of a grassroots campaign at the University of California, Berkeley, after a group of students there noticed it was not available at the campus' health center.
Supporters of the bill were quick to point out that the state would not have paid to initiate the program. Instead, a group of private funders, including the Tara Health Foundation and the Women's Foundation of California, agreed to cover the implementation costs, allocating millions of dollars to cover training, facility upgrades as well as other direct and indirect costs.
In a memo explaining his decision to veto the legislation, Brown cited a study that found most public university campuses in California are five to seven miles from an abortion provider — "not an unreasonable distance," he concluded.
But the author of that study, Ushma Upadhyay, shot back that he had missed the point.
"The governor misinterprets my research to claim that distance is not a barrier for students seeking abortion; in fact, at some campuses, students must travel over an hour to reach the nearest clinic," Upadhyay, an associate professor at UC San Francisco's Advancing New Standards in Reproductive Health program, said in a press release. "With two round-trip visits, that means four hours of travel or more. These distances, combined with the demands of student life and limited clinic hours, make accessing abortion a major challenge for many UC and CSU students."
Rosales, for example, went to a clinic that was roughly within that five-to-seven-mile range — and yet it still took her months to get the care she sought. After the dead-end referrals, she had to arrange for a ride to and from the clinic. That was a challenge, as she hoped to keep her situation private.
"I know for me, going to my local health clinic for an abortion meant I was losing money from work, losing money for transportation — money that I did not have to start with — and missing out on my academics," echoed Kaitlyn, a 22-year-old former UC Berkeley student who got an abortion when she was 19 and who wished to be identified by only her first name.
Like Rosales, by the time Kaitlyn was able to find an off-campus abortion provider and sort through health insurance coverage issues, she was too far along to take the abortion pill and had an in-clinic procedure instead.
Since it was approved by the Food and Drug Administration in 2000, medication abortion has been seen as a potential game changer for women, expanding access in parts of the country where there are few abortion providers and allowing women who want to undergo part of the procedure in the privacy of their own homes. The abortion pill now accounts for nearly one-third of abortions in the United States.
Despite years of research showing that medication abortion is safe, it has been heavily regulated. Thirty-four states require that the pill be given by licensed physicians rather than nurse practitioners or midwives, for example. Reproductive rights advocates in California and beyond hoped the state would buck the trend.
"I'm so upset. So, so upset," Rosales said. "This is going to affect so many girls. I was so hopeful that what happened to me was never going to happen again to other young students and we were going to set the precedent."
Popular in the Community