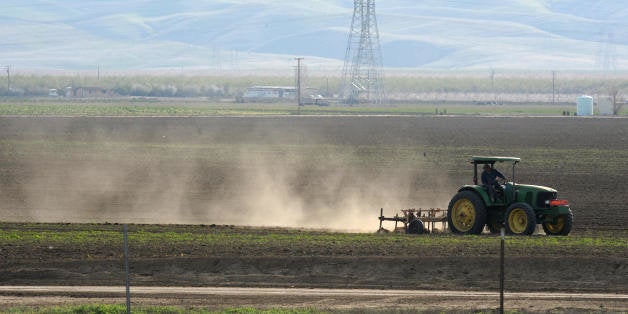 KINGS COUNTY, Calif., March 27 (Reuters) - The brown haze over California's San Joaquin Valley breadbasket on some winter days has been an unwelcome reminder of the bad old days, when pollution hung so thickly that people were warned to stay inside.
Years of tight environmental rules improved California air quality so much that the state has not issued a smog alert in a dozen years. But prolonged drought and warmer temperatures have triggered a spike in the number of winter days thick with soot and dirt, while summer days have been marred by smog.
"It's shocking sometimes to see the valley on a bad day," said Mike Kleeman, a professor at the University of California, Davis, who studies air quality.
The uptick in pollution over California's cities and farms is not enough to undo decades of environmental progress against smog, which is characterized by high levels of ozone in the atmosphere caused by an interaction of heat with pollutants.
But Karen Magliano, chief of the state's Air Quality Planning and Sciences Division, said it has caused California to miss a key federal deadline for improving the air in the San Joaquin Valley, and could lead the state to tighten rules on emissions from cars, trucks, factories and even backyard barbecues.
"We're tracking it very closely," Magliano said.
Last summer, California was out of compliance with federal ozone rules for 99 days in the San Joaquin Valley, up from 89 the year before. Sooty particulates, which cause brown haze in the late fall and winter, were up throughout the state last winter.
Rain helped ameliorate the problem of particulates this past winter, but the storms, though intense, have been relatively few.
For December 2014-February 2015, the South Coast Air Quality Management District, which covers Los Angeles, reported 24 days that failed to meet federal pollution rules. That was up from 19 days during the same three months in 2013-2014, and 16 in 2012-2013, state figures show.
To be sure, California air remains much cleaner today than in 1975, when authorities issued 120 Stage 1 smog alerts that warned the elderly and young children they might have trouble breathing, and urged people with heart and respiratory problems to stay inside.
The state's last Stage 1 alert was issued in 2003, and California has not had a stage 3 alert - the worst - since 1974.
"We are continuing to make progress but we are going to continue to have bad years when the weather is unfavorable for us," said Kleeman. "What last winter showed is that we're still vulnerable to those events."
Smog has been a problem in California since at least 1943, when residents of Los Angeles sometimes could not see for more than three blocks and suffered burning eyes.
The haze was first blamed on a chemical factory. But the problem did not diminish when the plant was shuttered, and scientists later realized the bad air was caused by a combination of geography, weather and emissions from factories and a burgeoning number of cars.
California enacted its first air quality standards in 1959 and decades of restrictions on emissions meant the state led the nation in cleaning its air.
So successful was the effort that adults who remember being required to stay inside on "smog days" as children were able to raise their own offspring in Los Angeles and other cities who rarely had such experiences.
But it has always been a struggle to keep the air clear in the state's vast valleys, where geography and warm, dry weather combine to keep dirt, haze and pollutants close to the ground.
"It's not like all of a sudden we're emitting a lot more junk into the atmosphere this year," said Anthony Wexler, director of the Air Quality Research Center at UC Davis. "It's completely weather-driven."
He said wind can blow pollutants away and rain washes them out of the air, but stagnant conditions mean ozone, particulates and dust stay put.
David Pettit, director of the Southern California Air Program for the National Resources Defense Counsel, said if climate change brings a steady increase in warm, dry conditions, air quality will continue to decline.
"If temperatures continue to increase the ozone problem is going to get worse everywhere," he said. (Reporting by Sharon Bernstein, editing by Jill Serjeant and Richard Chang)
Calling all HuffPost superfans!
Sign up for membership to become a founding member and help shape HuffPost's next chapter
BEFORE YOU GO
PHOTO GALLERY
The Nation's 10 Most-Polluting Power Plants