This story contains graphic images that may be upsetting to some readers.
Humans aren't the only ones fleeing for their lives amid the California wildfires.
Pets, farm animals and even a popular giraffe were among the animals receiving attention as 400 square miles continued to burn on Monday at both ends of the state, leading to mass evacuations, packed shelters and jammed roadways.
In Malibu, west of Los Angeles, humans, horses, goats and alpacas began packing the shoreline on Friday as a nearby parking lot turned into an evacuation zone. Photos show animals tethered to fences and lifeguard towers as black smoke looms in the background.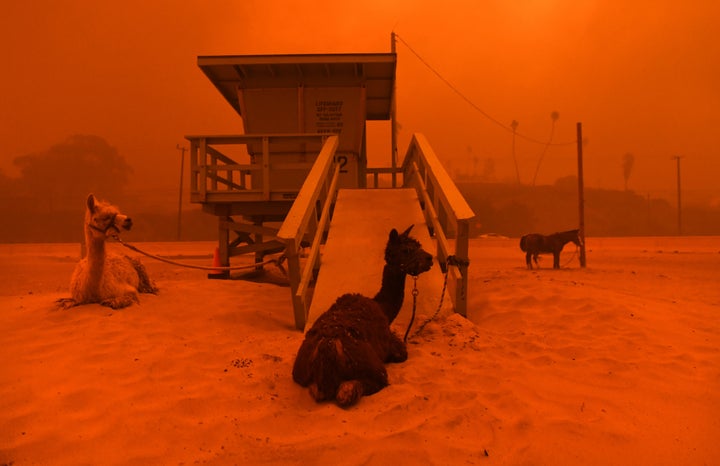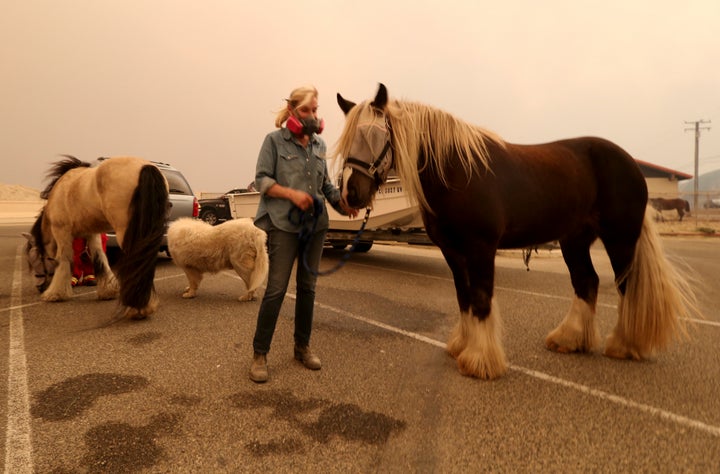 "There was just no time to do anything," Talley Hutcherson, who owns a nearby ranch, told the Los Angeles Times of her decision to evacuate to the beach with her eight horses, an undertaking that required multiple trips. "Within hours, we had to make the decision to come to the beach because the [Pacific Coast Highway] was shut down."
"Bunny is doing ok but still a long way to go," Ventura County's Animal Service wrote on Twitter Sunday, with photos showing the rabbit's burned face and ears. "He is taking food and water from a syringe and takes his medication like a champ. The white stuff is the antibiotic cream that heals burns."
The Los Angeles Zoo briefly evacuated some animals as a precaution on Friday as firefighters battled a brush fire in nearby Griffith Park. The animals were returned to their habitats not long after when that fire became largely contained.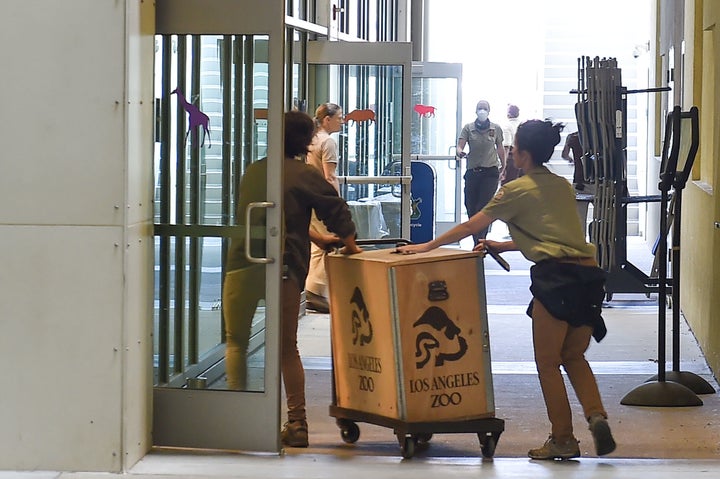 "Part of committing to excellent animal care is expecting the unexpected. Rest assured that the L.A. Zoo has emergency action plans for situations like Friday's brush fire in Griffith Park," the zoo said in a statement that thanked local firefighters and their fans.
Not all the animals in the evacuation zones were able to get out. Various photos have shown injured and dead animals that were overcome by smoke or flames.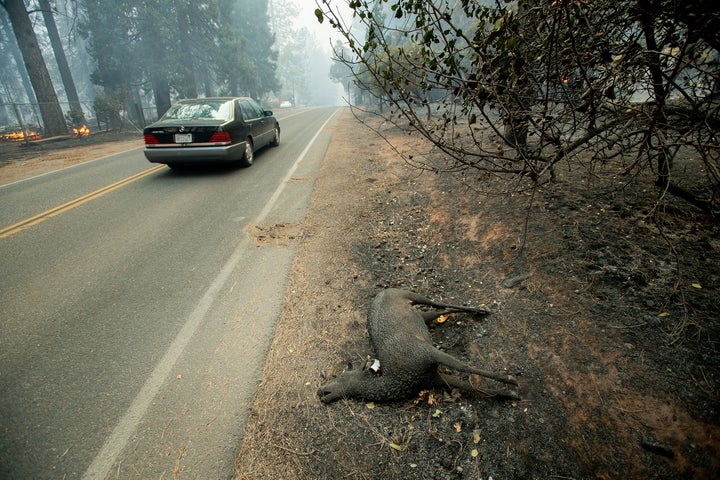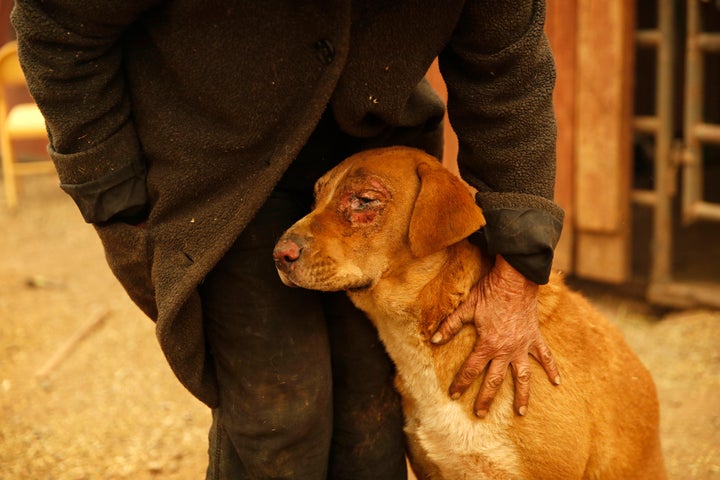 Concern on social media arose over the weekend for a popular giraffe and other farm animals at Malibu Wines at Saddle Rock Ranch, which was under evacuation orders. The ranch announced Saturday that it had started evacuating its animals on Friday night, though "a small number" of the animals were reported as unaccounted for. However, actress and comedian Whitney Cummings posted photos on social media that appeared to show the beloved giraffe, named Stanley, standing behind a burned fence, suggesting he was left outside as the fire consumed the surrounding area.
A reporter who visited the ranch on Saturday for USA Today snapped photos of Stanley standing in a fenced outdoor area and reported seeing several buildings destroyed or damaged on the property from the fire. USA Today described the ranch as apparently empty except for one worker, and Stanley as "happy and curious."
Cummings spoke out against the ranch and said she'd visited the scene to check on Stanley's condition.
"This is how close the fire came to the fence. Now that I know the full scoop, shame on you @malibuwines @malibusafaris for not evacuating this animal or any of your animals," she wrote on Instagram.
"I know moving a giraffe is incredibly dangerous but not having an evacuation plan at at all [sic] isn't acceptable," Cummings wrote. "Yes they keep saying they 'evacuated' but that means into a pasture that's still Smokey and burning on their [premises] just FYI."
Attempts to reach the ranch for comment on Monday were not successful.
Popular in the Community