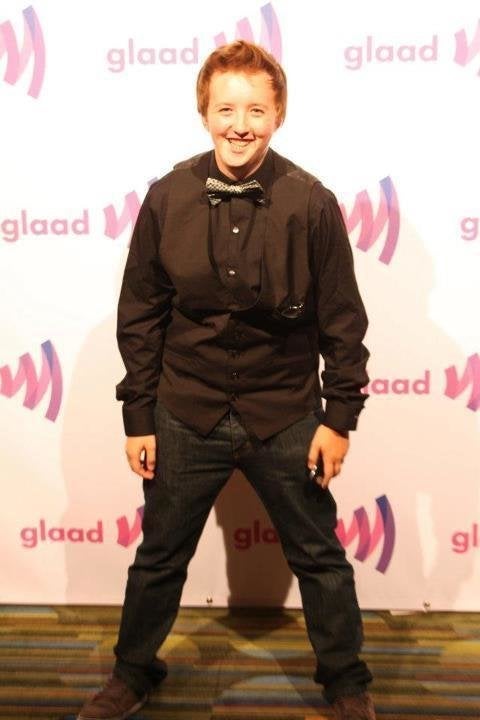 Editor's note: As a part of the 2012 Fullerton High School "Mr. Fullerton" pageant, senior Kearian Giertz was asked, "Where do you see yourself in 10 years?" Kearian responded that he hoped that in 10 years marriage equality would be legal so that he could marry the man of his dreams. As a result of his answer, a school administrator disqualified him from the competition. Immediately after the incident took place, Kearian's classmates, seniors Blake Danford and Katy Hall, started a letter-writing campaign, asking the question, "Where do you see yourself in 10 years?" They added their vision of what is needed to create safe and supportive schools. Blake and Katy teamed up with the Gay and Lesbian Community Services Center of Orange County and Youth Empowered to Act (YETA). The campaign became the foundation for YETA's comprehensive, student-led program to inform students, faculty, and administrators about California's school laws, provide support and advocacy for students, and create safe schools in Orange County and beyond.
The Huffington Post is sharing the stories of several youth involved in the campaign responding to Seth's Law, which was enacted last week. For more information, and to participate in the campaign, visit Youth Empowered to Act.
Having graduated from high school two years ago, one would think that I have many fond memories of the time I spent there, but most memories of public high school weren't so great.
When I started high school at Laguna Hills High School (LHHS), I felt on top of the world. I was well-known and liked on campus. In the beginning of my freshman year, I wanted to try out for the basketball team. When the girls on the team heard about this, they began to taunt me, saying, "You're gay. You can't be on a girls' team," or, "You can't change in the locker room with us. All you're going to do is check us out." But one incident in particular changed my entire high-school career.
It was a cold morning in November, and I had Saturday school. I, along with a few others, served my time in the basketball coach's room. Lauren and Ashley, twin basketball goddesses of LHHS, were in the room, as well. About an hour into it, they decided to talk to me. Ashley turned around and whispered, "Hey, Lizzie, will you be my girlfriend?" I quickly replied, "No," as she is straight and was clearly mocking me. Lauren then commented, "Being gay is disgusting, and you're gonna go to Hell." The basketball coach heard her comment and did nothing. The following week I took matters into my own hands and went to the principal, who also did nothing.
Following that incident, I became very closed-off at school. I started ditching class just to get away from them and their friends. I ended up having to go to a private school, where I was much more accepted for my sexual orientation, and I ended up playing basketball for them.
On July 1, 2012, A.B. 9 (Seth's Law) and A.B. 1156 went into effect, making teachers and school administrators legally obligated to do something when a student reports bullying. If they do not comply with these laws, the student is allowed to transfer to a new school district.
I am relieved that these laws are going into effect this year. However, I feel that they should have been in place long ago. If these laws had been in place when I was in school, I am sure things would have been much better. The coach and principal would have done something. They would have helped make things better for me. Students now need to understand that school will get better for them; they just need to turn to a trusted adult. Students, teachers, and administrators also need to know the laws and have access to resources.
It has since been seven years since that day in November. I have developed into a much stronger individual, and I am not afraid to stand up for myself. I have recently come out to friends and a handful of family members as transgender. For the first time in a very long time, I am truly happy with myself and am loved by those who matter.
I started attending the Orange County Gay and Lesbian Services Center in Santa Ana (the Center OC) back in November 2011, and I am now part of the youth activism group called Youth Empowered to Act (YETA). Members of YETA have attended events such as the GLAAD Media Awards in Los Angeles and San Francisco, Harvey Milk Day celebrations, and city council meetings and performed educational workshops for different organizations. Our efforts are to ensure that students understand that they are not alone and that people want them on this Earth. We want them to live. YETA is working to make schools safer and free of all bullying.
Some days it seemed so much easier to give up and walk away from everything I was doing, the life I was living, leaving all the stress and heartache behind. But then I realized that everything I had been working on would have been wasted. All the things I was doing to change the world would have no longer mattered. I realized that I needed to be here. I needed to be brave. I needed to be strong, so that the youth of tomorrow could have the opportunity to live a life with equality. Regardless of all the sleepless nights, all the money spent on energy drinks, it will be worth it in the end. I am brave. I am strong. I will not stop fighting for what is right.
I encourage youth in schools today to go to a trusted adult in your school, or to the local LGBTQ center. Be brave. Be strong.