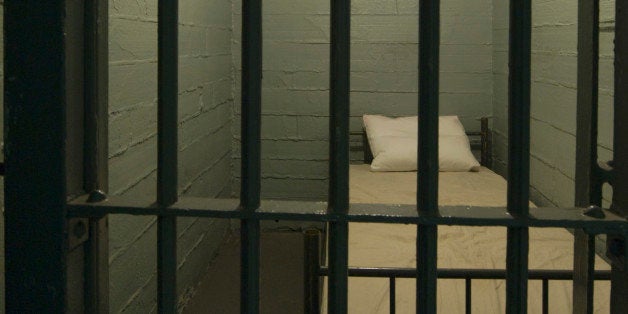 This post was originally published by Truthdig.com
California Attorney General Kamala Harris is nothing if not ambitious. Not content with being the Golden State's top law enforcement officer--a position she has held since 2011, after serving seven years as San Francisco County's district attorney--she's currently running for the U.S. Senate and is the clear favorite to replace Barbara Boxer, who is retiring in November 2016.
Harris has been hailed by a chorus of influential Democratic standard-bearers, ranging from Elizabeth Warren to Kirsten Gillibrand, as "special" and "exactly the kind of leader we need." Photogenic, attractive and of mixed-race background, she's even been dubbed "the female Obama."
But before Harris departs Sacramento and climbs another rung on the ladder to success and power in Washington, I have one urgent message for her: Settle the class-action lawsuit of Ashker v. Brown, which challenges the state's solitary confinement practices at the notorious Pelican Bay State Prison, as quickly and comprehensively as possible. Doing so won't just burnish your resume, Ms. Harris, making you look even more politically appealing at those limousine-liberal fundraisers you'll be attending over the coming months, it will literally restore the lives of hundreds of inmates who are housed under the most grinding and inhumane conditions.
Although settlement negotiations are underway--and according to the plaintiffs' attorneys, they have reached a critical stage--the case remains relatively obscure. That's unfortunate because it's undoubtedly one of the most significant pieces of prison litigation pending across the country.
Located outside Crescent City, in the northwest corner of the state just 13 miles south of the Oregon border, Pelican Bay opened its doors in 1989. As the facility's official mission statement declares, the institution was designed to detain the state's "most serious" convicts. More than half of the inmate population of 2,715 is confined in a standard maximum-security setting.
Nearly 1,200 others, however, are held in the Security Housing Unit, the SHU, constructed to intern men whom the state's Department of Corrections and Rehabilitation (CDCR) deems the "worst of the worst," too dangerous to mingle with their "general population" counterparts. The penitentiary's mission statement euphemistically describes the SHU as having a "modern design" engineered in a series of separate cellblock pods to meet the "management concerns" its occupants present.
In fact, the SHU is a high-tech hellhole, a science fiction nightmare come to life.
I know this not just from reviewing the pleadings on file in the Ashker case, or from discussing the suit with some of the lawyers working on it, or even from reading news articles about the SHU, including a lengthy story on the psychological damage caused by solitary confinement, published earlier this month in The New York Times. I know it because I've visited the prison and seen it firsthand.
I went to Pelican Bay with an attorney colleague a year or so after it opened to interview an inmate in connection with a death-penalty appeal I was handling. I'd previously met the inmate elsewhere and remembered him as having a cool, almost unflappable demeanor.
The man I spoke to at Pelican Bay, however, was on the verge of a breakdown. He described an unyielding routine of being held alone in a tiny, concrete, windowless cell with no access to other prisoners, much less the outside world. His meals were slipped to him through a mailbox-like steel slot; his access to books, writing materials and toiletries was severely restricted. The door to his cell was controlled electronically, and when the guards spoke to him, they did so over an intercom system. The monotony was broken only by an hour of daily exercise, also conducted alone, in a barren, concrete pen known as the "dog run" that contained no gym equipment and offered only a narrow view of the sky through a metal mesh gate.
Luckily for my interviewee, his stay at the SHU was short. Not so for the plaintiffs in the Ashker case, many of whom have languished there for decades.
The lead litigant, 52-year-old Todd Ashker, has spent more than 25 years in SHU custody, having been convicted of second-degree murder for stabbing another prisoner to death in 1987 while serving time for a burglary at the New Folsom Prison northeast of Sacramento. Ashker was subsequently transferred to Pelican Bay and has been kept there ever since because of his past affiliation with the white supremacist Aryan Brotherhood.
In 1990, the Berkeley-based Prison Law Office filed a federal class-action suit (Madrid v. Gomez) alleging that conditions in the SHU were cruel and unusual, in violation of the Eighth Amendment. In 1995, U.S. District Judge Thelton Henderson handed the inmates a partial win, issuing a lengthy decision aimed at eliminating excessive force by correctional staff, improving health care and removing prisoners with confirmed mental illnesses from the SHU. A special master was appointed by the judge to monitor compliance with the decision and remained on the job until the case was formally closed in 2011.
The Madrid ruling, though welcome, left Ashker and most other SHU inmates in place because they lacked certified mental-health diagnoses. But in the interim, Ashker honed his skills as a jailhouse lawyer and in 2009 he and another inmate, Danny Troxell, filed a federal lawsuit of their own, seeking to overturn their indefinite detention in the SHU.
For the next two years, the suit gathered dust in district court. Then, without warning or fanfare, something extraordinary happened, says veteran civil-rights lawyer Anne Weills of the law firm of Siegel & Yee in Oakland, Calif.
"The inmates on Ashker's pod," Weills told me in an interview last week, "found a way to talk to one another through their cell doors." More important, she said, "they found a way to cooperate," even though many were natural enemies with ties to rival ethnic gangs.
The inmates decided to announce a set of five wide-ranging demands, including expanded visitation and telephone privileges, better and more nutritious food, and abolition of the CDCR's dreaded "debriefing" program, which required inmates to report on the gang activity of other prisoners if they ever wanted to see their way out of the SHU.
To add force to their demands, Ashker and his pod-mates also decided to stage a hunger strike, which began on July 1, 2011. They were joined in short order by more than 1,000 other Pelican Bay prisoners and, as word spread, by at least 6,000 inmates at 13 additional facilities across California.
The strike caught the attention of Weills and activist lawyers from the Legal Services for Prisoners with Children office in San Francisco, the Center for Constitutional Rights (CCR) in New York City and others.
Weills set up a meeting at Pelican Bay with Ashker and the SHU strike leaders. "The experience," she wrote in an email, "was mind-blowing. Starving and weak, they were being subjected to further punishment with freezing air blasted into their cells while wearing only underwear. It became very clear that they were wedded to their nonviolent protest to win improved conditions for all those men in solitary confinement, whatever the personal costs to themselves."
The hunger strike ended in October 2011, and the following May, Weills and her cohorts intervened in the lawsuit Ashker and Troxell had initiated, transforming the case into the current class action.
With Jules Lobel, president of the CCR and a professor at the University of Pittsburgh School of Law, serving as lead counsel, the legal team sought to represent two classes of SHU inmates at Pelican Bay: a larger group consisting of all those who had been denied their 14th Amendment due process rights as a result of the procedures the CDCR used to assign them to the SHU, and a smaller subclass of inmates who had spent more than 10 years in the SHU without justification, in violation of the Eighth Amendment's ban on cruel and unusual punishment.
Although the California Department of Justice, under Kamala Harris' direction, has tried to have the case dismissed and, incredibly, has steadfastly insisted that incarceration in the SHU doesn't amount to solitary confinement, District Judge Claudia Wilken certified both classes in June 2014. According to CCR staff attorney Rachel Meeropol, who also works on the case with Weills and Lobel, the 14th Amendment class as of this June consisted of 854 inmates while the Eighth Amendment class numbered 75.
What the lawsuit demands specifically, Meeropol explained, is a declaration from Judge Wilken that the CDCR's confinement practices at the Pelican Bay SHU are unconstitutional. The attorneys also want a series of injunctions that will order (a) the release from the SHU of all prisoners who have spent more than a decade there, (b) the implementation of new procedures and policies that will alleviate the conditions of sensory deprivation and lack of social and human contact experienced by any remaining SHU inmates, and (c) meaningful administrative review of the continued need for SHU confinement of any remaining inmates.
Clearly, a plaintiffs' victory in the case would have profound ramifications not only for Pelican Bay but also for the three other SHUs run by the CDCR at New Folsom and the state prisons in Tehachapi and Corcoran. A victory could also have profound implications nationally and around the world in the struggle against solitary confinement.
The Internet-based project Solitary Watch estimates that as many as 80,000 federal and state prisoners in the U.S. are held under conditions (22.5 hours of daily isolation) generally defined as solitary confinement. The practice has been increasingly condemned by human rights authorities across the globe, including the United Nations Special Rapporteur on torture, who declared in a 2011 speech: "Segregation, isolation, separation, cellular, lockdown, Supermax, the hole, Secure Housing Unit ... whatever the name, solitary confinement should be banned by States as a punishment or extortion technique."
To its credit, the CDCR to date has implemented some small reforms in response to both the Ashker case and another statewide prisoner hunger strike in 2013. The debriefing program has been shelved, and a five-stage "stepdown" process has been implemented to facilitate inmate rehabilitation and release from SHU custody.
But the bulk of the case remains undecided, and Judge Wilkens has set a trial date for December. Until then, Attorney General Harris and her minions will be busy with the ongoing settlement negotiations. Let's hope she gets the message and does the right thing, both for the sake of her career as a progressive Democrat and, far more importantly, for the sake of justice generally. Harris must not miss this historic opportunity to resolve the case and end solitary confinement in California.
REAL LIFE. REAL NEWS. REAL VOICES.
Help us tell more of the stories that matter from voices that too often remain unheard.