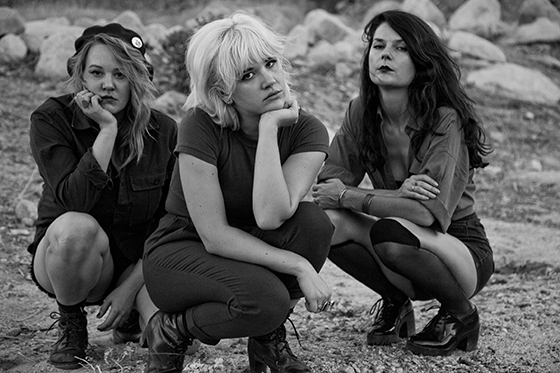 (Photo Credit: Nicole Anne Robbins)
The three-piece California-based band Bleached consisting of sisters Jennifer (vocals, guitar) and Jessie Clavin (guitar, bass) along with bassist Micayla Grace have brought a new sort of attitude and energy to that blueprint laid out by girl bands from the past. Their recently released sophomore album Welcome The Worms is something completely real with songs diving into their own personal tragedies as a way of just dealing with it. Welcome The Worms is like taking that deep breathe to try to find that balance to figure out where to go next all set to concise punk rock riffs and catchy melodies.
Recently, I was able to chat with the sisters Jennifer and Jessie Clavin before they hit the road for their current headlining tour and talk with them about what went into writing Welcome The Worms, how the band has progressed, and what goes through their minds when they are on stage.
When going into making this new album, where was everybody's head at in terms of where you wanted to go with it?
Jennifer Clavin: I feel like at the time of the album, we were just writing songs and not really thinking of a particular direction as much I think. Because of what we were going through, me personally, it just formed a whole theme on its own. What I was going through personally was like, I was just really depressed and in an emotionally abusive relationship. Maybe just trying to escape through the songs, writing, trying to dig deeper into life, and why we are on Earth. Also, just appreciating the things in my life.
Jessie Clavin: I feel like I was just realizing that I feel like there are some things I need to figure out. I feel like I lost a lot of confidence in my playing and really wanted this record to like let go a little bit and build my confidence back, and just play.
Did you get to a point where you felt confident again?
Jessie Clavin: Yeah, especially lately, our live shows for sure. Also, with the people that we were working with, I think it's really important to have a good team of people because they help you build your confidence. When everyone's really respectful of each other and listen to each other, I felt like we had that.
How do you feel you've progressed on this new record?
Jennifer Clavin: It's funny because we were just practicing right now and tomorrow we have an hour set that we have to do in Arkansas, so we realized we had to kind of re-learn a bunch of older songs. I think from just doing that right now, I realized we totally progressed in our song writing skills, lyrically, and personally progressed in being confident about what I want to be doing for a song. I feel like the songs have more parts to them and I'm more knowledgeable about what I'm doing.
What's the live show like?
Jennifer Clavin: We were just at SXSW for five days, so we just all lose our shit on stage. It's just a place to lose yourself. It's acceptable to just be crazy and not give a fuck.
Jessie Clavin: You want people to go home talking about it. We grew up going to shows and that's what made up want to start playing music. The performance of the band, you want to make every show memorable.
Do you remember what your first concerts were?
Jennifer Clavin: I remember I always at where a lot of punk bands play. I don't remember specifically what band, but there was a popular band at my high school and there was this local venue called the Cobalt Café and we would go there to see shows. Then, I remember the band I was watching that inspired me to start playing was a band called F-Minus because there were two women in the band. I remember just thinking 'Oh! These girls are playing music right now Why can't I?'.
When you're on stage losing your shit, what's going on through your heads at that time?
Jennifer Clavin: It's hard to say because you're not really thinking. You're just feeling really free. Sometimes, you all of sudden check back into reality and you're like 'Oh shit! I'm playing a show and all of these people are watching me right now'. That crosses my mind for a second then it goes away and I'm just so happy that we get to do what we're doing. Just revisiting the songs a little bit with the lyrics. Revisiting the time of my life when I wrote those songs around.
Jessie Clavin: If it's a really good show and everything is sounding good, you get into this zone. I don't know what jazz musician said this but they said if you're a true musician, you get into your zone where you wouldn't even notice a fly on you while playing.
Jennifer Clavin: You get lost in this world where it's just you and the music.
Looking back to when you first started the band, what was going on in your lives during that time? Why did you start this band?
Jennifer Clavin: At first, we started it as not Bleached, but our band before. We started it because we wanted to play music. We all wanted to be in a band. That took off further than we ever expected, so when we ended that band, that's when I realized that I wanted to be playing music as a career and not just as a hobby. I feel like its my calling is to be in a band and to be a performer and play the music that I play.
Bleached is playing Loving Touch in Ferndale, Michigan on Thursday, April 21 with special guest No Parents. It's an all ages show, doors at 8pm, and cover is $10. Bleached's album "Welcome The Worms" is available now. For more information, visit hellobleached.com.
Calling all HuffPost superfans!
Sign up for membership to become a founding member and help shape HuffPost's next chapter