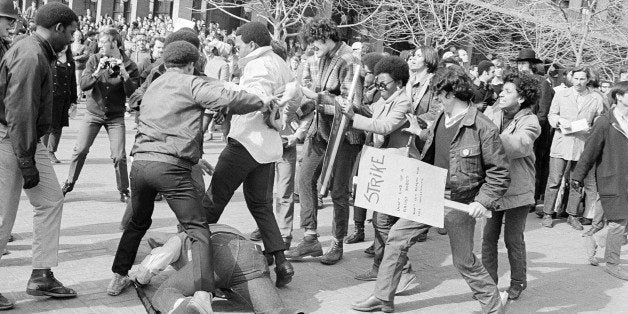 University students in California are taking a stand for equality on their college campuses.
Student body government leaders at University of Southern California recently proposed the designation of a black culture house for students of color. The idea came from African-American students, who comprise less than 5 percent of the school's population, and their expressed feelings of discomfort on campus.
"The fact is, they don't want people like us," undergraduate Ama Amoafo-Yeboah told the Los Angeles Times about the majority of her white classmates. "They just don't."
Racial tensions articulated by black USC undergraduates became apparent in the social media backlash that followed rumors of the culture house's placement on the Row, an off-campus block of highly concentrated fraternity and sorority houses. The LA Times reported that a Yik Yak user posted, "Why would they open a prison on the Row?"
And USC is not alone in their struggle for a comfortable racial climate on campus.
Last month, the University of California Berkeley's Black Student Union released a statement detailing institutional changes designed to better the racial climate on their campus. The document included a list of demands deemed necessary to ameliorate their discomfort on campus.
The list includes ten specific demands -- from recruitment strategies, to the hiring of black psychologists and admissions staff as well as an African-American Student Development Resource Center -- but one in particular has attracted a fair amount of criticism and concern.
UC Berkeley senior Spencer Pritchard explained the historical significance to the Black Student Union's deliberate decision.
"The name change for Assata was because to us she is an icon of resistance, resilience and fighter for the Black freedom struggle," he told the Huffington Post. "Barrows Hall, the building we want to change, houses our African American and Ethnic Studies departments. These departments were born out of student resistance to the racist campus conditions back in the 1960s."
Shakur remains at large today, and as a polarizing figure especially among college intellectuals. New Jersey's Kean University canceled musical artist Common's engagement as the school's 2015 commencement speaker on Tuesday. Authorities cited displeasure over his 2000 recording made in tribute to Shakur, titled "A Song for Assata."
However, the reasoning behind UC Berkeley students issuing demands is neither rooted in the past nor unwarranted. A 2014 campus climate study showed that a significantly higher percentage of students of color reported feelings of exclusion and discomfort on campus than their majority white classmates and faculty. Pritchard explains this as a result of facing "micro and macro aggressions" of racial insensitivity from faculty, peers and police.
The study also supports the unrest of black students at UC Merced and UC Irvine, who have also spoken out against the lack of resources for black students.
Berkeley's Black Student Union met twice with the university's Chancellor Nicholas Dirks, in talks that they found -- according to the statement -- "positive."
Chancellor Dirks' letter response, sent four days after the statement's reply deadline, was not to the BSU's satisfaction, however did acknowledge the disturbing nature of racial tensions on campus.
"Too many students have told us about being excluded from study groups, ignored during class discussions, verbally harassed at parties and social events, and feeling, in a general sense, vulnerable, isolated, and invisible," the statement read. "This is something we deplore."
Students at the California schools continue to raise awareness around racial intolerance and sensitivity. In doing so, they are also working to improve race relations on campus and build community of comfort -- and despite their outcome, their efforts should not go overlooked.
Before You Go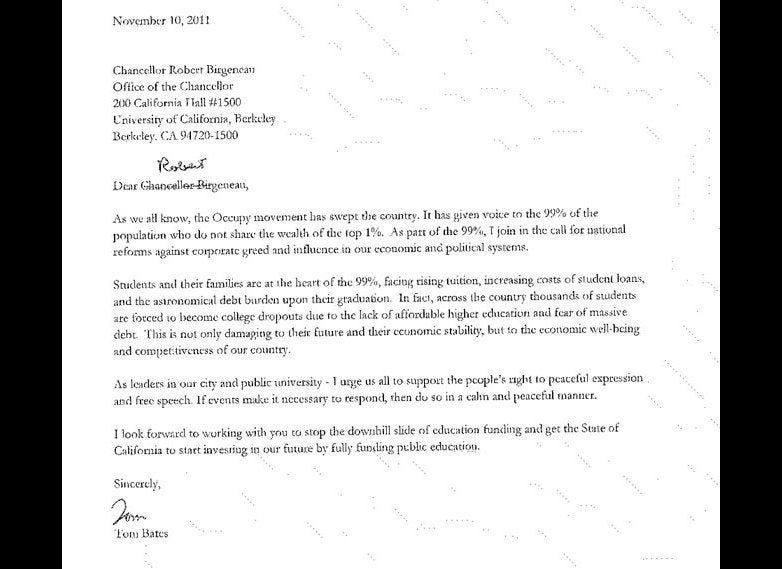 Sample Of Letters Sent To UC Berkeley Chancellor After Occupy Cal Protesters Were Hit With Batons By Campus Police On Nov. 9
Popular in the Community