Being a San Diego native, I know the California Burrito as not only a dietary staple, but a necessity. So when I saw a New York restaurant list a "California Burrito" on its menu, I assumed it was the traditional variety made with carne asada, fries, guacamole, cheese, salsa, and sour cream. Wrong! It was a plain ol' bean and cheese burrito.
Once I got over my shock (and offense) at this being labeled with my home state's name, I realized that none of the NY locals I was dining with had any clue what I was talking about. Now, this isn't the first (nor, unfortunately, will it be the last) of New York Mexican food faux-pas…but as a Californian, I speak for all of us when I say: New York (and anywhere that doesn't have true California burritos), please straighten yourself out when it comes to our most beloved Mexican food. I mean really, it even has its own section in the burrito Wikipedia page.
Originating in San Diego, this glorious work of Mexican-American culinary fusion is most commonly found in this border county -- though I don't think the rest of California is arguing with the state namesake. Though San Diego has its fair share of the standard Mexican food chains, it is in the smaller, local, often family-run shops where you will find the best California burritos $6 can buy. For the San Diego area, we suggest local favorites Adalberto's, Riva's, or Fresh MXN Food (formerly known as Santana's), but you can find this favorite at most Mexican food places -- which conveniently are located on every corner.
Similarly authentic varieties can be found just north in Los Angeles, such Westlake's Sea Casa, and even a few places in San Francisco. Although Mexican food tends to lose quality as you move farther away from the border (even though this isn't a "traditional" dish), I'm sure there are a few places around the rest of the country that can do it semi-justice.
No matter where you are located, those of you who didn't know what this regional favorite was before now have no excuse to pass off a bean-and-cheese variety as "Californian." We will be offended.
Before You Go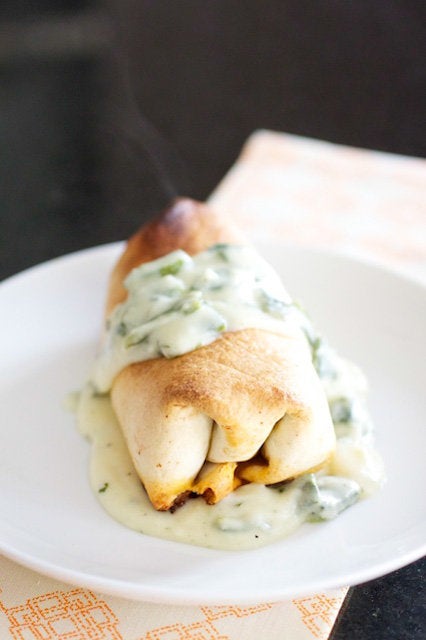 Burrito Recipes