At least 56 people have been killed in the devastating Camp fire in Northern California and 130 people are still missing, authorities said on Wednesday evening.
Butte County Sheriff Kory Honea told reporters that search and rescue officials had discovered eight additional bodies on Wednesday, adding to a rising death toll in what has become the state's deadliest fire in history. More than 130,000 acres have been burned in the blaze, which was only 35 percent contained at the time of the news conference.
"This is the most difficult part of my job," Honea said. "A lot of work has been done with regard to … our efforts to find unaccounted for and missing persons further down the road. We have brought a lot of resources in."
Around 460 people have been sifting through the wreckage left by the fire and officials were using nearly two dozen cadaver dogs to find human remains. Honea said the additional bodies were all discovered in the Paradise area.
Officials also said that more than 10,300 structures had been destroyed by the flames, including 8,650 homes. Some 52,000 people have been evacuated from the region, with more than 1,300 living in temporary shelters as smoke still blankets the area.
"The air quality is extremely unhealthy," a public health official said at the briefing Wednesday. "I know we're working on putting together some information … about short-term and longer-term health effects. The same preventative measures are being recommended."
Aviva Braun, a meteorologist with the National Weather Service, said dry conditions and winds would continue and that the agency expected rain to arrive by the end of next week.
Honea said the county was flying in a rapid DNA identification system to help identify victims of the fire, and urged those with missing family members to donate DNA samples to help determine who had been killed. The sheriff said his office had tentatively identified 47 people but that he was still waiting on confirmation.
Many of the missing people were 65 years and older, according to a list released by the sheriff's office.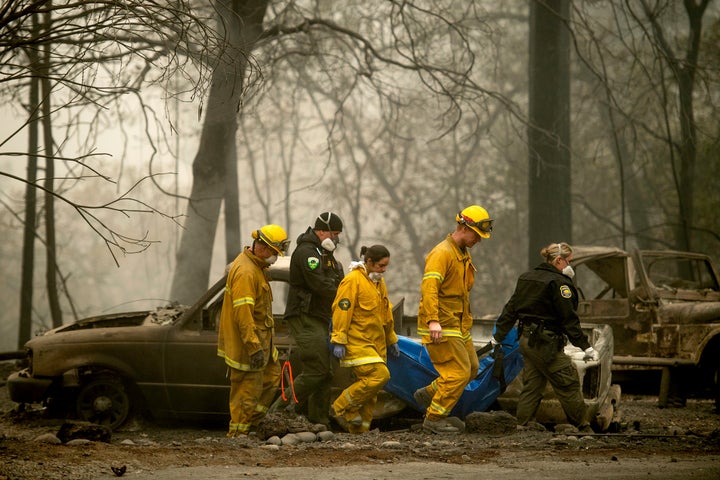 "Each trip, I say this is the worst fire I've seen. We're here today, and this is the worst I've seen," Zinke said, adding that it was "not the time to point fingers."
Brown, on the other hand, said bleakly that Californians were living "in a different kind of world."
"What causes these catastrophes … the changing of the climate, the winds, the dryness and the continuing drought," he said. "We're in for difficult times. It will never be the same."
Popular in the Community