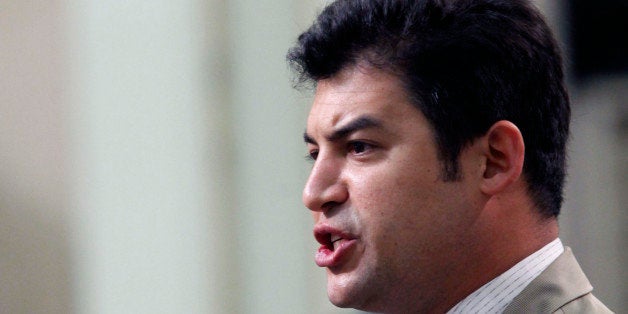 A California lawmaker has proposed legislation that would push colleges in the state to punish students found responsible for sexual assault with at least a two-year suspension.
The Higher Education Committee of the California State Assembly is scheduled to discuss the bill, which was drafted by lawmaker Das Williams (D) and sets a first-of-its-kind mandatory minimum sanction for campus sexual assault perpetrators, on April 21. The bill will also require that schools disclose adjudication outcomes for sexual assault offenses.
"This will provide more certainty that at least there will be a measure of justice, that [victims] will not have to deal with the perpetrator on campus all the time," Williams said in an interview.
Eleven colleges and universities in California are currently under federal Title IX investigations, some due to complaints that the institutions handed out lax punishments for perpetrators of sexual assaults. Nationally, at least 105 schools are under similar federal reviews of how they handle sexual violence. Some schools, such as Stanford University, have launched their own review of their policies as well and have considered changing how they punish these offenders.
Williams' legislation would be levied on both public and private colleges in California in the same way the affirmative consent law is: requiring schools to implement this policy as a stipulation for receiving state funds for student financial assistance.
"One of the really big problems we've seen is perpetrators getting slaps across the wrist," said Sofie Karasek, a UC Berkeley senior and sexual assault activist. "Schools need to send the message that it's not OK to perpetrate these crimes against other students or anyone."
Karasek said there's a sense among activists that schools are currently punishing cheating more harshly than rape. However, because almost no university in the country proactively discloses all their adjudication outcomes separated by offense, there is no analysis to verify or debunk this concern.
Williams held several roundtables on campuses in recent months, his staff said, and some University of California schools he visited tried to shield their data on sexual assault adjudication outcomes. Similarly, UC Berkeley provided data to The Huffington Post last year, but declined to separate how many students were expelled versus suspended. Initially, the flagship campus cited federal privacy law but later admitted it was just declining to share the information.
"One of the things I saw too often was the accountability was too light -- suspensions were for a very small period of time," Williams said. "I'm not saying two years is enough, but let's set a minimum."
Many schools in California and elsewhere are currently rewriting their sexual misconduct policies.
At Stanford, for example, a task force released recommendations for policy changes at the Palo Alto campus last week, including setting expulsion as the expected sanction for sexual assault violations. However, Stanford's committee also recommended requiring unanimous consent from the three members of the hearing panel for that to happen, and more narrowly defined sexual assault to align closer to the state's penal code.
"If someone, through a fair and equitable process that we are creating, is found responsible for sexual assault, there should be one response; and that response should be expulsion," said Elizabeth Woodson, Stanford student body president and co-chair of the university's sexual assault task force.
Woodson is excited the legislature is paying attention to the issue, but said she can appreciate the importance of allowing each university to have autonomy over its policies. To that end, Woodson could not say whether it's better for sanctioning standards to be set by the schools or the legislature. She also noted there's little data on whether prescribing more strict punishments will increase or decrease the number of rape victims reporting assaults.
S. Daniel Carter, an expert on campus sexual violence policies who works for the nonprofit VTV Family Outreach Foundation, said he worries legislation like Williams' bill will prevent victims from coming forward.
"I think it is very well intentioned, but is part of a round of proposed state legislation across the country that is not fully informed on the complexities of the issues related to campus sexual violence," Carter said.
Carter explained he's worked with victims who did not want their assailants removed from campus for a variety of reasons, including social backlash and a desire to avoid a hearing. If mandatory removal leads to fewer assaults being reported, he said, more perpetrators could get away without facing any consequences.
"Unless the system respects survivors, it's not going to work," Carter said. "That's ultimately what it comes down to."
A representative for the University of California system said the system has not taken a position on the legislation, but is discussing it with Williams' office. The Association of Independent California Colleges and Universities said it is still collecting information from its members and wants to understand "any potential unintended consequences of the minimum sanction provision." The California State University system did not respond to a request for comment.
Williams is also pushing a bill that would require colleges to mark disciplinary actions for sexual violence offenses on students' academic transcripts.
Related
Popular in the Community